Posted by Mac of All Trades Tech Team on Oct 19th 2023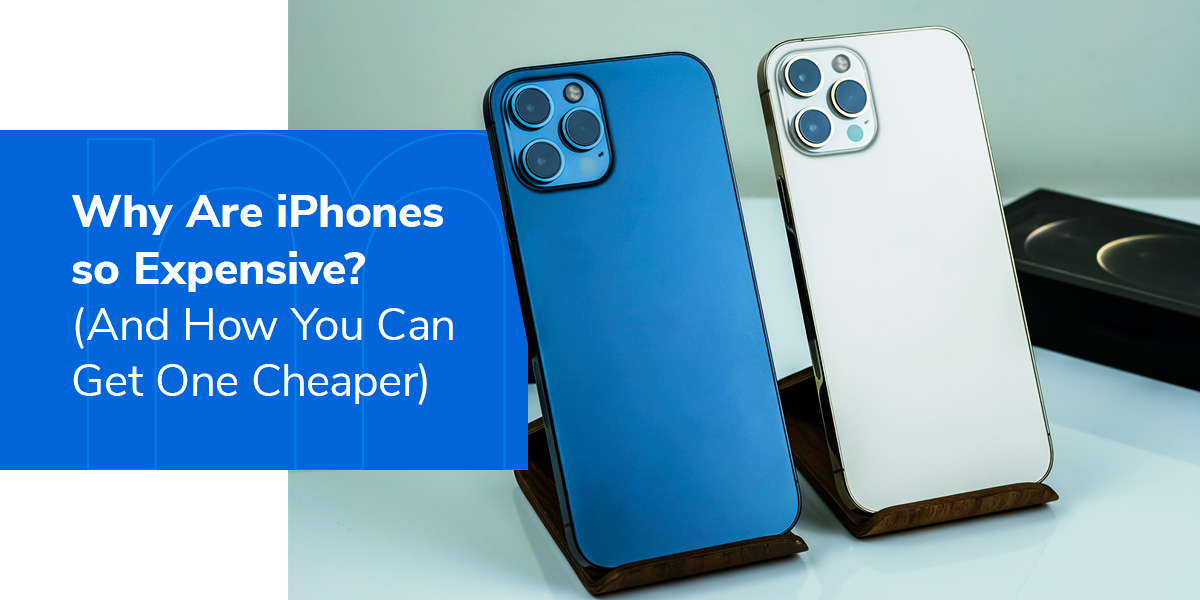 In the world of smartphones, few devices are as well-known as the iPhone. With a sleek design, seamless user experience, innovative features and high-quality technology, the iPhone is one of the most popular devices on the market.
However, one factor people often discuss is the price tag. Apple typically increases the price of new models, which end up being higher than many competitor prices. Keep reading to discover what makes the iPhone expensive and how you can find reliable models without breaking the bank.
Changes in iPhone Price Over Time
iPhone prices over the years have significantly increased. Early iPhone models were much more affordable than today's prices. Over the last 16 years, several factors have increased iPhone prices. The first iPhone started at $499, but we now see iPhones selling for more than $1,000, depending on the model you choose. Adjusting the first iPhone's price for inflation brings the total to about $732, which is still several hundred dollars below the asking price today.
The steepest price increases occurred over the last few years, with the iPhone 8 being $50 more expensive than the iPhone 7, and the iPhone XR following the same trend. Prices dropped slightly with the iPhone 11, but the iPhone 12 saw another significant increase, bringing the total to just under $850. With new models releasing regularly, we continue to see prices rise, which can present an issue for users wanting to stay with Apple and within their budget.
The iPhone price change is due to a variety of factors, including inflation, new technology, consumer demand and more advanced features. As Apple continues investing in product research and development, we can expect high prices with new releases.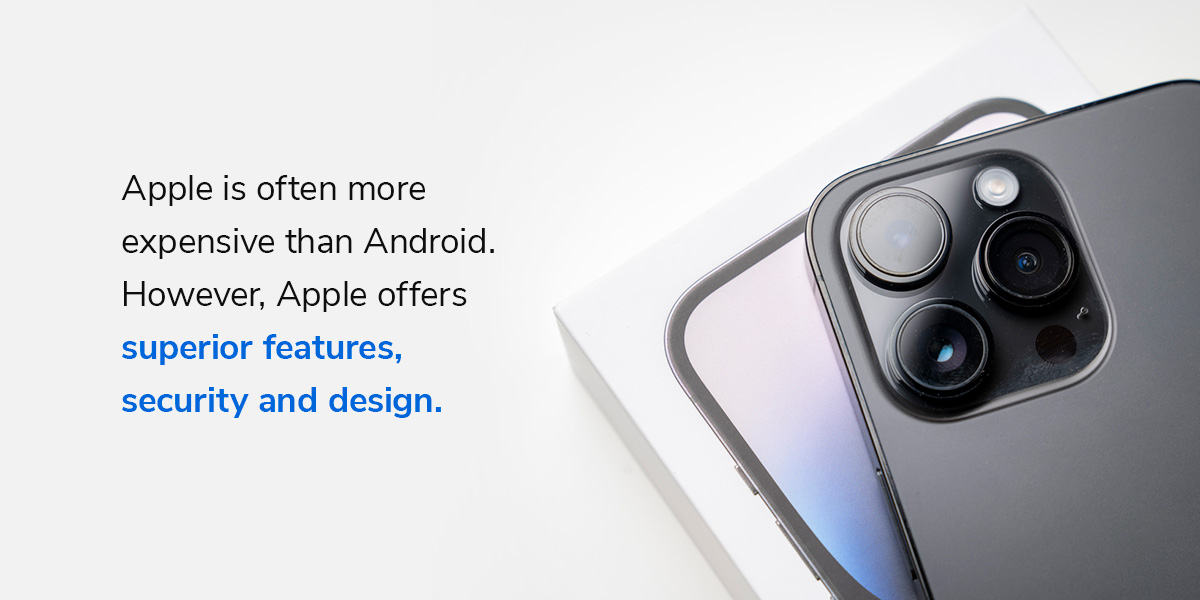 Are iPhones More Expensive Than Androids?
One of the most popular debates regarding phones is whether Apple phones or Android models are superior. Although there are many personal preferences involved in choosing the "best" phone, there are several other elements to consider.
For example, Apple is often more expensive than Android. However, Apple offers superior features, security and design. These factors are often enough for people to consider making the switch to Apple despite the price. Take a look at what makes iPhones so expensive:
Image and camera quality: The class-leading image and camera quality of recent iPhones are something to boast about. Although Androids offer more filters for images, the iPhone creates a more desirable result for professional-looking pictures. Apple's reliability also ensures users have a similar experience with camera quality, audio compatibility and frame rate within various apps, such as the Camera app, Snapchat or Instagram. In some cases, Android devices can lag when using camera-based apps.
Longer lasting performance: A significant advantage of Apple products is their long-lasting performance. The iPhone relies on top-tier parts, including a custom-made chip, for a smooth experience. As a result, iPhone users tend to use their phones for years with minimal issues. Alternatively, Android users may have a smooth experience initially but can experience a lag in performance regardless of the model after a while.
Build quality and design: One of the tell-tale signs of an Apple product is the sleek design. Although this is a personal preference for some users, there are other reasons to consider your phone's build. For instance, Apple offers attractive proportions so users can choose between standard, large and mini versions to suit their needs. Android phones come in many models, which may be appealing for some users but can create complexity when it's time to switch to a newer model.
Less prone to malware and hacks: Apple regularly provides software updates for models, maintaining security for years. These updates allow people to stick with older models for more extended periods while ensuring their data is safe.
Brand quality: Brand value affects product costs. iPhones drastically changed the smartphone market, and Apple is a leader in the industry. Beyond brand loyalty, people know to expect high quality from Apple products.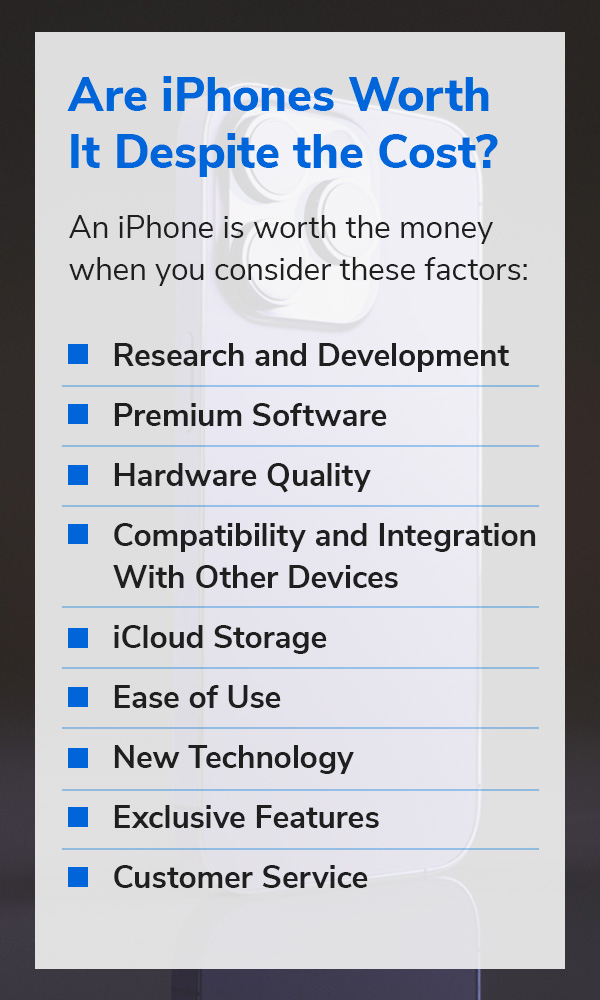 Are iPhones Worth It Despite the Cost?
iPhones are so expensive because they bring immense value, exclusive features and added convenience. Many people who invest in Apple stick with the brand because of the security, high-quality materials and enhanced performance.
Although the iPhone price tag can be daunting, there are many reasons why the numbers run so high. An iPhone is worth the money when you consider these factors:
Research and Development
iPhones stand out from the competition because Apple heavily invests in development and research to produce worthwhile products. Spending billions of dollars every year, the company is able to find innovative solutions and novel technologies for users.
Apple evaluates new ways to improve internal and external hardware to attract buyers, and this work improves smartphone performance and creates an excellent user interface. The costs to research, test and develop these products ultimately raise the final price tag but ensure long-lasting and impressive performance.
Premium Software
iOS is the iPhone's proprietary software, and Apple invests in maintaining and developing this software, which is exclusive to Apple products. The user-friendly software makes it easy for users to enjoy a seamless and holistic experience regardless of whether they're using a Mac, an iPhone or an iPad. Furthermore, consistent iOS updates ensure users of various models can secure their data over the years, reducing the need to buy models more frequently.
Hardware Quality
Apple relies on superior hardware components and high-quality materials, leading to hefty price tags. Apple utilizes glass, stainless steel and ceramic in some of the most recent models. These materials are more expensive to produce but are more durable and provide a more pleasing appearance than many other smartphone options.
Furthermore, iPhone designs require time-consuming processes to account for intricate fitting and precision. The result is a beautiful look with exceptional build quality and a higher price tag.
Compatibility and Integration With Other Devices
One of the many reasons iPhones are so popular is due to their compatibility and integration with other devices. The Apple ecosystem is attractive to many old and new users.
Apple products can interact with each other, allowing users to conveniently access their favorite apps, photos and music no matter what Apple product they're using. Apple products work together to make an ultra-convenient way to work and enjoy personal time.
iCloud Storage
iCloud allows users to store their documents, messages, videos, photos and other data easily. Users can efficiently use their iPhone storage by storing some data in iCloud, where they can access it at any time with an internet connection. It takes seconds to upload data to iCloud, and devices will update each night when charging with a Wi-Fi connection.
Additionally, this ensures you always have access to your data. When you move to a new model, you can download your previous content within minutes. If you break or lose your phone, you can access all of your important information without worry.
Ease of Use
You'll notice that Apple has a distinct way of operating, and once you understand the system, it's easy to navigate any device. By buying and using an iPhone, you can become aware of the user interface, making it easy to operate iPads and Macs as well, so you can access all the technology you need. Even someone who has never used an Apple product can quickly identify the basic features and begin creating a customizable path to navigating to their favorite apps.
New Technology
With the ample research and development at Apple, it's no surprise that the company is a trendsetter for new technology. Many competitors follow Apple's footsteps, aiming to bring interesting products to their customer bases.
Investing in an iPhone means investing in some of the newest and most novel smartphone technology. People often look forward to the annual Apple seminars where they can learn more about the newest technology in upcoming models.
Exclusive Features
The latest iPhone features raise their price tags but enhance user experiences. The FaceTime feature is popular among many users, and competitors have not created an adequate match. iMessage features like sending invisible messages and celebrating birthdays with balloons add fun, unique experiences. Other exclusive features include backing data to iCloud nightly and prompting available software updates to protect user data.
Customer Service
Apple's customer service is superior to many other competitors. Apple staff are typically knowledgeable, friendly and well-trained, ensuring they can assist with any concern you might have. The customer service team can diagnose issues with Apple products and provide options or solutions to address them.
When buying an expensive product, knowing you have extraordinary support to ensure quality can be a huge mind reliever. Whether you prefer to call a local store, chat online with support or bring your device to the Genius Bar, you can be sure to find someone who can help with any problem you encounter.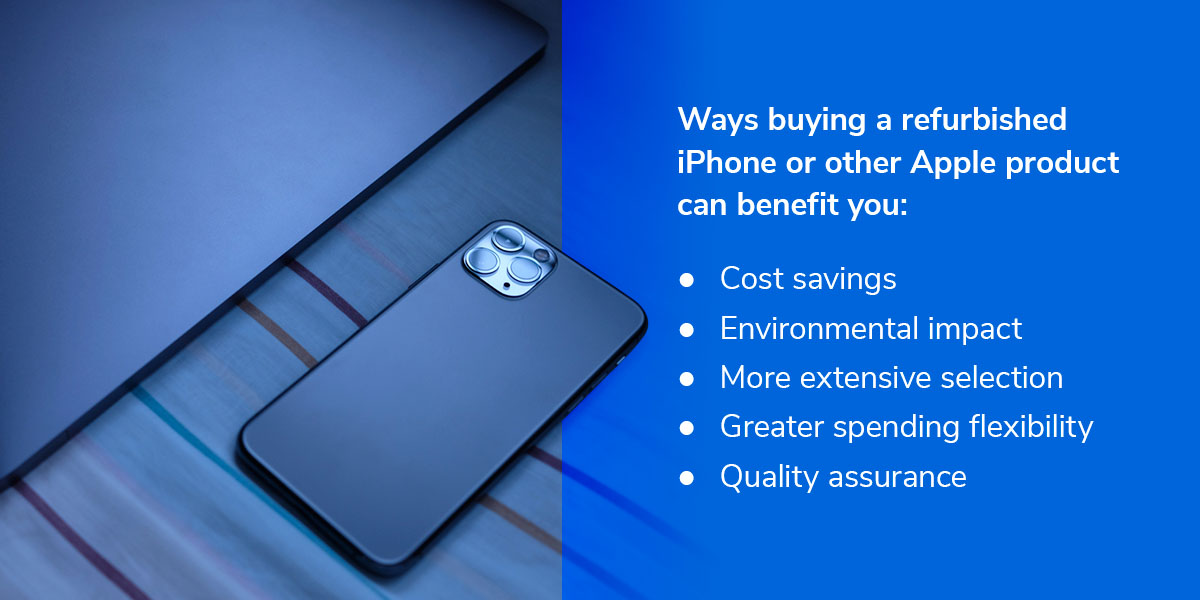 Why You Should Buy Refurbished Apple Products
Refurbished products are different from "used" products. Refurbished technology undergoes tests and inspections to ensure proper function and quality.
While people may sell their used products with defects, refurbished devices have quality assurance and receive repairs before suppliers sell them again. The goal of the refurbishment process is to return products to a like-new condition, which can involve swapping defective parts, replacing cracked screens and evaluating the software.
Buying a refurbished iPhone or other Apple product can benefit you in many ways:
Cost savings: Refurbished models allow you to access the newest technology at a fraction of the market price. Used iPhone prices can save you hundreds of dollars. You can often find new models on the refurbished market within months of the release date, allowing you to save money while staying on trend.
Environmental impact: By choosing a refurbished model, you can reduce electronic waste, contributing to more sustainable technology consumption. You can also reduce the carbon footprint required to manufacture and distribute new devices. Additionally, you can extend the product's life cycle, ensuring it receives the maximum use rather than discarding it prematurely.
More extensive selection: If you don't want the latest model or have a preference for an earlier model, you can browse a more extensive selection of refurbished models. This can be especially beneficial if you're looking for a specific device color or unique features only available for some models.
Greater spending flexibility: You can allocate your money toward other accessories and devices due to the lower cost of refurbished products. For example, you can opt for more accessories, such as protective cases, charging stations and other personal preferences to enhance your user experience.
Quality assurance: Although you expect quality assurance from new products, you can also find this assurance from refurbished models. Refurbished products undergo tests and inspections to ensure quality, compared to simply buying one from a friend or family member. This means you can find reliable devices with proper functions that will suit your needs.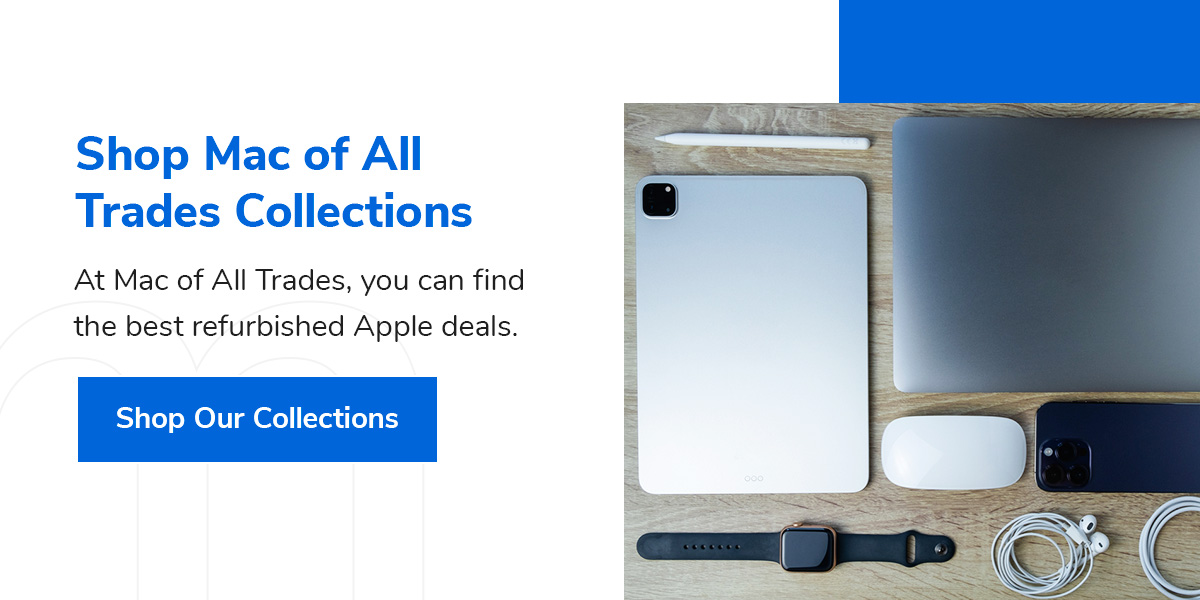 Shop Mac of All Trades Collections
Apple iPhones are some of the most popular smartphones on the market, and the abundance of features, new technology and enhanced build designs makes it easy to see why. However, although many people enjoy the convenience and connectivity of iPhones, the prices can be discouraging. Thankfully, you can find the models you love at a much more affordable price from Mac of All Trades.
At Mac of All Trades, you can find the best refurbished Apple deals. Each product we stock undergoes a two-stage cleaning process, a comprehensive hardware test and a 40-point visual inspection to ensure quality. Our Certified Technicians thoroughly refurbish and test each item so you can feel confident you're finding the best quality at a price that fits your budget.
Our mission is to provide the best experience possible to every customer. Our high level of customer service and low pricing ensure we stand out in the industry, making it easy to find the models you want with confidence. With decades of experience and proprietary systems, we can ensure the highest and most fair value for every product.
When you want the convenience and ease of an iPhone without breaking the bank, we've got you covered. Find the best prices every day by shopping our collections.