Posted by Mac of All Trades Tech Team on Jun 28th 2023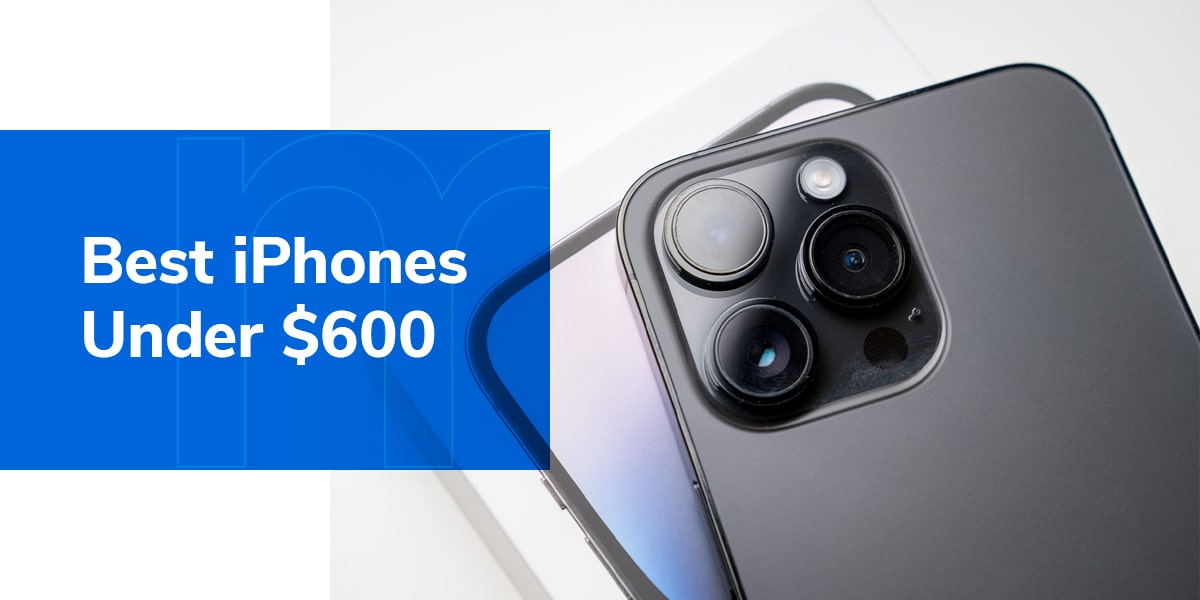 Buying an iPhone on a budget might seem challenging, but today's used and refurbished phone market offers plenty of options, including phones from recent years. You can get the coveted Apple experience for a fraction of the cost of a new device, complete with fast processors, advanced photography systems, industry-leading display tech and many other exciting features.
Whether you want something with all the latest features or a basic iPhone that offers reliable performance when needed, you can choose from a wide range of iPhones under $600.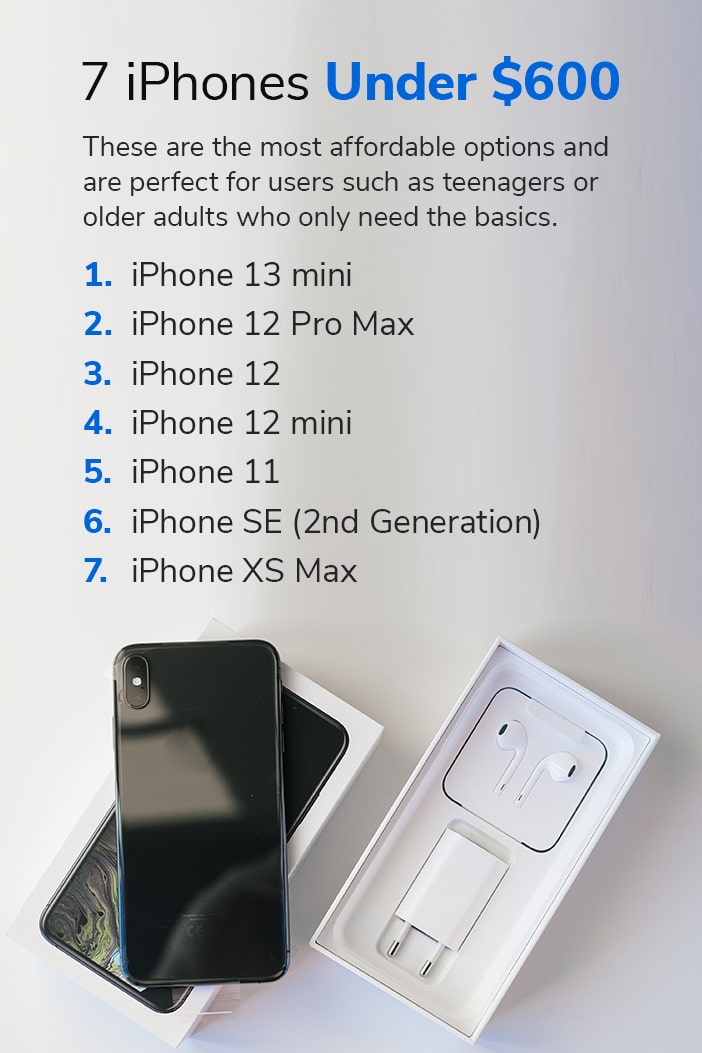 7 iPhones Under $600
Our list of mid-range iPhones start with models released in 2021 and 2020. You can expect more modern features in the iPhone 12 and 13 lineups, like improvements to the processor, battery life and camera system. Older models might not have the latest capabilities, but they should continue to offer reliable performance for day-to-day usage. These are the most affordable options and are perfect for users such as teenagers or older adults who only need the basics.
1. iPhone 13 mini
For a simpler but newer option, the iPhone 13 mini is an excellent choice. As the flagship model from 2021, it offers a great camera system, a large selection of fun colors and the lightning-fast A15 Bionic processor. It has well-rounded specifications and modern functionality. Its compact size is great for people with smaller hands or anyone who doesn't need a big screen. It's also easier to slide into your pocket.
The iPhone 13 mini is one of the most recent phones you can get for less than $600, so it should last for a long time with ongoing support from Apple and regular software updates. You can snag the iPhone 13 mini in Starlight, Midnight, blue, pink, green and red. It starts off at a hefty 128 gigabytes (GB) of internal storage, but you can also get a 256GB or 512GB phone.
The size specifications of the iPhone 13 mini are as follows:
Height: 5.18 inches
Width: 2.53 inches
Depth: 0.30 inch
Weight: 4.97 ounces
Screen size: 5.4 inches diagonally
While this phone is smaller, it packs a punch with most of the same features as the standard iPhone 13. It has a Ceramic Shield front, a glass back and an aluminum body for solid protection against scratches. The rounded corners give it a smooth look, while the IP68 rating supports the iPhone in up to 6 meters of water for up to 30 minutes.
Besides the screen size, the biggest difference you'll notice between the iPhone 13 mini and the iPhone 13 is the shorter battery life in the mini. If you're a heavy phone user, you may need to top off your battery throughout the day. You can generally expect up to 17 hours of video playback and 55 hours of audio.
The camera system on the iPhone 13 mini might be the little brother of the 13 Pro, but it certainly doesn't disappoint. Your rear lenses include Main and Ultra Wide cameras at 12 megapixels (MP) each, allowing you to optically zoom out to 0.5x and digitally zoom in up to 5x. When compared to the 12, the 13 adds Photographic Styles and updates the optical image stabilization system, as well as Cinematic mode for professional-level videos.
A refurbished iPhone 13 mini starts at a little over $500, offering excellent functionality without breaking the bank.
2. iPhone 12 Pro Max
If you want all the bells and whistles, the iPhone 12 Pro Max is the best option under $600. It'll give you a high-powered Pro camera system, a massive screen and excellent battery life. The 12 Pro Max sports the speedy A14 Bionic chip, which can power all the videos, apps and games you want to watch on that giant screen.
This device looks similar to other recent models, with slick rounded corners and a Ceramic Shield front. Like other Pro models, it swaps the aluminum frame for surgical-grade stainless steel. It has an IP68 rating for moderate water resistance. This phone starts at 128GB of storage and goes up to 256GB and 512GB. You can choose from a unique Pacific Blue, gold, graphite and silver.
The size specifications of this huge phone include:
Height: 6.33 inches
Width: 3.07 inches
Depth: 0.29 inch
Weight: 8.03 ounces
Screen size: 6.7 inches diagonally
The Pro camera system gives you Main, Ultra Wide and Telephoto lenses, all at 12 MP. You can optically zoom at 0.5x, 1x and 2.5x and use photo features like the Apple ProRAW format, Portrait mode and Night mode.
Although some newer Pro models offer better battery life, the 12 Pro Max can get you some of the best longevity in a cheaper iPhone. You can expect up to 20 hours of video playback and 80 hours of audio playback, offering an all-day battery for most users.
3. iPhone 12
With an October 2020 release date, the standard iPhone 12 sports a similar body design to the 12 Pro Max but in a size that many people find easier to hold. It uses the speedy A14 Bionic chip, a crisp Super Retina XDR display and a robust camera system. It gives you plenty of speed for most applications at an affordable price point.
The camera system is similar to the one on the iPhone 13, offering Main and Ultra Wide lenses and 0.5x and 1x optical zoom. You'll get features like Portrait mode, Night mode and Deep Fusion processing. The front camera is a 12 MP TrueDepth camera.
Other specifications for the iPhone 12 are as follows:
Height: 5.78 inches
Width: 2.82 inches
Depth: 0.29 inch
Weight: 5.78 ounces
Screen size: 6.1-inch diagonally
Like other modern iPhones, the 12 has IP68 water resistance. It supports up to 17 hours of video playback, 65 hours of audio playback and fast charging. Choose between 64GB, 128GB and 256GB of storage. The iPhone 12 comes in some exciting and fun colors, including a light purple, navy blue, pastel green, white, black and red. It features sleek, rounded corners and a build that uses a Ceramic Shield front and aerospace-grade aluminum.
4. iPhone 12 mini
The last member of the iPhone 12 lineup on our list is the iPhone 12 mini. It's another small-but-mighty option, offering solid performance in a compact frame. You'll get the relatively recent A14 Bionic chip and the same dual-camera system as the iPhone 12. Like the iPhone 13 mini, the 12 mini doesn't have room for a large battery and may need a fresh charge before the day is out. It supports MagSafe accessories, however, so you can stick on a battery case for better longevity.
The iPhone 12 mini is almost the same size as the 13 mini, with a 5.4-inch screen and a barely noticeable decrease in weight. You'll still get the IP68 water resistance and a sharp Super Retina XDR display. The 12 mini comes in 64GB, 128GB and 256GB versions and the same fun colors as the 12. These colors include lilac purple, teal blue, mint green, white, black and red.
The dual-camera system in the 12 mini is virtually identical to the one in the 12, offering Main and Ultra Wide lenses, 0.5x and 1x optical zoom options and 4K and high-dynamic range (HDR) video recording. The primary difference between the 12 mini and the next iteration, the 13 mini, is the lack of Cinematic mode and Photographic Styles. Either way, you can expect some solid photos from the iPhone 12 mini.
If you want a phone that supports 5G connectivity, the iPhone 12 mini is the cheapest option. Any iPhones from the 12 lineup — including the standard iPhone 12 and the 12 Pro Max — offer 5G, but the mini is the smallest and most affordable.
5. iPhone 11
It may look remarkably similar to the iPhone 12, but the standard iPhone 11 has some important differences, including:
4G connectivity: The move to 5G didn't happen until the iPhone 12, so the iPhone 11 won't help you there. Despite the popularity of 5G, a 4G phone should still work well for a long time. 5G isn't just a faster network — it uses different technologies that will affect coverage. Different networks have different coverage maps, so compare your potential coverage options for 4G and 5G. If they're similar, 4G might not make a noticeable difference for you.
No MagSafe compatibility: MagSafe accessories connect to the strong magnetic ring on the back of all iPhones since the iPhone 12. The iPhone 11 doesn't have this feature, so you won't be able to use it with magnetic chargers, cases, wallets, etc.
Capacity options: While today's iPhones start at 128GB and go to 1 terabyte (TB) or more, the iPhone 11 only comes in 64GB and 128GB versions. Since you can't add storage with a microSD card, anyone who needs more space will need to turn to cloud storage.
Even with these under-the-hood changes, the iPhone 11 offers plenty of the features Apple is known for, like great photo processing, Face ID, Apple Pay, wireless charging and eSIM support. The camera system and battery life on the iPhone 11 are almost identical to the iPhone 12, and the 11 runs on the A13 Bionic chip, which is still plenty fast for most users.
The iPhone 11 is slightly larger and heavier than the iPhone 12, but it comes in some eye-catching colors, including a light purple, yellow, mint green, black, white and red. You can get a refurbished iPhone 11 for under $300, making it a great budget-friendly iPhone for someone who doesn't need a flashy device.
6. iPhone SE (2nd Generation)
This iPhone was built for budget buyers, packing more updated features into an older frame. It doesn't have the edge-to-edge display of the flagship models, instead sporting bars on the top and bottom, one of which holds a Home button with a fingerprint scanner. With the second-generation iPhone SE, you certainly aren't getting the latest and greatest, but you will get the Apple experience in a simple package. It's great for anyone who doesn't need the bells and whistles and just wants a reliable iPhone.
The iPhone SE has a single-camera system with a 12 MP Main lens, but Apple's exceptional photo processing software still makes your photos worthwhile. The A13 Bionic chip should work well for all but the most demanding applications.
The size specs of the second-generation iPhone SE are as follows:
Height: 5.45 inches
Width: 2.65 inches
Depth: 0.29 inch
Weight: 5.22 ounces
Screen size: 4.7 inches diagonally
Like the iPhone 11, you won't get a ton of storage space since the SE only comes in 64GB and 128GB versions. Your color options are rather straightforward and include black, white and red.
7. iPhone XS Max
The iPhone XS Max came out in 2018, so again, it won't have a lot of flashy features, but it does offer reliable access to the Apple experience. It has a dual-camera system, decent battery life and a big screen. In fact, the screen is almost as big as the iPhone 14 Pro Max. It has plenty of modern capabilities, like 4G LTE connections, Face ID and IP68 water resistance. The A12 Bionic chip is on the older side but should still support most everyday phone use.
The camera system has Main and Telephoto lenses with 1x and 2x optical zoom options. You won't get features like Night mode or Photographic Styles, but you'll get Portrait mode, 4K video recording, slo-mo and timelapse.
The iPhone XS Max's specifications include:
Height: 6.20 inches
Width: 3.05 inches
Depth: 0.30 inch
Weight: 7.34 ounces
Screen size: 6.5 inches diagonally
Being on the older side, the XS Max might need a top-off charge throughout the day for heavy users, but it should last you all day if you're just using it for the basics. It can fast-charge up to 50% in 30 minutes and supports wireless charging. While some of the older phones don't offer much storage, the XS Max comes in a 512GB version for a bit more leeway.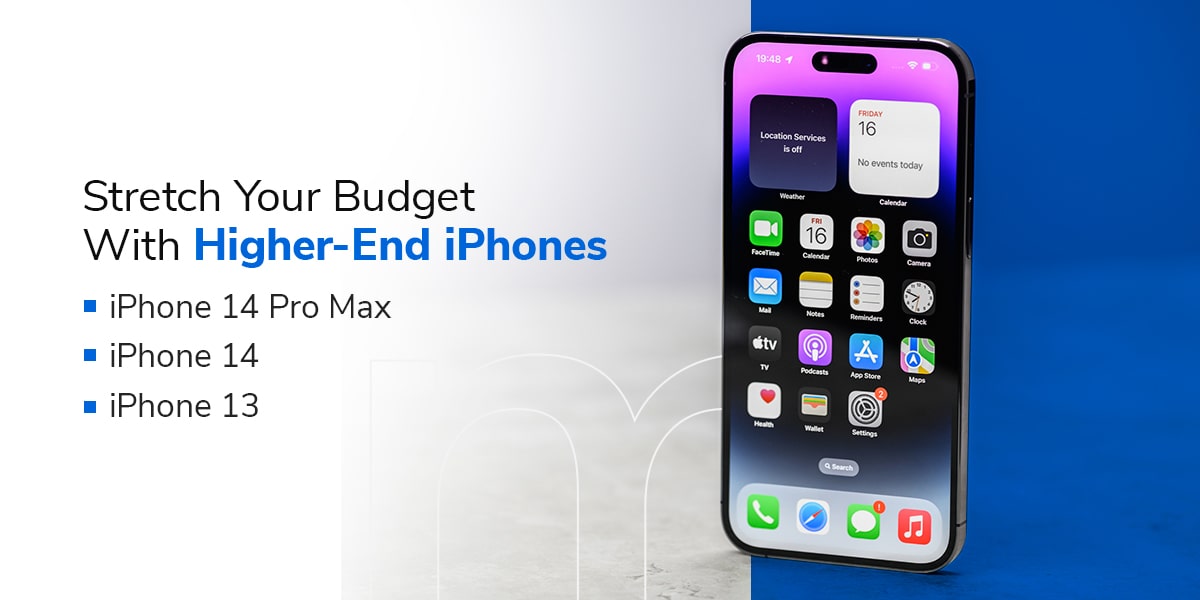 Stretch Your Budget With Higher-End iPhones
You have a lot of options for iPhones under $600, but if you're willing to expand your budget a bit, you can get some more bang for your buck. These newer phones often use updated processors that give you a bit more speed, provide more storage capacity and beef up the camera systems.
Other exciting additions from recent years include ProMotion displays, the Dynamic Island and Emergency SOS via satellite. The ProMotion display offers an adaptive refresh rate that provides smoother movements when appropriate and saves battery when it isn't, while the Dynamic Island adds a small pill-shaped cutout that changes shape and functionality based on your activities. For example, it could help you control your music or show a preview of map directions. Lastly, the satellite-based SOS tool allows you to call for help even when outside your cell network.
If you can stretch your budget a little, consider these capable iPhones:
iPhone 14 Pro Max: This 2022 iPhone really packs a punch, especially in the display category. It has a huge 6.7-inch screen with improved brightness, ProMotion technology, an Always-On display and the new Dynamic Island. Apple also ramped up the camera system with a new 48 MP Main camera and up to 3x optical zoom. With room for a bigger battery, the 14 Pro Max boasts up to 29 hours of video and 95 hours of audio playback. A refurbished 14 Pro Max would be a splurge at just under $1,000.
iPhone 14: The iPhone 14 has the same A15 Bionic chip as the 13, but it added satellite SOS and upgraded the camera system. You can take photos on the 14 with Action mode to stabilize shaky footage and the Photonic Engine, which helps improve image quality, especially in low-light shots. It has solid battery life, with up to 20 hours of video and 80 hours of audio playback, so it should last all day. A refurbished iPhone 14 currently runs in the mid-$600 range.
iPhone 13: The iPhone 13 is a great middle-of-the-road option. It only came out in 2021, so it offers updated hardware, including the A15 Bionic processor and a battery that gives you up to 19 hours of video playback. The 13 is similar to the 13 mini but with better battery life and a larger screen. While refurbished iPhone 13 models usually cost just over $600, some listings, such as those with minor wear and tear, can even go below $600, keeping you under budget.
While they might be a little pricier, you can still get a lot of bang for your buck with any of these newer iPhones. They should last for years, so you can go longer before needing your next phone.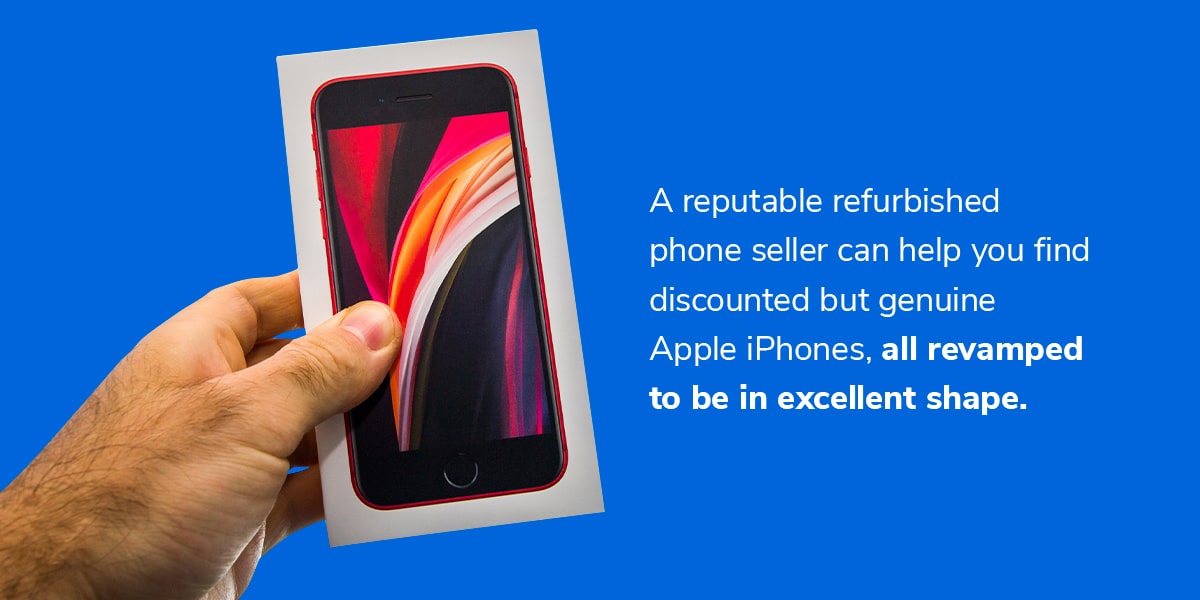 How to Get an iPhone for the Best Price
iPhones aren't the cheapest phones on the market, but if you know where to go, you can save big and make your next phone more affordable. You'll find tons of cheaper iPhones on the used market, but they might not be up to par. If things don't work out, you can't return the device or get it fixed.
A reputable refurbished phone seller can help you find discounted but genuine Apple iPhones, all revamped to be in excellent shape. They should come with a hassle-free return policy and a warranty, so you have options if the phone isn't quite what you expected. These qualities can help you get the security of buying new at the price of buying used.
Here at Mac of All Trades, we help you find the best prices on refurbished iPhones without making you deal with sketchy online sellers or inaccurate listings. Every item we sell goes through a detailed inspection and refurbishment process, which includes two-stage cleaning, a 40-point visual inspection and comprehensive hardware tests. You also get a one-year hardware warranty that you can extend to two years on most products.
Other perks include free shipping in the contiguous United States, a 14-day return period and easy support with our friendly customer service team via chat, email or phone. Whichever iPhone you're looking for, our refurbished selection can help you save and stay confident in your purchase.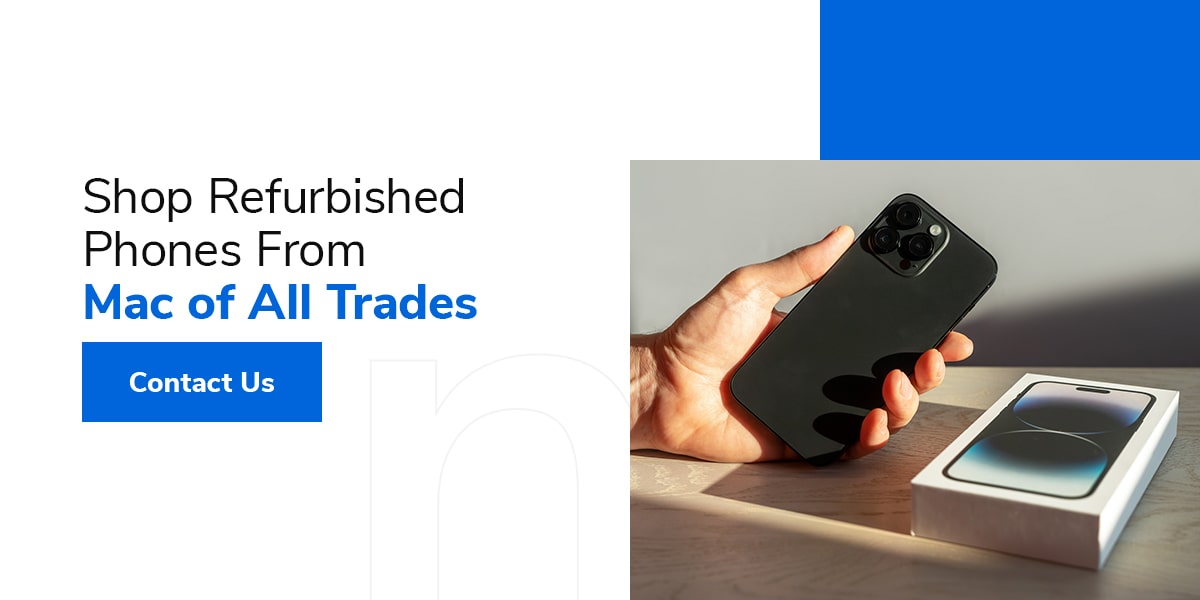 Shop Refurbished Phones From Mac of All Trades
Mac of All Trades makes it easy to buy refurbished phones from a reputable seller. With over two decades of happy customers and a large selection of iPhones, you can find the right device at the right price, all tested and refurbished by our certified technicians. If you're shopping on a tight budget, we also offer financing plans to make your purchase more manageable.
Upgrade your tech without breaking the bank. Shop our used and refurbished iPhones today!