Posted by Mac of All Trades Tech Team on Jan 6th 2023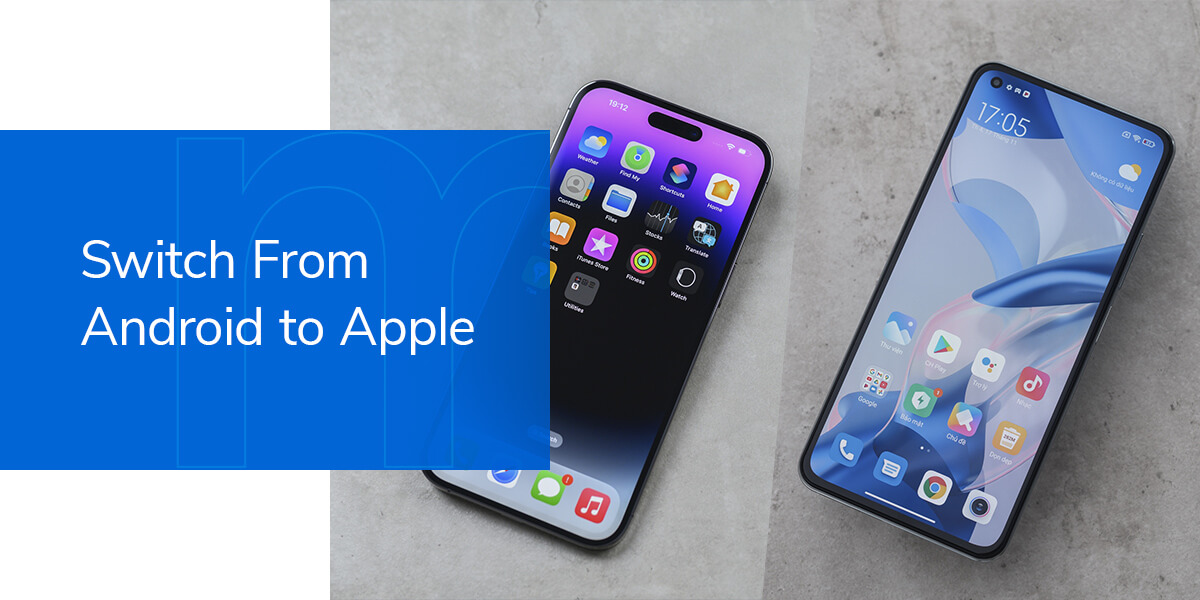 Nothing creates more controversy in the IT sector than claiming that Apple is superior to Android or vice versa. Android users sometimes complain that Apple consumers are only concerned about branding. On the other hand, Apple supporters say Android smartphones contain overly complicated features.
However, investing in technological devices should go beyond personal preferences. Though both have advantages and disadvantages, you may prefer one operating system over another. So, if you've been considering purchasing an Apple device, we've compiled a list of 10 reasons to switch from Android to Apple.
10 Reasons to Switch From Android to Apple
When purchasing a new phone, most users select between the two most popular operating systems — iOS and Android. Here are 10 reasons to switch from Android to Apple.
1. Retains Market Value
Switching to Apple products means having a product that retains its market value. As newer devices launch, people generally want to upgrade to the latest models and sell their older ones at a reasonable price. Composed of high-quality materials, Apple phones retain significantly more resale value than Android phones. In 2022, the iPhone Pro Max has a 3.8% depreciation rate after the first two months of its launch compared to the Samsung Galaxy S22+, which has a 53.8% depreciation rate.
2. Information Security
iOS vs. Android — which is more secure? When it comes to cybersecurity, iOS devices have the upper hand. iPhones are more secure than Android devices due to the closed Apple ecosystem and consistent system updates. Because of this, iOS devices are difficult to infiltrate. Furthermore, an iPhone is exceedingly unlikely to fall prey to a virus.
3. User-Friendly Interface
Apple will expose you to a more user-friendly interface when switching from Android. Apple devices' usability stems from straightforward operational logic — all apps launch from the home screen. For example, you can locate all the settings in a single menu. Even if you upgrade your iPhone to the latest model, the operating system remains consistently simple to use. Android phones offer high customizability, but their operating system is far more sophisticated than iOS.
4. Integrated Apple Ecosystem
Google may have made some headway in integrating Android devices into its ecosystem. But creating a streamlined environment often necessitates using third-party apps and platforms. On the other hand, Apple uses in-house features to connect its closed, integrated environment. For example, when switching to MacBook, you can effortlessly connect other Apple devices to it through your Apple ID — there's no need to download additional apps or software.
The integrated Apple ecosystem allows you to share photos, notes, emails and calendars across all your devices. The operating environment is safer when app developers, manufacturers, devices and users are all in it together.
5. Seamless Apple Pay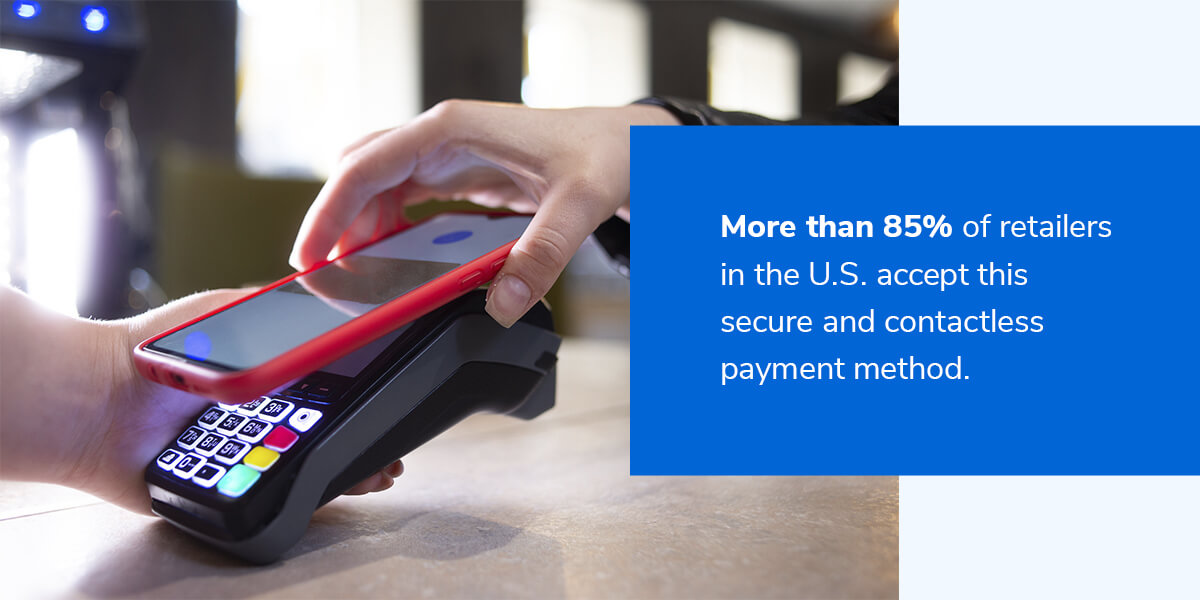 If you're thinking of switching to iPhone, iPad or any other Apple device, you'll enjoy the luxury of Apple's payment service — Apple Pay. More than 85% of retailers in the U.S. accept this secure and contactless payment method. Google Pay and PayPal are two other options with notable features. However, their interfaces are a little more complex. Because Google Pay isn't yet accessible in many countries, users looking for a quick and straightforward mobile payment solution may choose the Apple iPhone.
6. Optimized Third-Party Apps
Third-party applications and games for iPhones are nearly always better optimized than for Android phones. That's because Apple launches significantly fewer iPhone models yearly, whereas Android manufacturers release dozens of new devices simultaneously. As a result, it's more challenging for app developers to design software that works flawlessly on each Android device. Because of this, Apple devices have the exclusivity of getting the best apps first — optimized for each Apple device.
7. Prompt Updates
Apple promptly releases software updates to their entire range of devices — models launched no more than eight years ago. Meanwhile, Android devices can take weeks or months to update after Google releases the most recent version of Android. Android manufacturers frequently use software overlays such as Samsung's One UI, which require time to optimize with each new version.
8. Advanced Performance
For years, Apple has been developing its CPUs for the iPhone, and performance is continuously better and smoother compared to Android. Because Apple designs its hardware and software, everything is holistic for efficiency on a single system.
9. Superior Services
Apple offers streamlined, hassle-free services. Instead of spending hours on the phone with customer support, go to your nearest Apple Store for repair rates and estimates. In addition, filing claims is a breeze. In most cases, you can consult with Apple staff in-store and walk out with a brand-new or recently repaired smartphone in an hour or two.
10. Built-In Accessibility
Offering inclusive and accessible devices will provide a complete digital experience to many experiencing some form of disability. There are other reasons to advocate for inclusive technology, but ultimately, it helps reinforce societal equity. Apple is well ahead of the competition with accessibility features integrated into the iPhone. For example, Voice Control, VoiceOver, Large Text, Screen Magnifier, Smart Invert and other features are available. Regardless of the limitations, iPhone makes it easier to operate and control.
Refurbished Apple Devices Are the Best
There is frequently a stigma associated with purchasing old gadgets, since many companies don't have stringent quality control processes for refurbished equipment, but Apple does. While some sell used items with cosmetic flaws and other difficulties, Apple's refurbished devices are good-as-new products at a more affordable price.
You can find some fantastic deals when hunting for a refurbished Apple device. Still, it's good to know what you're getting into before purchasing. Here are a few things to consider when switching from Android to refurbished Apple devices.
Lower Cost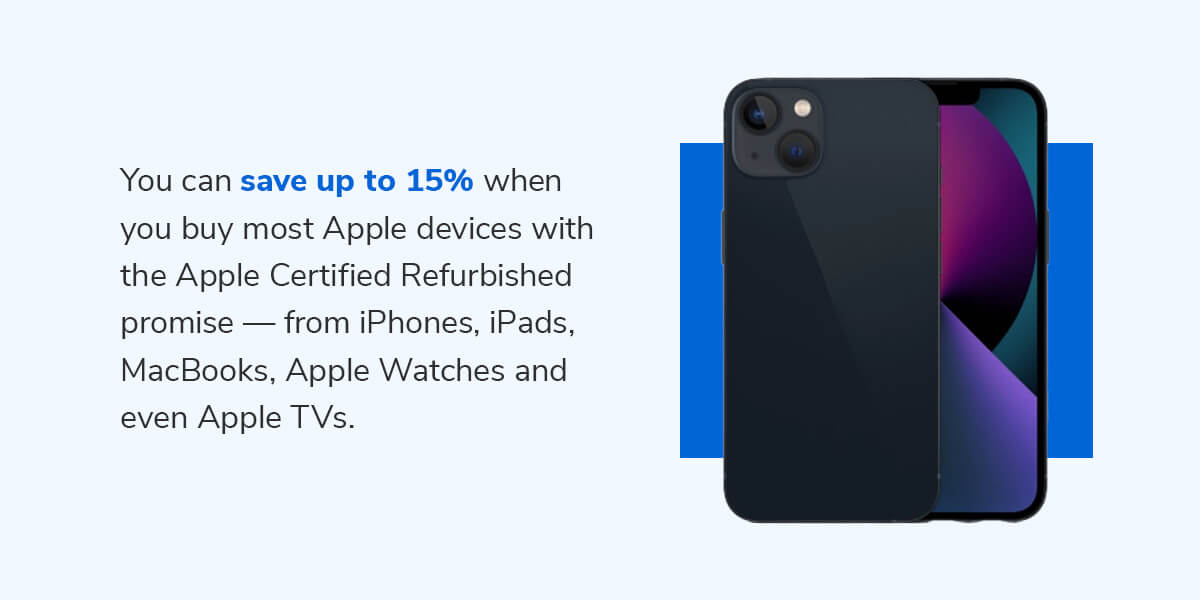 One of the most significant benefits of switching from Android to refurbished Apple devices is savings. Of course, brand-new Apple products can be pricey, so buying a refurbished Apple device is an excellent option — especially if you're new to the Apple platform. You can save up to 15% when you buy most Apple devices with the Apple Certified Refurbished promise — from iPhones, iPads, MacBooks, Apple Watches and even Apple TVs.
The Apple Refurbished Store and third-party reputable refurbishers can offer cheaper Apple products. But when comparing the two, some third-party refurbishers can deliver a much lower price than the Apple Refurbished Store. Always ensure the third-party refurbisher you choose has warranties on what they sell. Mac Of All Trades offers warranties — standard and extended — on most of our products.
Fewer Risks
An advantage of buying a refurbished Apple product is that it involves fewer risks. For example, if you're switching from Android to Apple, there may be an adjustment period. It's a new-to-you operating system with different features. If an Apple device does not suit your needs for whatever reason, you may not see it as much of an issue when you buy the product at a lower price. A refurbished Apple product might be the best option over a brand-new one if you want hands-on experience.
In addition, while price matters, so does quality. When you think of it, a refurbished Apple product has gone through an extra layer of quality control. Refurbished Apple products undergo a rigorous process that includes hardware and software checks, plus a comprehensive inspection of all components. Most, if not all, of the device's features pass the tests with flying colors. All Mac Of All Trades products are certified refurbished. Each device has undergone a thorough refurbishing process — from visual inspection and cleaning to hardware testing and a data reset.
The Refurbished Market
According to Custom Market Insights' market research study, the demand analysis of the global refurbished and used smartphone market size and share revenue was approximately $52.34 billion in 2021. It may reach about $146.43 billion by 2030, at a compound annual growth rate of 11.45% between 2022 and 2030.
Apple is the most popular brand of refurbished smartphones. In a 2022 study, over 60% preferred refurbished iOS devices over Android. Refurbished Apple products can range from standard models to those custom-made with enhanced parts using Apple's custom build-to-order options — from Macs and iPads to the Apple TV and Apple Watch.
At Mac Of All Trades, you can find quality refurbished Apple iPhones, refurbished Apple laptops and everything in between, like refurbished Apple accessories.
Pros of Apple Products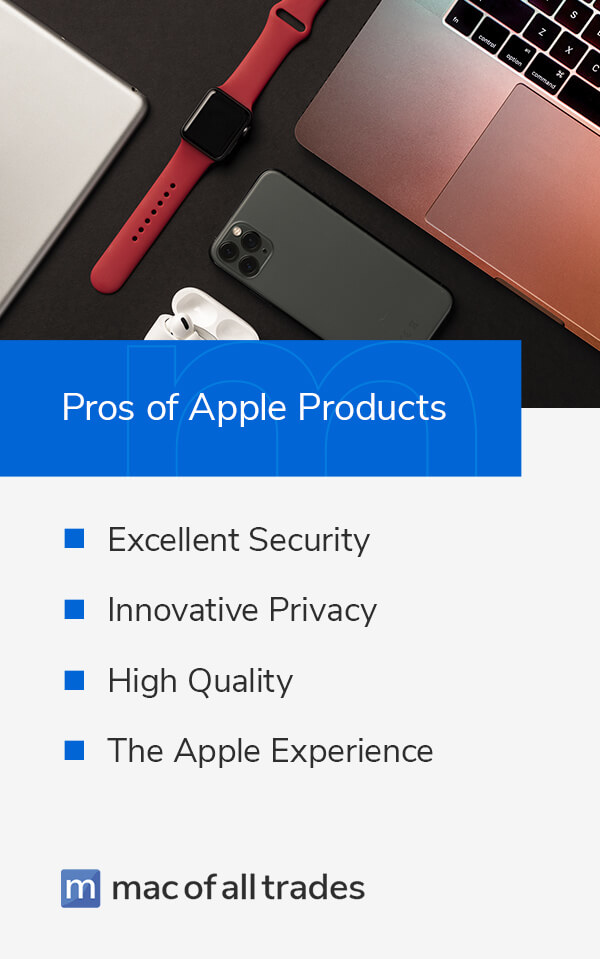 Apple is a technological industry leader with an excellent reputation and highly desirable products. As a tech company, Apple has been in the spotlight for decades. They command such brand loyalty that many people exclusively use Apple products. If you are considering buying an Apple device such as an iPhone, iPad, iMac or Apple Watch, we have listed the top benefits of Apple products below.
Excellent Security
Apple devices are well-known for their excellent security measures. Apple's products are secure by design, with enhanced security measures integrated into each device — and Apple has done that while maintaining a fantastic user experience by allowing people to operate how they choose. The software updates, boot process and continuous OS functionality all fall within the purview of system security.
Innovative Privacy
One of Apple's core values is privacy — another significant advantage of their products. Apple doesn't sell customer data for profit and doesn't come preinstalled with user-tracking software. That's not to say Apple doesn't follow you at all. It does so to improve its services and goods, which makes sense. However, Apple users have control over what they share.
High Quality
Apple devices also have a competitive edge regarding high-quality hardware and software. Because Apple engineers don't design for other devices, the operating system and other native apps work in harmony with their hardware. Consequently, the finished product feels terrific and sturdy and performs well. Apple's hardware and software are flawlessly compatible to give consumers a highly personalized, high-quality user experience.
The Apple Experience
When you use an Apple device, you get a range of things at your fingertips that you didn't even realize you needed until Apple thought of it. They appeal to your subconscious, and items tagged "maybe" in the back of your mind now rise to the forefront as must-haves. If you want to join the exclusive group of Apple product consumers, you may acquire numerous sizes, styles and more excellent luxury add-ons with the products. Apple excels at satisfying needs you didn't even realize you had.
FAQs About Apple vs. Android
Most users evaluate various factors, including their budget, the phone's performance and speed, the display and cameras, the device's appearance and feel and its ability to interact with other devices in the home. Here are answers to your questions about Android vs. Apple.
Which Performs Better?
It's not unusual to hear someone say that iPhones have "poor hardware." At first glance, that's true, with lower-resolution displays and less RAM than rival Android devices. However, iOS makes up for these issues with optimization. iOS doesn't require massive amounts of RAM because it can maintain over a dozen apps loaded and ready with only 2GB.
And, while some models' resolution may appear low, the pixel density remains more than acceptable. In contrast, less resolution means less work for the GPU and lower battery drain. Overall, while Android phones nearly always have more impressive physical specifications on paper, iPhones outperform them in most circumstances.
Which Is More Secure?
Whether iOS is more secure than Android is debatable, though the general view favors Apple. iOS features more constant updates for all devices, a restricted environment that is more difficult to get into and a more stringent app marketplace. These features make it hard for would-be attackers to target iOS users.
Which Offers Better Support?
When you have an issue with your Android phone, you might search internet forums for a solution or call your carrier. In contrast, with the iPhone, you can access a massive collection of relevant support articles on Apple's website, receive assistance through live chat or arrange an appointment at an Apple Store Genius Bar. Except for the Pixel line, Google has yet to have this kind of direct contact with its consumers. Other Android phones need you to seek help from your carrier or the phone manufacturer, where you may receive inconsistent support.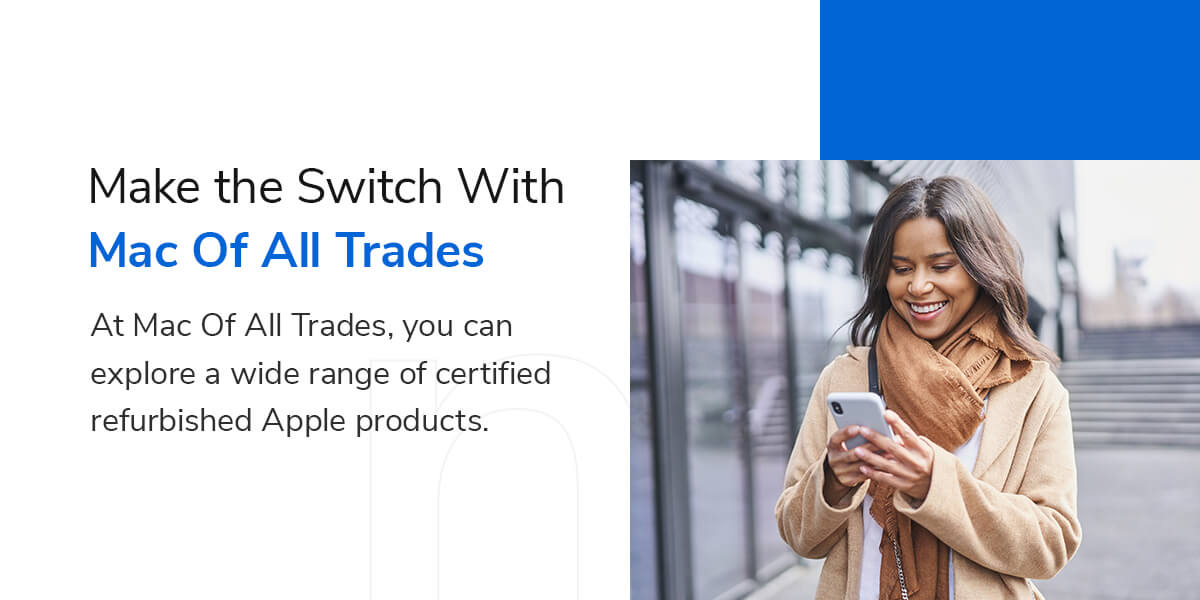 Make the Switch With Mac Of All Trades
If you're ready to switch from Android to Apple, count on Mac Of All Trades to sell you new and refurbished Apple products. At Mac Of All Trades, you can explore a wide range of certified refurbished Apple products. You can rest assured that any refurbished Apple product you buy from us has been through a rigorous testing process. Every item is in good to outstanding condition and has a complimentary hardware guarantee. Our affordable prices and exceptional customer service set us apart. Browse our selection today or call 800-581-8987 for more information.