Posted by Mac of All Trades Tech Team on Jul 24th 2023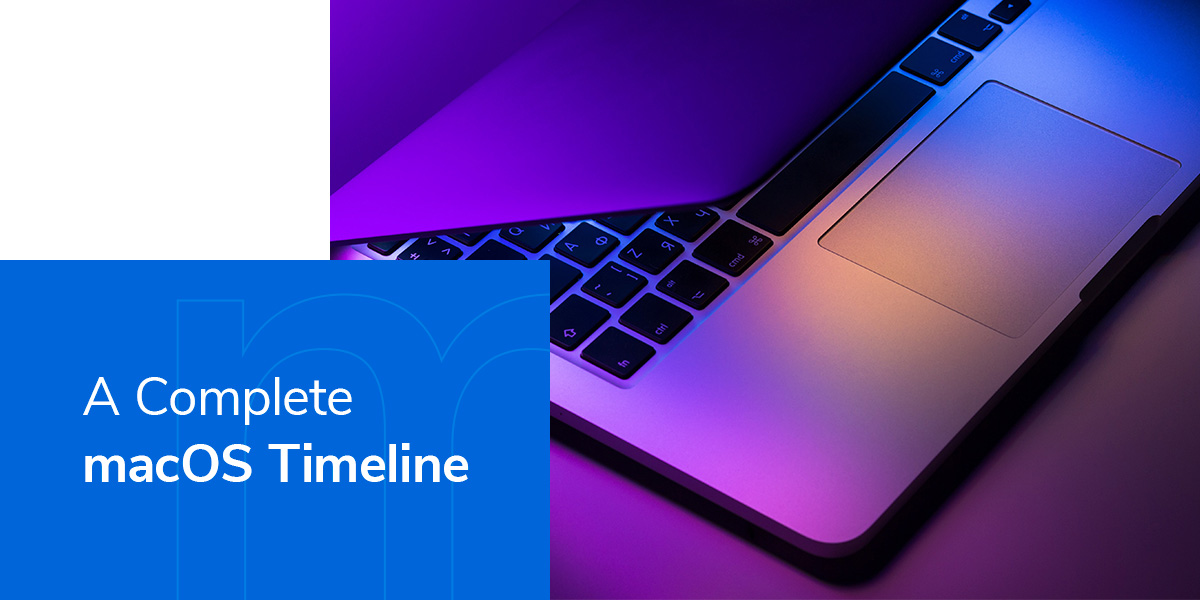 What is macOS? macOS is the operating system developed by Apple for its product line. The Apple OS software, initially released in 1984, has gone through many iterations and is now the second most popular operating system for personal and enterprise computers and laptps worldwide. With its sleek design, user-friendly interface and powerful features, macOS has become a favorite among creative professionals, developers and everyday users.
As Apple evolved throughout the years, so did its OS. This article will walk you through the macOS timeline with a list of macOS versions — from its initial public release in 2001 to the most recent macOS, Ventura, released in 2022.
The macOS Timeline
Here, we'll journey through the history of Apple macOS software, from the early days of Mac OS X to the latest version of macOS. As Apple's flagship OS, macOS has undergone many changes and improvements over the years, with each new version bringing new functionality and security updates.
From the iconic Aqua interface of the early Mac OS X versions to the sleek and modern design of the latest Apple macOS software, Apple continues to innovate and evolve to meet its users' needs. Join us as we dive into the timeline for macOS of significant releases, features and updates that have shaped this iconic OS.
macOS 13 Ventura
Ventura, or macOS 13, is the 19th and current version of Apple's OS, released in June 2022. This new macOS version is the successor to Monterey. Ventura takes its name from the California coastal city as part of the California landmark-based naming strategy introduced with OS X Mavericks.
Ventura came with a few new features and improvements.
Continuity Camera: Allows inserting photographs or documents from your iPhone's camera into your Mac and using it as a FaceTime camera.
Mail: Introduced the ability to undo send.
Passkeys: Replaces passwords through a safer and easier sign-in method.
Safari: Adds the ability to share a set of tabs.
Stage Manager: Replaces Mission Control for window management.
System Settings: Replaces System Preferences and has a design derived from iPadOS.
Here is a list of Ventura-compatible Macs that came out in the same year:
Mac Studio
MacBook Pro 13-inch M2
macOS 12 Monterey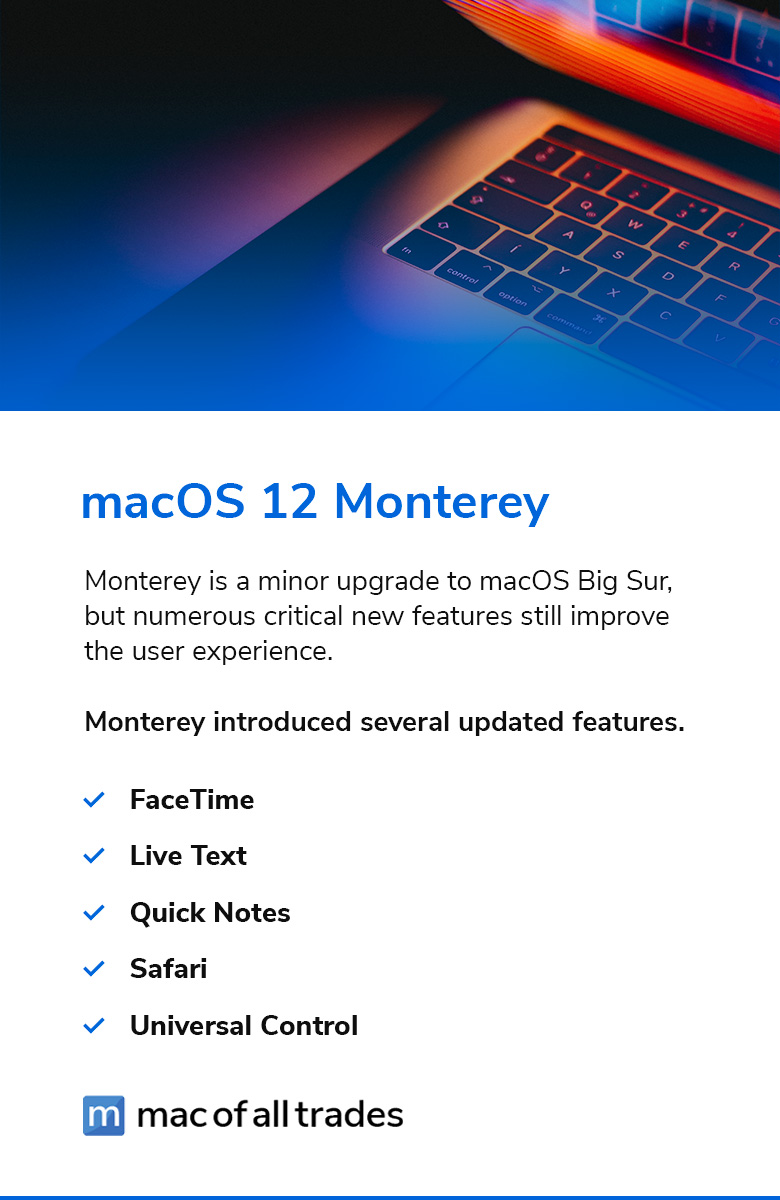 Apple introduced macOS 12, or Monterey, in October 2021 — the 18th OS iteration. Monterey is a minor upgrade to macOS Big Sur, but numerous critical new features still improve the user experience.
Monterey introduced several updated features.
FaceTime: Added various incredible enhancements, including Voice Isolation, Wide Spectrum and Portrait Mode.
Live Text: Machine recognition of text in photos and images.
Quick Notes: This add-on to the Notes app allows users to jot notes on any app or website.
Safari: Presented a more compact user interface and added tab groups to help with organization and consolidation.
Universal Control: Allowed navigation between macOS and iPadOS devices with a single keyboard and mouse configuration for a more fluid workflow.
Here is a list of Monterey-compatible Macs that came out in the same year:
macOS 11 Big Sur
Apple released macOS 11, code-named Big Sur, in June 2020. With Big Sur, Apple released the most significant design upgrade to macOS since the debut of Mac OS X — revamping everything from the curvature of window edges to colors and dock icon styles. The new style was simultaneously fresh and familiar.
This macOS version number had the following notable features.
Messages: Based on the iOS Messages app, it included features such as inline replies, mentions and pinned conversations.
Notification Center: Redesigned the app with interactive notifications grouped by app.
Safari: Improved energy consumption and performance with several other features and enhancements.
Software: Faster software updates with an improved updating mechanism.
Here is a list of Apple computers you can still buy that came out in 2020:
MacBook Pro 13-inch Two Thunderbolt
MacBook Pro 13-inch Four Thunderbolt
MacBook Air M1
macOS 10.15 Catalina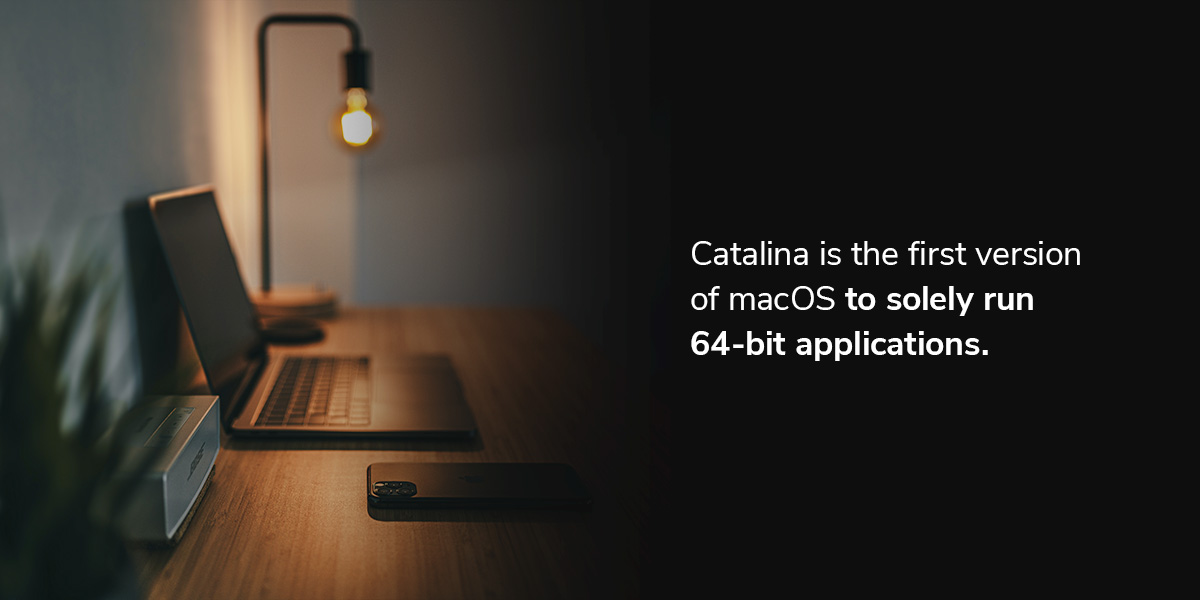 In June 2019, Apple released macOS 10.15, or Catalina. Catalina is the first version of macOS to solely run 64-bit applications. It also eliminated the need for iTunes to create separate programs for different product functions.
Catalina came with a few new advancements.
Activation Lock: Available for all T2 security chip devices, this feature enables users to wipe and reactivate their Macs with secure authentication.
Catalyst: A new API that allows apps created for the iPad OS to work on macOS.
Find My.app: Track all Apple ID-registered devices and devices whose owners have shared location information with you.
iTunes: Apple Music, Apple Podcasts and Apple TV applications replace the single iTunes app.
Sidecar: Lets users convert their iPad into a Mac display.
Here is a list of Apple Macs that came out in 2019:
MacBook Pro 13-inch Four Thunderbolt
MacBook Pro 13-inch Two Thunderbolt
macOS 10.14 Mojave
Apple introduced macOS 10.14, or Mojave, in September 2018. macOS Mojave is the first Mac update without a mountain-themed name, with its new title emphasizing the software's aesthetic modifications.
Mojave introduced many upgrades.
Dark Mode: Expanding on the darker menu bar and dock introduced in macOS Sierra, Mojave includes a complete systemwide Dark Mode that affects everything from the dock and menu bar to windows and programs.
Dynamic Desktop: It supports wallpapers that vary throughout the day, with a different appearance in the morning, afternoon and evening.
Stacks: A new desktop organizing feature categorizes files into Stacks based on file type, date and tag — minimizing clutter.
Here is a list of Mojave-compatible Macs released in the same year:
macOS 10.13 High Sierra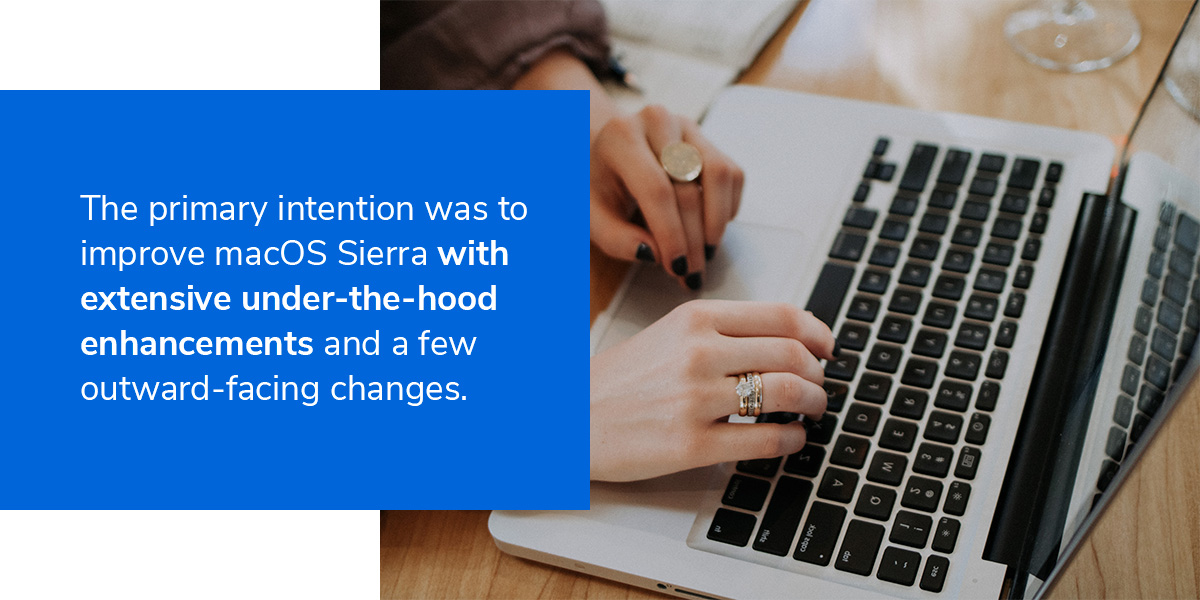 Apple released macOS 10.13 High Sierra in September 2017. As the name implies, this OS is a successor to macOS Sierra. The primary intention was to improve macOS Sierra with extensive under-the-hood enhancements and a few outward-facing changes.
High Sierra introduced many new features and updates.
Apple File System: APFS is a 64-bit file system designed for modern storage, such as solid-state drives. It's also easily extensible to future storage technologies. Crash protection, easier backups, consistent snapshots, safe document saves and native encryption are all features of APFS.
High-Efficiency Video Coding: HEVC delivers higher video quality while simultaneously providing better compression — saving crucial storage space on a user's Mac.
Metal 2: Metal's next-generation version, Metal 2 has a faster draw call throughput thanks to driver improvements, SIMD group data interchange, indirect argument buffers, sampler arrays, uniform variables and resource heaps. Metal 2 delivers spectacular new visuals to apps and games for users.
Here is a list of High Sierra-compatible Macs that came out in 2017:
macOS 10.12 Sierra
In September 2016, Apple released macOS 10.12, or Sierra, to refine the El Capitan version. Apple elected to drop the OS X name in favor of the new macOS name to align the Mac operating system with iOS, watchOS and tvOS.
Sierra offered several enhancements.
Apple Music: Engineers introduced a revamped, simplified Apple Music UI to make it easier to discover new songs.
Apple Pay: As of this version, Apple Pay became available on the web, in addition to iOS 10 and macOS Sierra. People can use this service for web purchases on participating websites that have signed up to accept Apple Pay.
iCloud: All files placed on the desktop or in the Documents folder in macOS Sierra immediately synchronize to iCloud, making them available on other Macs and iOS devices.
Siri: Apple's Siri personal assistant became accessible on Macs for the first time with macOS Sierra. Siri can carry out the same operations that are available on iOS.
Here is a list of Apple Macs that came out in the same year:
OS X 10.11 El Capitan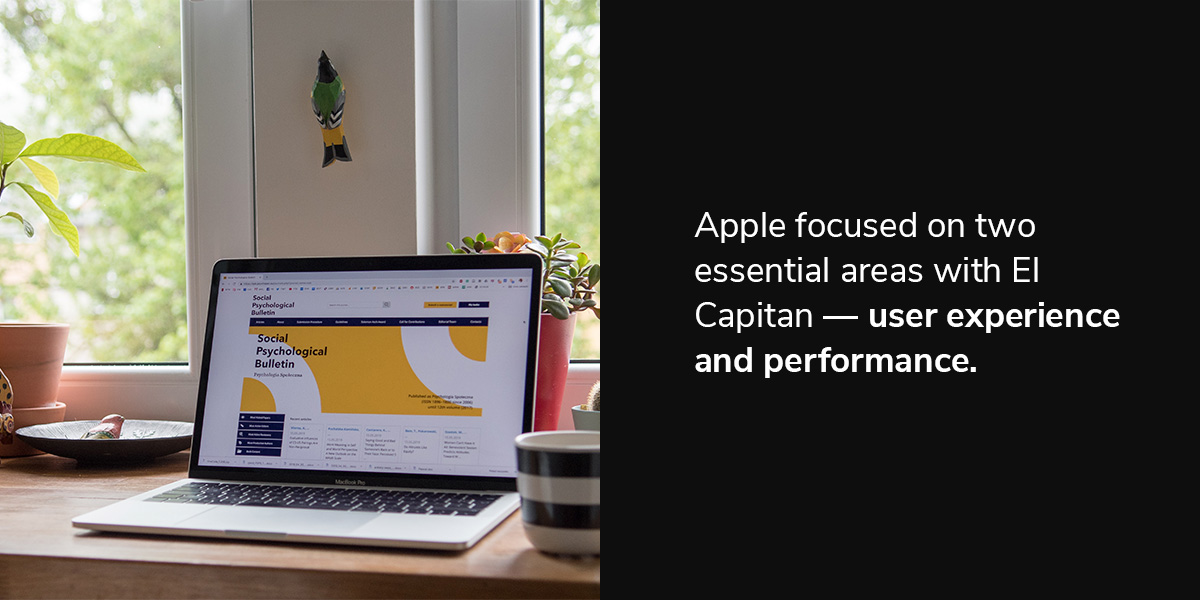 OS X 10.11 El Capitan, launched in September 2015, built upon functionality and design improvements introduced with OS X Yosemite. The name OS X El Capitan may appear odd, but Apple intended to emphasize the OS' status as an upgrade that adds under-the-hood changes and refinements to OS X Yosemite.
Apple focused on two essential areas with El Capitan — user experience and performance. Window management, applications and Spotlight search enhancements improved Mac usage, while features like Metal graphics technology make everyday tasks like app launch speedier.
Here is a list of Mac devices launched in 2015:
OS X 10.10 Yosemite
Apple released Mac OS X 10.10, code-named Yosemite, in October 2014, debuting a significant operating system redesign. It included minor changes such as thinner fonts, new color palettes and a noteworthy shift toward flat visual design that better fits the iOS style. Yosemite also includes Handoff and Continuity, indicating Apple's desire to provide a better cross-device experience.
Some Mac devices that also launched in 2014 include the following:
OS X 10.9 Mavericks
OS X 10.9 Mavericks, launched in October 2013, had several new features designed to improve battery life and performance. Mavericks marked the beginning of a new naming convention for macOS, with Apple shifting away from the use of big cat names and toward California-themed names.
Mavericks included improved multi-monitor compatibility and increased finder capabilities. All users experienced reduced battery consumption, a new iCloud Keychain capability for safe cross-device passwords and enhanced Safari speed.
Notable Mac devices released in the same year include the following:
OS X 10.8 Mountain Lion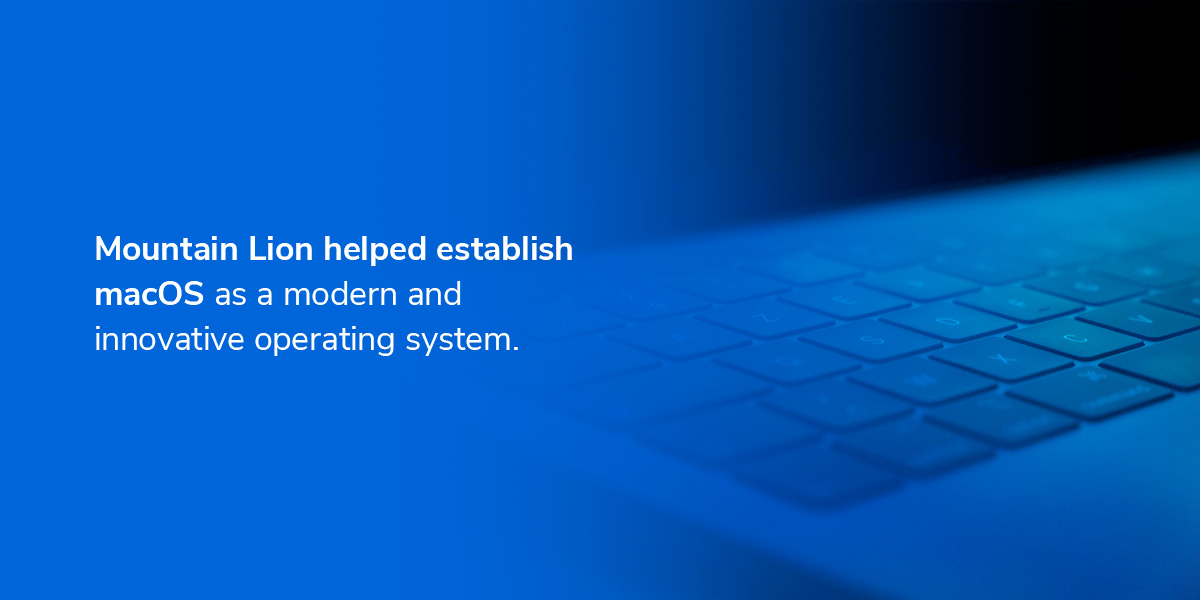 Apple introduced OS X 10.8, or ountain Lion, in July 2012. Mountain Lion helped establish macOS as a modern and innovative operating system, focusing on making it easier for users to access their content and stay connected across multiple devices.
Mountain Lion features included more comprehensive integration with Apple's iCloud service, the ability to receive notifications from iOS devices and the addition of Gatekeeper for better security against malware. Mountain Lion also marked the end of support for some older Mac models, as Apple shifted to a more rapid release cycle.
The following Mac devices came out in the same year as OS X Mountain Lion:
Mac OS X 10.7 Lion
Apple released Mac OS X 10.7 Lion in July 2011. The philosophy behind Lion was to bring iOS innovation back to the Mac. Features included running full-screen applications, Launchpad for quickly accessing installed applications and Mission Control for managing multiple desktops and windows. Other notable additions included improvements to file sharing and AirDrop for quickly sharing files with other users on a local network.
Here is a list of Lion-compatible Macs that came out in 2011 and 2010:
Mac Mini 2011
MacBook 2010
Mac Mini 2010
iMac 2010
Mac Pro 2010
Mac OS X 10.6 Snow Leopard
In August 2009, Apple released Mac OS X 10.6, or Snow Leopard, to refine the Leopard version. Snow Leopard focused on improving the operating system's performance and stability rather than introducing new features. One of the most significant changes in Snow Leopard was the shift to 64-bit computing, which allowed the operating system to make better use of modern hardware.
Mac OS X 10.5 Leopard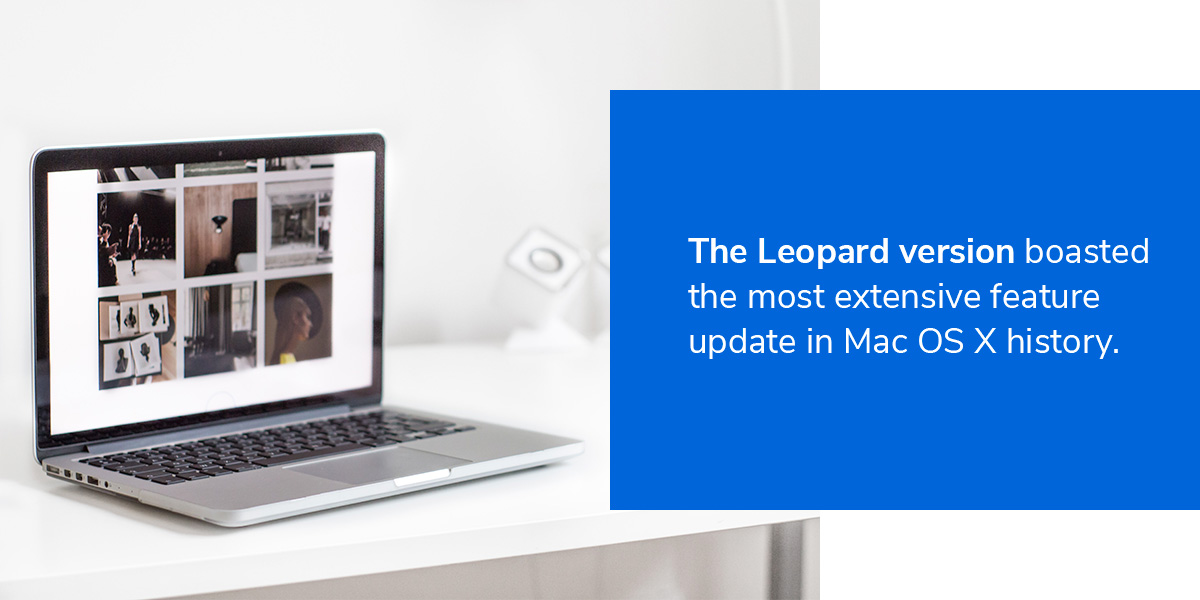 Apple introduced Mac OS X 10.4, or Leopard, in October 2007. The Leopard version boasted the most extensive feature update in Mac OS X history. Leopard came with over 300 new features, including a new Dock, Finder, menu bar, Stacks, Time Machine for automatic backups, Spotlight upgrades and 64-bit app compatibility.
Mac OS X 10.4 Tiger
Apple released Mac OS X 10.4, code-named Tiger, in April 2005. Tiger introduced many improvements, including the Spotlight search tool, which allowed users to quickly find and access files and content across their computers. Tiger was also the first retailed version of Mac OS X to run natively on Intel. Future Macs would have Intel processors as Apple transitioned away from PowerPC, allowing for more power-efficient systems.
Mac OS X 10.3 Panther
In October 2003, Apple released Mac OS X 10.3, or Panther. Safari, Apple's first official web browser, replaced Internet Explorer on Mac. Panther offered several new features, including the ability to search files and folders quickly with Spotlight, improved Exposé and Finder capabilities, a new iChat messaging application with built-in video conferencing and over 150 other features.
Mac OS X 10.2 Jaguar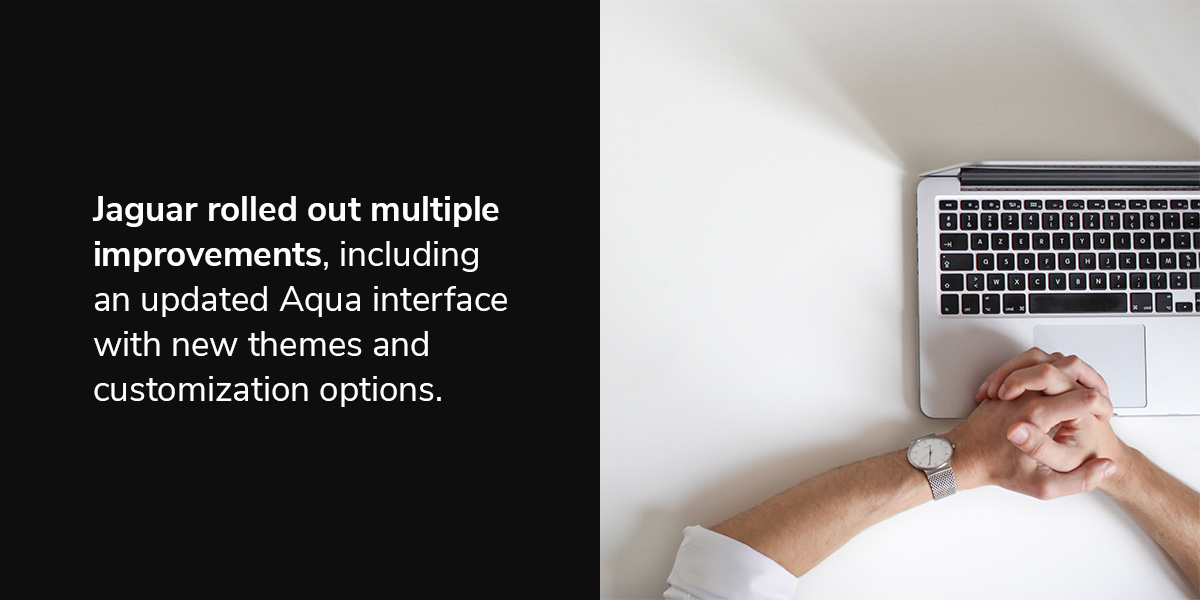 Apple introduced Mac OS X 10.2, or Jaguar, in August 2002 as the updated version of Puma. Jaguar rolled out multiple improvements, including an updated Aqua interface with new themes and customization options, support for Apple's Rendezvous networking technology and improved printing capabilities. Jaguar also introduced an accessibility API, Universal Access, which gives users accessibility features to make interacting with the operating system easier.
Mac OS X 10.1 Puma
Apple released Mac OS X 10.1, code-named Puma, in September 2001 as a free upgrade to Cheetah users. Puma addressed many of its predecessors' stability and compatibility issues and introduced several new features, including a new Mail application, support for CD burning and improved networking capabilities. One of the most significant changes in Puma was the addition of Quartz Extreme, which offloaded graphics rendering to the computer's graphics card, resulting in a significant performance boost.
Mac OS X 10.0 Cheetah
In March 2001, Apple released its first version of Apple's desktop operating system, Mac OS X 10.0, or Cheetah. This classic macOS version significantly changed from the previous Mac OS 9, featuring a new Unix-based architecture and a completely redesigned UI. The 3D graphics featured a slick water theme, providing a unique visual experience. Cheetah introduced many core features still present in macOS today, such as the Dock, the Finder and the Quartz graphics system, which allowed for hardware-accelerated graphics and PDF rendering.
FAQs About macOS
Refer to these frequently asked questions about macOS to learn more.
What Mac OS Comes on My MacBook?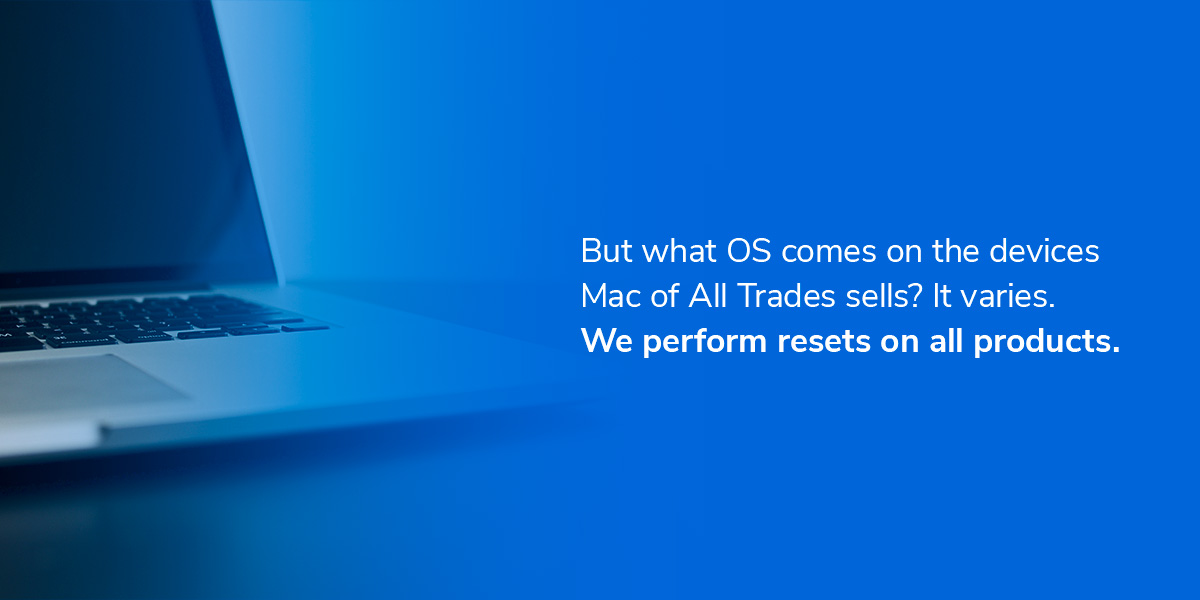 To find out which version of macOS is on your MacBook, navigate to the Apple menu and choose the About This Mac option. You'll find the macOS name, such as Ventura or Monterey, followed by the version number. Learn more about this process on Apple's website.
But what OS comes on the devices Mac of All Trades sells? It varies. We perform resets on all products. Typically, devices come with the most current compatible OS. All products are certified refurbished, and customers can upgrade independently if an update is available.
How Do I Update to the Latest Version of macOS?
Apple advises using the most recent macOS version compatible with your Mac. macOS upgrades keep your computer secure and stable, plus they include the most recent features and built-in programs. Learn how to update to the latest version of macOS or how to download macOS onto your Mac.
What Are the Differences Between Mac OS X and macOS?
Before macOS, Mac OS X introduced one notable difference — the brand's name. From 2001 until 2011, Mac OS X was the official name. Apple then transitioned from Mac OS X to OS X for four years. In 2016, Apple rebranded its desktop OS to macOS to align with its other operating systems' naming conventions, such as iOS, iPadOS, watchOS and tvOS.
Find the Perfect MacBook for You at Mac of All Trades
Often, the benefits of buying a refurbished MacBook surpass those of buying a new laptop. Though the differences between a new and used Mac are minimal, refurbished Macs provide more advantages than you may imagine — plus, buying refurbished Apple tech is a safe option when you choose Mac of All Trades.
We sell like-new Apple laptops at an affordable price. Our meticulous inspection process ensures your laptop will function properly, and our one-year hardware warranty backs this up.