Posted by Mac of All Trades Tech Team on Aug 15th 2023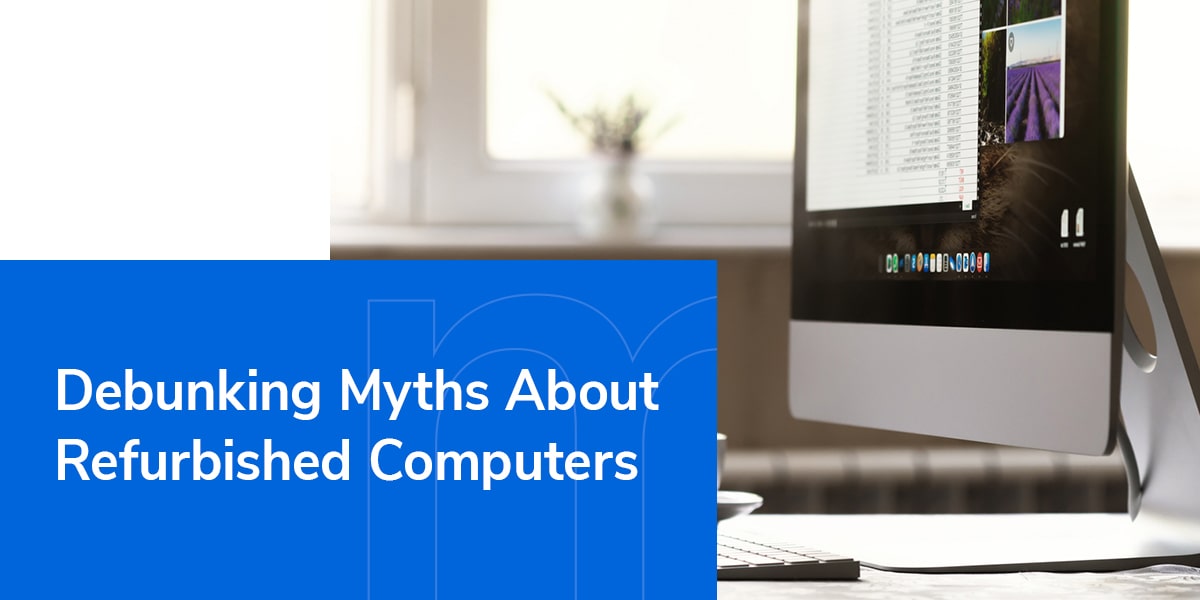 We've all heard the myths about refurbished Macs and other computers — that they're defective in some way or too slow to use. The truth is, there is a large group of tech enthusiasts who buy refurbished equipment, and there are many good reasons to look at reconditioned tech. If you know the best place to buy refurbished computers, you can get a better machine than a new one.
Still on the fence about buying refurbished gear? We're here to debunk some common myths about used MacBooks so you can benefit from the best technology without the hefty price tag, and know you're buying quality items that last.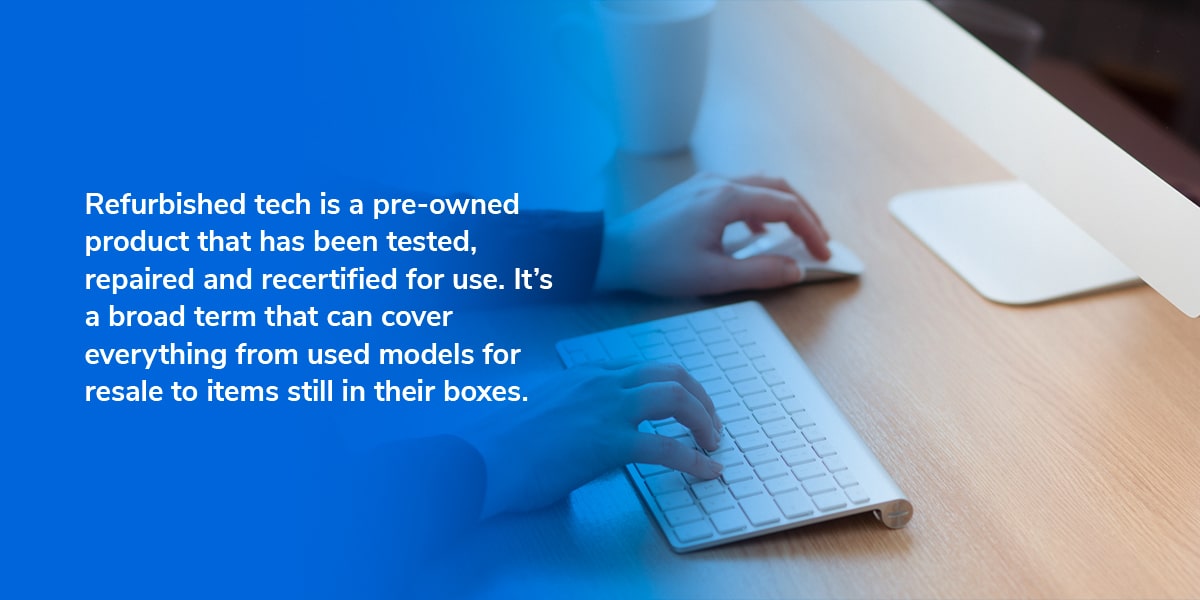 What Is a Refurbished Computer?
If you want to weigh the pros and cons of refurbished computers, it's best to understand what they are. There is a difference between "refurbished" and "used" — put simply, "used" means sold as-is without any repairs or upgrades.
Refurbished tech is a pre-owned product that has been tested, repaired and recertified for use. It's a broad term that can cover everything from used models for resale to items still in their boxes. These products have had their drives restored and the data wiped before resale. They also undergo rigorous testing and any defective parts are replaced.
Why choose refurbished? They are cheaper than new items, better for the environment and allow you to test the latest technology without paying a higher price for a new system.
8 Myths About Refurbished Macs: Debunked
Many myths are circulating about technology, which makes sense considering how much we rely on computers, phones and tablets daily. If you're considering buying a refurbished MacBook, we've debunked some of the most common myths about refurbished tech.
Myth: Refurbished Means Defective
It's a common misconception that refurbished items are broken or defective and that someone has to repair them before selling them. In truth, you're more likely to buy a defective new unit than a defective refurbished one, since trustworthy providers comprehensively test refurbished equipment. If you buy your refurbished computer from a provider with good reviews, it's perfectly safe to choose these options.
Myth: Refurbished Means "Used"
You've probably heard people say that refurbished computers are just used models at the end of their useful life. You might get to use one for a few months before it stops working altogether. Another myth, busted. Only a small number of refurbished models fit this description. The rest are either new devices or have had very little use. These computers often come from corporate environments in good working condition, and all they need is minor tune-ups to get their performance up to scratch.
Knowing the difference between used and refurbished equipment is essential. Used computers are on the market without testing beyond basic functionality. They are sold as they are. Refurbished computers are more reliable as they undergo testing and repairs, and the provider fixes any bugs or defects before putting them on the market.
Myth: Refurbished Computers Are Slow
Many believe that buying refurbished models means you sacrifice performance and computing power. The latest computers always come with new technologies. Still, the difference in performance between new and refurbished models isn't so straightforward. A refurbished model may be slower than the latest model — but if you buy a refurbished version of the newest model, there is no difference in speed.
Your provider replaces the battery in a refurbished product with a new one before they put it on the market, along with any other parts that impact the performance or speed of your machine. If a computer goes through a reliable refurbishment, it will be as high-performing as a new model.
Myth: There Is No Warranty for Refurbished Equipment
There's a big difference between buying secondhand computers from strangers online and choosing a professional refurbisher. If you take the former route, you probably won't get a warranty. When you buy from a reputable refurbisher, you get a hassle-free warranty — generally between 30 days and one year.
Refurbishers are not just interested in getting you to take computers off their hands. It's in their best interest to provide machines that work, so in many cases, the warranty is just a formality.
Myth: Refurbished Machines Are More Likely to Break
There has been some debate about how long refurbished computers last. Another common myth is that if you buy a refurbished computer, you'll spend most of your time dealing with repairs and maintenance issues. Assuming the company you buy from has a warranty, your machine will only require the same level of repairs and maintenance as a brand-new model.
Manufacturers have an expected failure rate on their computers. Refurbished models worked when they arrived at the refurbisher and underwent testing and repairs, so they're unlikely to need more repairs than any other computer.
Myth: You Can't Use Refurbished Machines for Business
As myths go, the one that says you can only use refurbished computers for basic home applications is the furthest from the truth. Many refurbished computers have helped people run businesses, with processing power that rivals any personal computer. You can often do more with a refurbished business computer than you would with a new entry-level model for the same price.
Myth: Refurbished Computers Don't Last
Some argue that because refurbished computers have already performed their jobs, they can't last as long as new machines. Refurbished computers often last just as long as their new counterparts. If you buy and run a new computer for years, the device misses updates, reinstallations, repairs and testing. On the other hand, purchasing a refurbished model means that experts have tested, repaired and deemed it usable.
Myth: You Only Buy Refurbished Computers for the Savings
While saving money is a driving factor for choosing refurbished goods, it isn't the only reason people buy. Refurbished models give you access to technology that's out of your budget. Quality refurbished computers may also have attractive technology that's been discontinued in newer models. Buying refurbished options is also more eco-friendly and sustainable compared to buying new.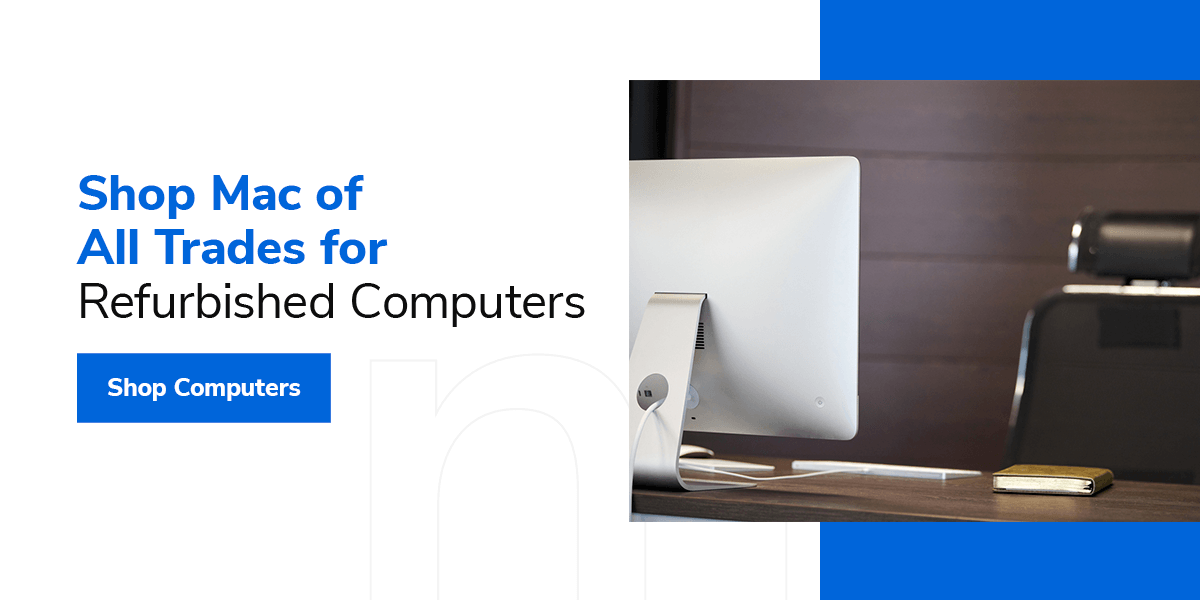 Shop Mac of All Trades for Refurbished Computers
Refurbished computers are an excellent choice if passed through the right hands. Buying one means upgrading your computer for less without sacrificing performance. While most of what you hear about refurbished tech is false, you do need to work with a trustworthy provider for reliable and well-tested computers.
At Mac of All Trades, our refurbished computers undergo stringent testing and repairs, including a warranty. We pride ourselves on giving our customers the best experience possible. We offer free shipping to the contiguous U.S. as well as genuine, caring customer service via phone, chat or email. Browse our refurbished laptops or check out our desktops and find the perfect computer for your needs today.