Posted by Mac of All Trades Tech Team on Apr 26th 2021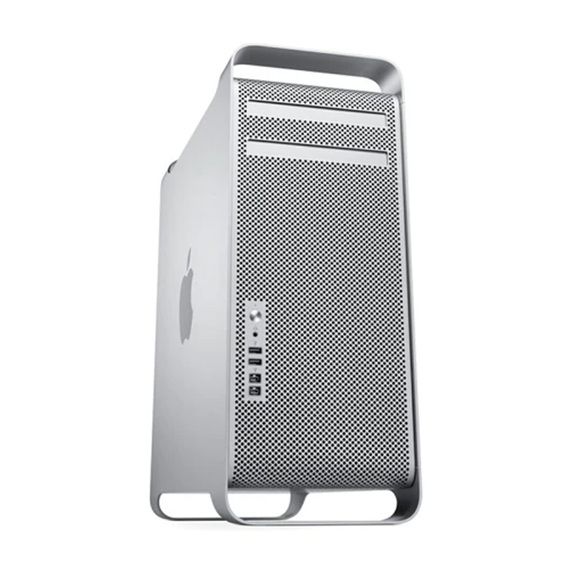 For professionals who need a reliable desktop computer that has enough power to carry them through even the most intensive projects, second-best just won't cut it. A high-quality computer is essential in order to create a smooth and logical workflow that enhances your productivity rather than detracting from it.
A refurbished Mac Pro featuring state-of-the-art Apple hardware may be exactly what you're looking for if you need a computer that will truly offer you a professional experience at every level.
If you're curious as to why a Mac Pro may be the best Apple computer for you, this guide will highlight some of the key reasons why. We will also elaborate on the benefits of refurbished Apple computers and why they may be the optimal choice for you, especially if you are on a budget.
Extreme Power and Performance
Shopping around for a powerhouse computer can get a little complicated if you don't know what you're looking for. With a seemingly endless variety of brands, tower sizes, and possible configurations, it's tempting to simply walk into your nearest electronics store and walk out with the most expensive thing on the shelves and hope for the best.
This isn't necessarily going to give you the best results, however. This is certainly the case if you are specifically looking for a computer that features unconventional specifications, because you typically won't find these lying around most department stores. For professionals in need of a computer that can assist with 3D rendering, complex animation, video editing, and similar jobs, you're going to need to set your sights a little higher.
Even most high-quality gaming PCs aren't powerful enough or efficient enough to handle high-level animation and other comprehensive tasks, because these computers, while powerful, often don't have enough cores in their processors. This ultimately limits how many calculations can be performed at any given time, which is important when dealing with apps and programs that eat up resources like snacks. Just because you can launch an app like Adobe Premiere or Maya doesn't mean you can utilize them properly without the right hardware.
For the toughest jobs, you need a computer that is specifically designed with enough processing power, graphics capabilities, and memory in order to help you tackle any task that comes your way. For this degree of power, a Mac Pro is likely the best fit.
Why a Mac Pro over a MacBook or iMac? While everyone's situation is different and the apps you will be running and tasks you will be tackling may vary, the Mac Pro is a machine built from the ground up to accommodate professionals who need raw power and plenty of features for app developers, programmers, and animators.
While there are many benefits to some of Apple's other devices, if pure processing power is what you need on your side, the Mac Pro is likely going to be ideal for you. While a MacBook Pro is perfectly suited for ordinary professional tasks, sometimes you need that extra degree of power that comes from a tower packed with incredible components, for an optimal computing experience.
Perfect For Professionals and Power Users
A solid processor is only one aspect of a reliable professional computer. You need the right supporting components that work together to allow maximum power and efficiency.
For instance, many common computers, even ones that feature rather beefy processors, don't have adequate power supplies, graphics chips, or other components that will allow the computer to reach its full potential or perform certain intensive tasks. The Mac Pro, on the other hand, is specifically designed to give you the ability to do just about anything, granted you have the proper software.
Cooling is also an important part of any professional rig, and this is another area that the Mac Pro excels at. These computers feature a massive heat sink and a streamlined design that allows for generous cooling for all of the important components, which not only translates into better performance, but a longer lifespan as well. These Apple computers are designed to last for years and through rigorous usage at that, and it shows.
While memory, or RAM, isn't everything, this is another area that gets the special treatment with a Mac Pro. These computers come equipped with more than enough memory, which means you won't experience any bottlenecks or slowdown when running certain applications or performing extreme amounts of multitasking. The high degree of memory all but ensures that you won't have to deal with inappropriate crashes and other issues while you are working, because the computer will always have plenty of space to work with in the background.
Are high-quality components like this necessary in order to perform professional-quality work? It all comes down to the specific tasks you need to complete and the scale of the work you are doing specifically. For instance, a MacBook Pro or Apple iMac are great devices that will allow you to perform graphically intensive tasks, such as animating at high resolutions and rigging a 3D object.
However, if you are designing an app and need to simulate an entire environment on your computer, or multiple environments at once, you need a computer with a greater degree of power and the right components. Extensive high-resolution 3D animation, rendering realistic landscapes using high-textured shaders and light sources, editing 4K video, and other tasks, all require a great deal of memory and processing power. If you routinely perform these kinds of tasks and don't mind sticking to your workstation, a refurbished Mac Pro may match your needs perfectly.
Quality That Lasts
The Apple Mac Pro is unlike any other computer on the market. Immediately noticeable is its stainless steel chassis, which should indicate just how well designed these computers are. Most computers typically have a plastic chassis, or some combination of plastic, glass, and steel. The all-steel frame of the Mac Pro is a part of its appeal as a dedicated professional tower. This frame is also easily removed for streamlined access to the computer's components, a key feature to note.
As with other Apple devices, all of the components in the Apple Pro are designed to perform optimally for years without running down. These computers are made from high-quality components that you can rely on, regardless of how intense your work is. In this way, you can look at a Mac Pro as a business investment rather than just a necessary purchase. These are computers that you can rely on to help you perform even the most complex computing tasks, while giving you all the other features you need, including room for expansion.
While most Apple computers are not customizable, which is often touted as a benefit only PCs enjoy, the Mac Pro includes plenty of PCI slots and room for more components that you may want to include down the road. These ports also feature high bandwidth for an incredible degree of responsiveness, whether we're talking about memory, disk drives, or other important supplementary components.
With a high-quality Apple Mac Pro, not only are you getting a powerful computer right out of the gate that can help you tackle just about any task imaginable, these computers easily stand the test of time through their amazing adaptability and customization options. You can easily add on memory and other components to these professional computers, thereby extending their value and lifespan.
Why a Refurbished Mac Pro May Suit Your Budget
When it comes to high-quality computers with the latest and greatest tech, there is often a high price tag involved. This should come as no surprise of course, but if you are searching for a high-performance computer on a strict budget, it may be something that comes into play.
Refurbished devices often offer a better range of price points and models to choose from, which is also something worth noting. You don't always need the newest device just to get the results you are looking for. Apple refurbished devices are specifically noteworthy because of how "future-proofed" their computers are. Models that are 3 or 4 years old, and oftentimes even older, are still just as usable and relevant as they were when they launched.
Take the iPhone for example. These devices are a microcosm of the entire Apple landscape and truly represent how progressive and powerful Apple technology truly is. Their line of smartphones has become the gold standard for a reason: not only are they designed with an abundance of cool features, but they are also built to last, using high-quality components. What this means is that very often an iPhone that is several years old will not only still be perfectly usable, but actually quite popular.
The same can be said for their other devices such as the iPad and of course the MacBook Pro and MacBook Air. Even after these devices have been passed on by a new generation of models, the older versions still persist and are even preferred due to their lower price points. In most cases, Apple computers like the Mac Pro are future-proofed by several years, which means that you can still expect a substantial degree of quality by purchasing one that is a few years old or that has been previously owned.
Refurbished products vary depending on who is doing the refurbishing, however. If you are thinking of investing in a high-quality refurbished Mac Pro, you will want to make sure that you are purchasing one that has been thoroughly vetted and restored by a company that is known for working with Apple products specifically and renewing them to factory standards.
Here at Mac of All Trades, this is the kind of quality you can expect when shopping for a suitable high-quality computer for your work needs. All of our Apple computers are certified refurbished and will provide you with the same kind of experience as you would expect from a new machine. This is the best choice if you are in need of a truly powerful computer but don't necessarily need one that has the latest technology.
The core components of professional-quality computers have remained largely the same for years. You need a well-made processor with plenty of cores, a decent amount of fast memory, and a respectable GPU. Combine all of these elements together with adequate cooling, an ample power supply, and the necessary motherboard, and you have everything you need to tackle most projects. While a brand-new Apple Mac Pro can run rather expensive, you may not need to purchase one of these for your workload, and instead can opt to go with a model that is somewhat older instead.
Buying a refurbished Mac will allow you to get the kind of quality experience you need without having to spend nearly as much. Rather than shopping for your computer at a local store, you will also be able to choose from a much wider range of computers when shopping here at Mac of All Trades. Where you may find only the latest model and the previous year's model of a certain computer or device at a big department store, we have a greater range of device options that can help you find a suitable price point that meets your specific needs and budget.
Given the fact that the AppleMac Pro is so versatile and upgradable, it makes sense to invest in one that has been refurbished and then upgrade it with newer components as necessary if you see the need somewhere down the line. When you need an adaptable computer designed for professional use, you can count on Mac of All Trades to have what you're looking for.
For years now, Apple has been leading the pack when it comes to the best computers and mobile devices on the market. If you are on the lookout for a dependable professional desktop computer with a long life span, simply take a look through our store. We offer a great selection of refurbished Mac Pros and other Apple computers at the best prices.