Posted by Mac of All Trades Tech Team on Aug 4th 2023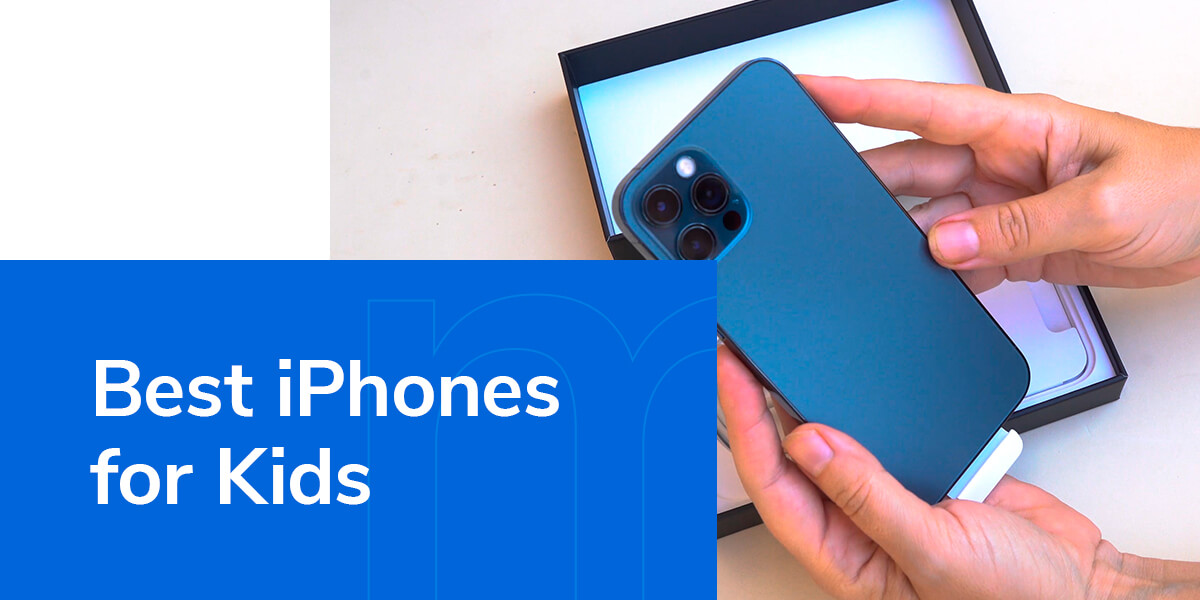 Even though you might not trust them with a thousand-dollar phone, today's kids still need a way to communicate with you and stay social with their friends. An iPhone is an excellent choice, but believe it or not, your child probably doesn't need the latest and greatest model — despite their pleas saying otherwise.
Instead, try getting them one of the following iPhones for children, which you can find at low costs on the refurbished market and won't cost thousands to replace if needed. Whether you need a basic phone for safety purposes or something with a stellar camera they can use for social media posts, this list of the best iPhones for kids should help you find the perfect smartphone for your child.
1. iPhone SE 2022
At the top of our kid-friendly iPhones list is the 2022 version of the iPhone SE. It's the perfect iPhone for kids, with a small screen and an ultra-low price. You can buy a refurbished model for less than $200, and the 4.7-inch screen is great for little hands. Options start at 64 gigabytes (GB), which could be a little light for some kids, but you can always bump up to 128GB or 256GB.
The third-generation sports a slightly older appearance, but it has the same A15 processor as the standard iPhone 14 lineup, meaning it runs about as fast as the flagship phones. With its 2022 release date, Apple should keep supporting the SE for years to come, so you can expect ongoing security and software updates to keep things safe, speedy and modernized.
The biggest differences between this budget-friendly iPhone for kids and the regular iPhone are the camera systems and the lack of Face ID. With the SE, your kid will need to use their fingerprint on a physical home button to unlock the phone, and they won't have a top-of-the-line camera. The camera is still excellent and miles ahead of many other phones, but it isn't quite as sophisticated as the standard iPhone.
2. iPhone 12
For something a little bigger and more modern, try the iPhone 12. It has a larger 6.1-inch screen and a dual-camera system for better photos. Unlike the SE, it uses Face ID and sports a full edge-to-edge screen. If your child is especially concerned about looking cool in front of their friends, the iPhone 12 is a great way to give them a good-looking phone at an affordable price. The nicer camera can also improve their photos for social media sharing.
If your kid likes to play games or watch videos, they might appreciate the larger screen on the iPhone 12. Although the processor is a tad older — the iPhone 12 sports the A14 Bionic, while the iPhone 14 has the A15 Bionic — it is still lightning fast and should accommodate anything they need to do. The battery life is pretty good, too, and you can expect up to 17 hours of video playback on the iPhone 12.
Some nice perks you can expect with this kid-friendly iPhone include:
MagSafe compatibility, which allows you to use the phone with magnetic accessories that snap onto the back
Water resistance to a depth of 6 meters for up to 30 minutes
Night mode photography
Animoji and Memoji
Slo-mo and HDR video recording
FaceTime and Siri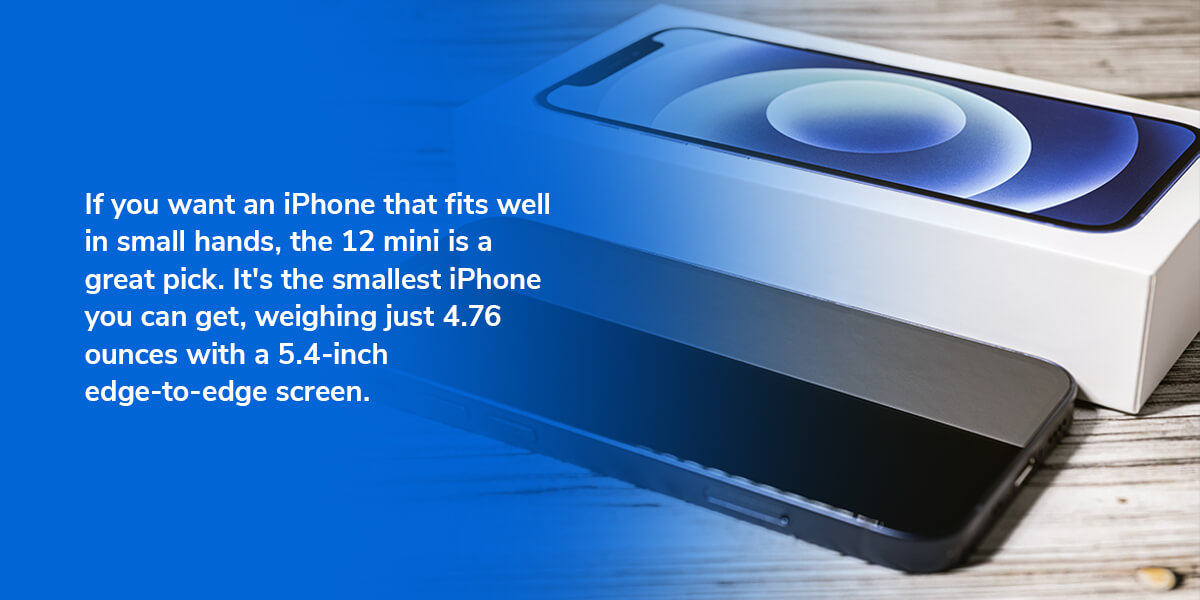 3. iPhone 12 Mini
If you want an iPhone that fits well in small hands, the 12 mini is a great pick. It's the smallest iPhone you can get, weighing just 4.76 ounces with a 5.4-inch edge-to-edge screen. The size is the biggest selling point because otherwise, the iPhone 12 mini is pretty similar to the 12. It has almost the exact same features.
Keep in mind that the 12 mini doesn't have the best battery life comparatively, so your child may need to be more responsible about topping off the charge throughout the day. If they don't use it too much, the phone should last through the day, but a heavy or even average user might run out of juice. If you need their phone to last through a long day of classes and extracurricular activities, you may want to consider another phone or make sure your kid can keep it charged.
With that in mind, the 12 mini offers a great camera, a build that's perfect for small hands and a fast processor. You can grab a refurbished model for under $400.
4. iPhone 13
The iPhone 13 is very similar to the iPhone 12 lineup, but it adds some extra battery life and a jump from the A14 to the A15 Bionic chip. It also offers more photography features like Cinematic mode and Photographic Styles and starts at 128GB of storage instead of 64GB like the iPhone 12.
If you're hesitant about storage capacity, battery life or speed in the iPhone 12 or 12 mini, the iPhone 13 offers some improvements without increasing the price too much. A refurbished iPhone 13 runs for just over $600, making it a good pick for balancing reliability and performance with cost.
5. iPhone 14
When deciding what iPhone you should buy your kids, consider how responsible they are. The iPhone 14 may be one of the newest phones, but it could be a good fit for an older kid who can take care of it. Buying refurbished lets you give them the latest iPhone without the cost of a brand-new device. We have refurbished iPhone 14 models available for under $700, and you can find all sorts of cases and screen protectors for them. Plus, they're exceptionally durable.
This iPhone uses the ultra-speedy A15 Bionic chip and features a 6.1-inch screen. The battery offers up to 19 hours of video playback and 75 hours of audio playback. Some of the new features you'll find in the iPhone 14 include:
Satellite-based Emergency SOS for off-grid support
Crash Detection to monitor for vehicle collisions and automatically call for help
Action mode to smooth out shaky videos
The new Photonic Engine for photo improvements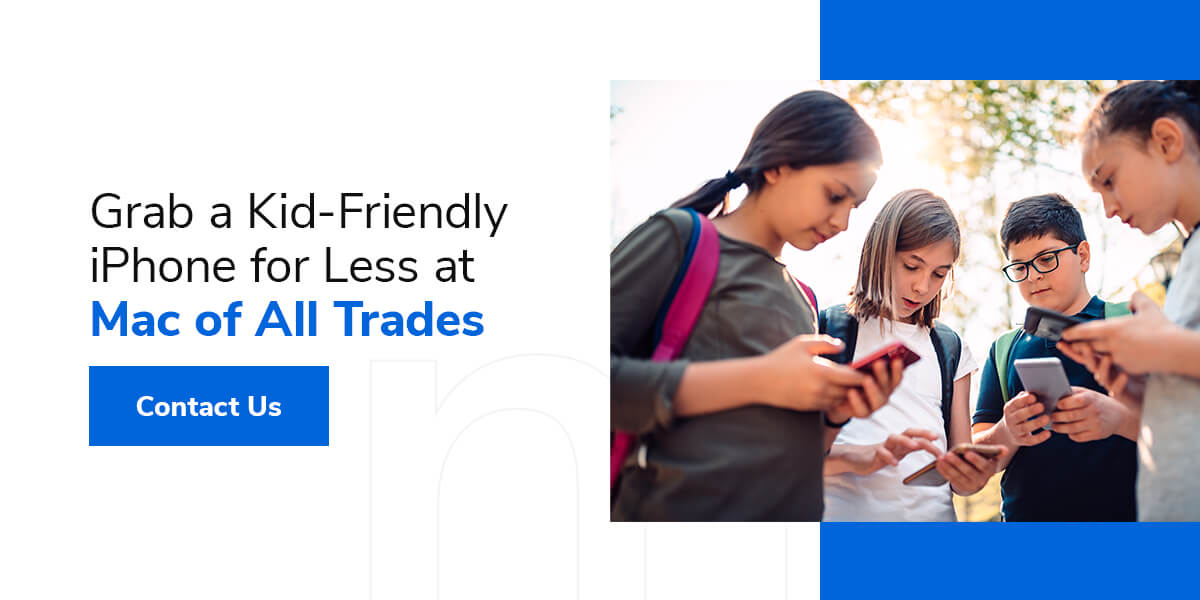 Grab a Kid-Friendly iPhone for Less at Mac of All Trades
Whether you're buying your kid's first iPhone or want to give your older child an upgrade, a refurbished iPhone from Mac of All Trades can help you get a reliable device on a kid-sized budget. Every iPhone we sell goes through a 40-point visual inspection, rigorous hardware testing and a two-stage cleaning process, so you can be confident you're giving your child a high-quality iPhone.
At Mac of All Trades, we strive to deliver the best experience possible, as our A+ rating from the Better Business Bureau can attest to. We include one-year hardware warranties on all of our products, offer free shipping in the contiguous United States and provide hassle-free returns within 14 days of purchase. Whichever device makes sense for your family, we're here to help you find the best iPhone for children at affordable prices. Explore our refurbished iPhones today!