Posted by Mac of All Trades Tech Team on Sep 29th 2023
If you're shopping for your next Mac computer and looking at refurbished options, you may wonder whether it's safe to buy a refurbished computer and what the advantages might be. Purchasing a refurbished Mac is similar to buying a new one: It looks and operates like a new computer, but it had a previous owner and is more cost-effective than a new machine. Plus, those aren't the only benefits associated with buying a refurbished MacBook or Mac computer.
What's the Difference Between a New, Used and Refurbished Mac?
While sellers may label used and refurbished Mac computers "As New," there's a distinct difference between each of these and buying a new computer. Let's take a closer look at what separates the three:
New Mac computers: Buying a new Mac computer has its perks, but it's costly, and the computer's value depreciates drastically once it's in use.
Used Mac computers: When you purchase a used Mac computer, you could encounter technical issues undisclosed by the seller and won't have any technical support.
Refurbished Mac computers: A refurbished Mac computer has been repaired and restored like new, but it's more affordable and often backed by after-sales support.
The Benefits of Buying a Refurbished MacBook or Mac Computer
Buying a refurbished MacBook or computer offers you several benefits, some of which are below:
Get the Finest-Quality Refurbished Mac Computers at Mac of All Trades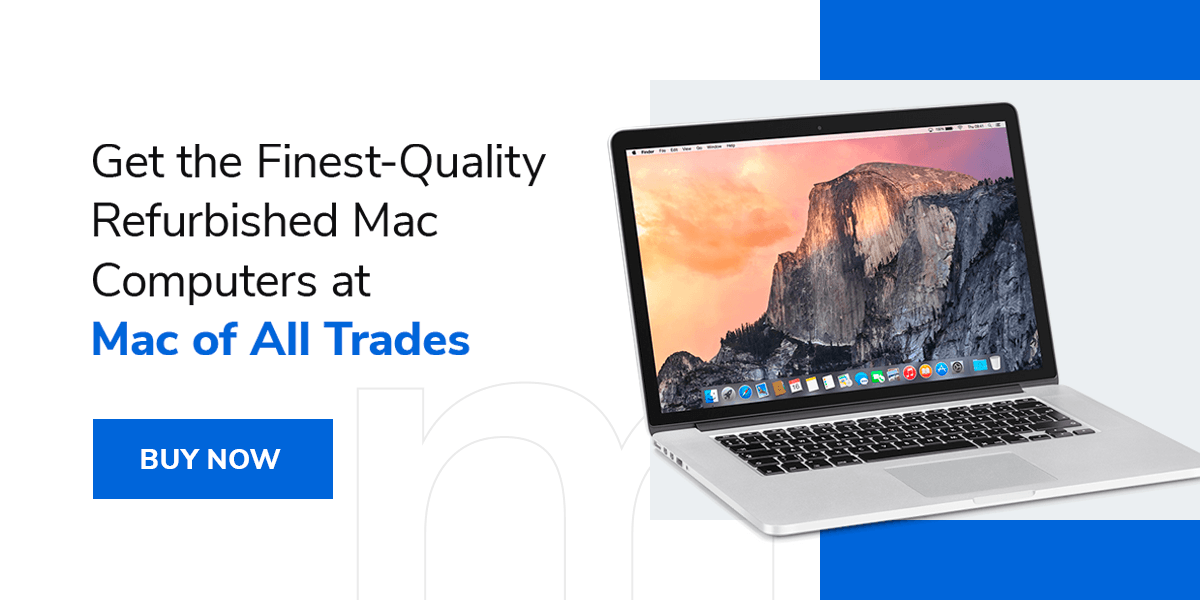 At Mac of All Trades, we put our machines through a thorough testing procedure. Each device undergoes a comprehensive clean and a 40-point inspection to ensure we sell only the highest-quality refurbished products. We also offer warranty options covering non-consumable hardware and components and provide our customers with unparalleled technical support and after-sales service. For an affordable, top-quality Mac computer, shop the Mac of All Trades range today!