Choosing the Right Display for Your Refurbished Mac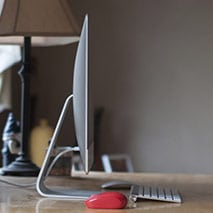 How often in a day are you mesmerized by something you've seen? Shouldn't it be all the time?
Our computers are ever-changing windows and portals to the outside world; be it to connect you with family and friends, to discover new places, or to see that awesome spike in revenue you're reporting on. They are a uniquely personalized outlet for media, creativity, inspiration, and progress within each day of our lives, and because of this, they should be perfect.
Choosing the display that's right for your computer is one of the most important decisions to make when making things just right. You can go with the tremendous cinema setup that will immerse yourself all the way to your peripheral vision with your work, or something smaller and compact that lets you take all those things that you've worked for around you.
For many, a display is a display, and all they're really looking for is a talking box with moving pictures. We believe that your display should always make you say wow. To help you join the lip-pursing and opening fun, we've prepared a little checklist for you to show you what should you be looking for: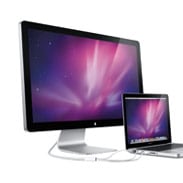 Compatibility
A vast majority of Apple products are meant to sync and create a revolutionary experience between one another. As a result, many are designed to work very exclusively with other Apple products. Make sure that you check the compatibility of your hardware before purchasing to make sure that it will sync up with everything you have. Many Apple displays work for PCs and Macs, while others will work exclusively with MacBook, MacBook Air, MacBook Pro, Mac Pro, Mac mini, and iMac models.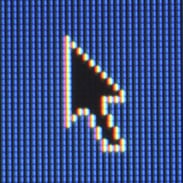 Pixel Count
If you're a typical computer user, it's probably safe to assume that you're sitting the same average distance of ~30 inches from your computer display with your mother's voice in the back of your head telling you not to get closer, no matter how awesome whatever you're watching is. At that distance, anything higher than 220 pixels (picture elements) per inch (PPI) becomes redundant and unnecessary. Higher numbers will allow you to get closer to the display without losing any picture clarity, but there is the tradeoff that you might get grounded. If you tend to sit further away from the display or have less than 20/20 vision, you will most likely find that you can go as low as 90 PPI before noticing a difference.
Many manufacturers don't include the PPI (pixels per inch) count with their products, but a handy calculator can be found here: http://thirdculture.com/joel/shumi/computer/hardware/ppicalc.html
Apple 24" LED cinema display: 94.34 PPI
Apple 23" LCD display: 98.44 PPI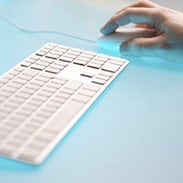 Faster Response Time
Maybe you're a gamer? That millisecond of lag in your online tournament, deathmatch or free-for-all is what makes or breaks that high score. Well, suit up the keyboard, grab the ammunition and toss your favorite mic on. Mac displays are known for their higher response times and ability to maintain a crystal clear picture, even when you're mid tuck-and-roll.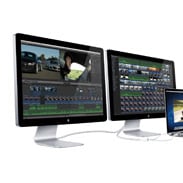 Larger Displays
Perfect for artists, designers, architects, and those who work with vision & media. Bring your creations to life, and truly dive into your work on your projects as they unfold through the world famous clarity of Apple's screens. Watch movies, surf the web, and enjoy every inch of breathtaking beauty of all the things you love.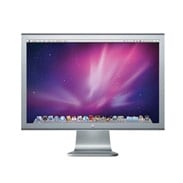 Mid-sized Displays
Stay focused on work, and everything else that matters. While a larger screen might take you to another world, sometimes it's better to keep your feet on the ground and your head in the game. Large enough to read through papers, reports, and all your presentations, but small enough to make sure that you're part of the team. Enjoy award winning resolution and display, with just the right amount of moderation to keep you appreciating that pen and paper.
Purchasing a refurbished display is an idea that many tend to overlook, and yet it's just as cost-effective and safe to do as purchasing any other laptop or peripheral. Our quality guidelines and checks cover all of our products, displays being no exception. We also carry many of the accessories that allow you to connect to some of your now "retro" hardware, as well as non-Apple products and accessories, such as DVI to VGA adapters.