Posted by Mac of All Trades Tech Team on May 18th 2021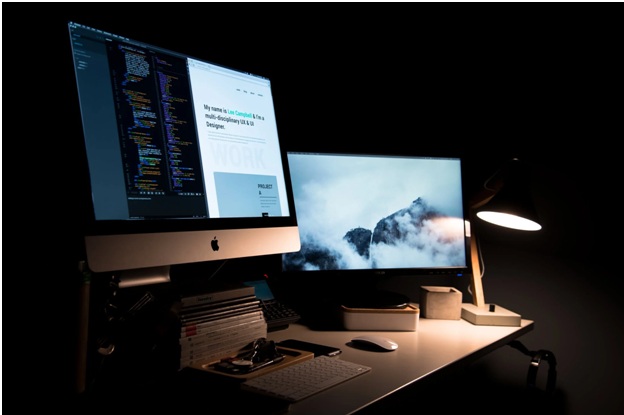 Apple has developed a great range of products over the years. From the ever-popular iPhone to the highly versatile MacBook Air, and even the various iterations of the iPad. While these portable devices have recently taken the spotlight, Apple still produces high-quality desktop computers that are worth a look as well.
The Apple iMac is the perfect example of a powerful computer that has reshaped the industry. For those who are interested in creating a fully functional workstation, you may be interested in finding an iMac for sale that is within your budget. This short guide will help you see why these desktop machines are still sought after in the industry and why it's worth looking for one at a reduced price.
Is the Apple iMac the Right Choice For You?
First you should think about your needs and whether the iMac is right for you. The portability of an Apple laptop, for instance, might be a big draw for you. For people who are incredibly busy and who like to work on the go, a high-quality laptop is certainly worth a look.
However, many web designers, graphic designers, and other industry professionals prefer the comfort and stability of a dedicated workstation, and the iMac excels in this role. These sleek and powerful desktop computers are iconic in that they combine the components of a tower and monitor into one lightweight and aesthetically pleasing design.
Perfect For Offices and Workspaces
By combining a tower and monitor into one, it effectively makes for more room on your desk or in your workstation in general. So this computer provides value before even looking at the specs and performance, which are certainly impressive. These computers are a mainstay in offices and professional environments for a reason. They provide an unparalleled level of performance for tackling just about any kind of task imaginable. From complex video animation to 3D rendering, these computers have the power you need.
The Benefit of Refurbished iMacs
Like most Apple products, iMacs are designed with high-quality components and with a superior degree of construction. An iMac is more so an investment rather than just another machine to add to your workplace.
If you intend on purchasing one of these Apple computers brand new, you might be somewhat put off by the price. With great components and incredible performance comes high prices, but these are avoidable if you know where to shop.
Have you considered the benefits of used iMacs or other Apple computers? Even if you intend on using the device purely for professional purposes, you could save money and find a device that is much better suited for your needs by shopping for one that has been properly refurbished.
Here at Mac of All Trades, we have a wide range of refurbished Apple computers available, including used iMacs for sale that have been carefully looked over for any issues. These computers have gone through a comprehensive refurbishment process that ensures that they are virtually brand new in all but age. For anyone searching for a reliable workstation computer for home or office use, this is the best place to find one in your budget.
While you might think it's better to simply buy a brand new computer, there's a few reasons why this isn't actually the best move. For instance, in most stores you are likely to only find the newest and latest version of the Apple iMac, which will also be listed at the standard price. Not only are you going to pay more, but you may wind up with a device that is far more powerful than you even need.
By shopping for a refurbished iMac instead, you can better find a device that is in your price range and that has the features you are looking for based on your specific work needs or the kinds of projects you are dealing with. Maybe you need a reliable desktop computer but have no use for one with the latest Intel Core processor. Here in our store, you can find a variety of used Macs at different price points and with different specifications that may better suit your individual needs.
The best part about shopping with us is that all of our devices are certified refurbished and backed by a free hardware warranty, so you have no reason not to give our iMacs a shot. Whether you are in the process of decking out your new "work from home" office, or if you simply need a reliable all-purpose desktop computer for casual needs as well, the iMacs for sale in our store are sure to have what you are looking for.
Feel free to browse through our selection or get in touch with us for more details on which of our Apple computers might be best suited for your needs!