Posted by Mac of All Trades Tech Team on Jan 24th 2023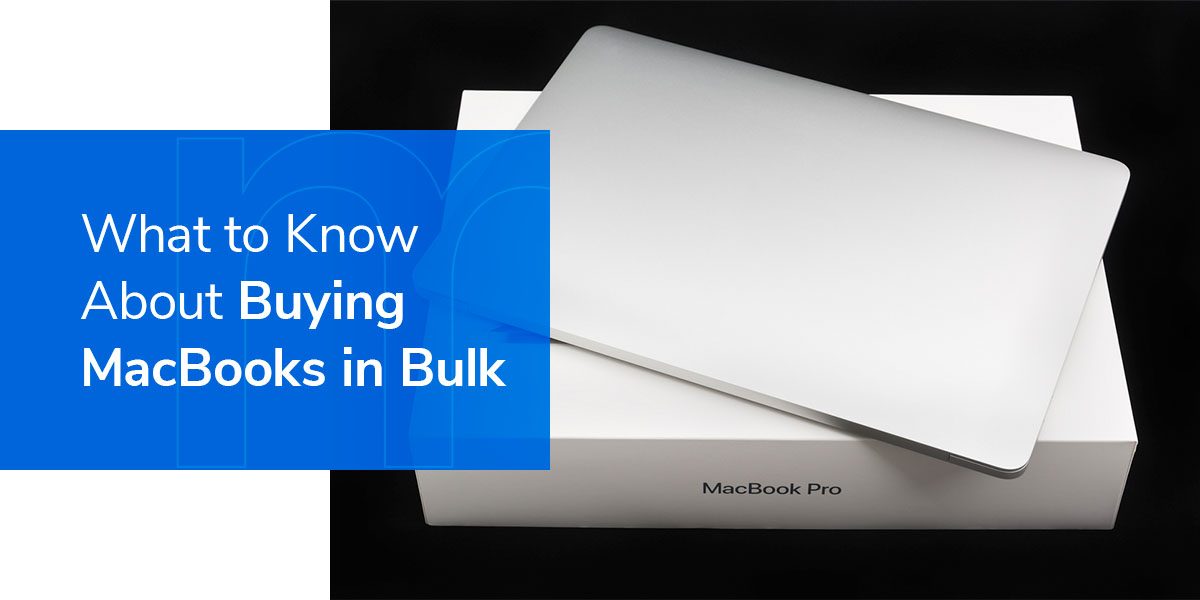 Buying laptops in bulk quantities for your school, company or organization can be challenging, especially if you're operating under a tight budget. Investing in certified refurbished units is often the best, most affordable way to secure enough laptops for your students or staff while still enjoying the benefits of a fast, high-performing machine. You could even qualify for a high-volume discount on top of those initial savings, keeping more money in your budget for other tech or accessories.
MacBooks are a favorite among educational centers and businesses alike for their speed, flexibility and portability. A few benefits of purchasing MacBooks in bulk instead of non-Apple products include:
Size options: MacBook models range from 13 to 16 inches, each weighing just a few pounds. Each model's frame is designed to be light and thin, perfect for users on the go.
Productivity apps: Most MacBooks come preloaded with some of the top productivity apps, like Keynote, Pages and Numbers. Their macOS even supports Microsoft 365, Dropbox, Outlook Google Workspace and more.
Integrated features: MacBooks have FaceTime HD cameras, ideal for video calls and remote learning. Models also have a headphone jack and one or more USB-C ports, while some newer releases have built-in HDMI ports and SDXC card slots.
Reliable performance: According to Apple, Mac computers see fewer support tickets needing resolving compared to non-Mac models, making MacBooks three times less expensive to maintain over time.
Who Buys MacBooks in Bulk?
The dangers of a "bring-your-own-device" approach to staff and student tech have become increasingly obvious in recent years. Without a uniform set of laptops with controlled security, your school or company is at risk for data theft or loss, malware and possible legal repercussions in some industries. Investing in individual laptops is a safer and more effective way to encourage productivity and organization.
At Mac Of All Trades, we frequently work with the following groups — and more — to provide reliable, certified refurbished MacBooks for less.
Education Centers, Schools and Colleges
Personal laptops are more critical than ever in educational settings, whether that's a public elementary school, a private institution, an adult learning center or a college. Research shows that while many school districts overseeing elementary and high school students provided school-issued learning devices before the switch to remote learning in 2020, about 90% of school districts provided a device for every student by March 2021.
MacBooks are a popular choice for meeting student needs. Students of all ages use MacBooks for education to:
Research, write, edit and submit homework and academic papers.
Collaborate on projects across distances.
Check and send school emails.
Access online learning platforms or modules.
Connect with peers and advisors when most convenient.
Participate in online meetings or classes in real-time.
Your school needs affordable, portable and easy-to-use MacBooks for these reasons and more, and Mac Of All Trades can help.
Tech Businesses Supplying Employees With MacBooks
If your business has been seeking new ways to incentivize employee packages, increase overall productivity or make employees' jobs more functional, it's time to invest in MacBooks.
In recent research, International Business Machines Corporation (IBM), a multinational tech corporation, found that its employees who use a Mac are 22% more likely to exceed expectations in performance reviews than PC users.
A third-party agency conducted a separate study of the general relationship between Mac devices and employees in the IT, human resources, sales and engineering sectors. More than 90% of respondents said they were more productive, creative, self-sufficient and collaborative, while nearly 80% said they wouldn't be able to accomplish their job as well without their Mac computer.
Tech businesses, in particular, can really benefit from company MacBooks in connected workplaces where they integrate seamlessly with other Apple devices, like keyboards, headsets, iPads, display monitors and desktop iMacs.
Custom Solutions — We Can Work With You!
The benefits of choosing bulk refurbished MacBooks extend beyond education and business — Mac Of All Trades is ready to assist any group ready to invest in high-volume Apple products to accomplish more. Whether you're a club, nonprofit, organization, library or any entity in between, we'll quote you a wholesale price to help you minimize costs without sacrificing quality and performance.
Sign up for our wholesale inventory newsletter to let us know more about your tech needs for a fully customized quote, or get product recommendations if you're not sure which Apple products will most benefit your group.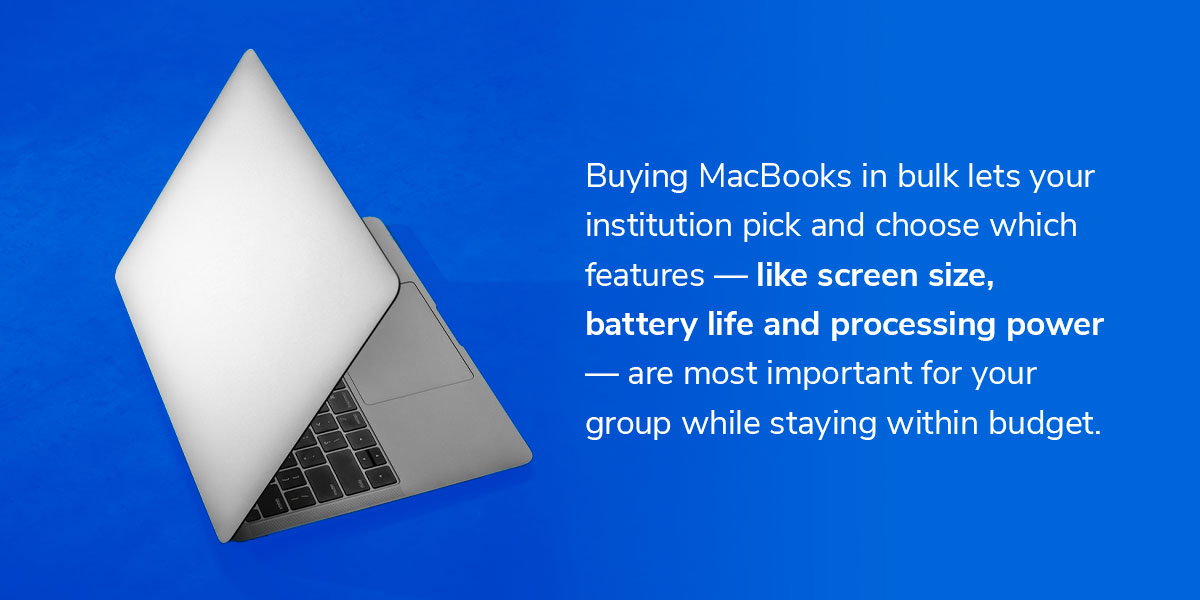 Benefits of Buying MacBooks in Bulk
Buying MacBooks in bulk lets your institution pick and choose which features — like screen size, battery life and processing power — are most important for your group while staying within budget. Bulk orders also let you distribute consistent models to each individual so everyone has access to the same set of specs and applications.
Place a high-volume order with Mac Of All Trades, and you can expect:
Access to large inventories of hard-to-find Apple products.
Exclusive financing for orders of 10 or more Apple machines.
Possible discounts, depending on stock and quantity.
A steady supply of discounted inventory, so you can avoid long waiting times.
Clean, refurbished and critically tested tech, including MacBooks, iMacs, iPads, Mac minis and Mac Pros.
Support via chat, phone or email from a dedicated sales rep for questions, orders and post-delivery assistance.
Mac Of All Trades accepts purchase orders (POs) with some exceptions — your dedicated representative can tell you more based on your order.
Our Refurbishing Process Goes Above the Norm
We test and certify every product available at Mac Of All Trades, and no item goes to sale if it doesn't meet our rigorous standards. Your institution's MacBooks will undergo the following, so you never have to worry about sacrificing top performance for affordability:
Every item undergoes a two-stage deep cleaning process.
Experienced refurbishers visually inspect the ins and outs of each product.
Once the MacBook passes inspection, we fully test each facet of performance.
Any prior data is securely erased before we install a clean copy of macOS.
Items go through a final Quality Assurance inspection to confirm everything meets our standards.
We stand by our products, which is why we're happy to offer a one-year hardware warranty on every item — extendable to two years for most products. We even include a two-week hassle-free return window if you decide to go a different direction.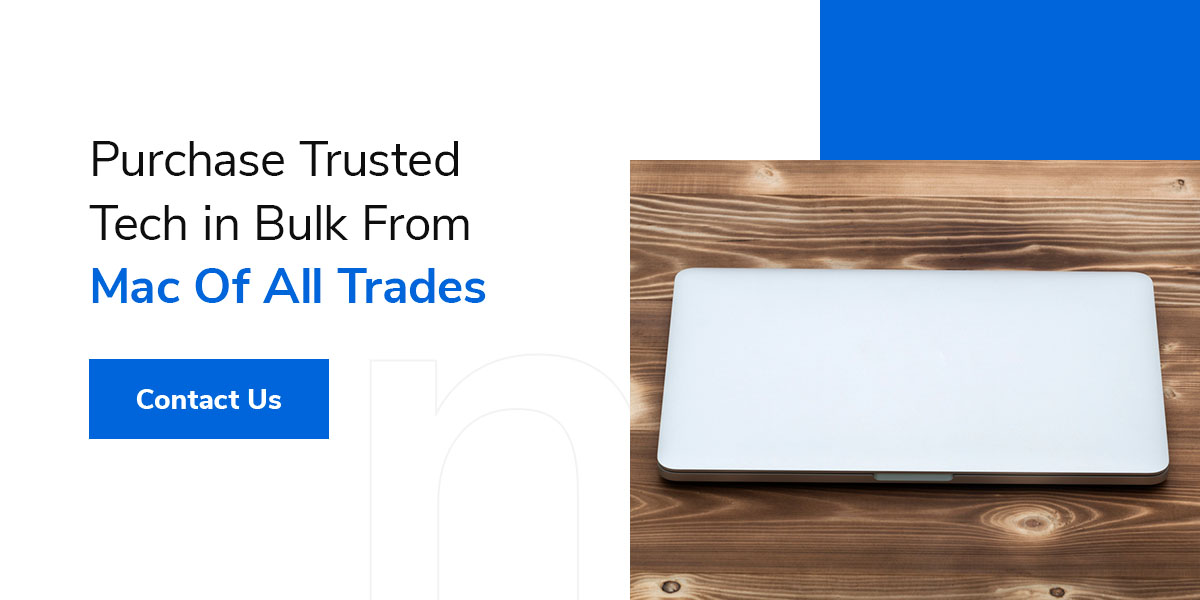 Purchase Trusted Tech in Bulk From Mac Of All Trades
MacBooks are our top seller at Mac Of All Trades, and it's easy to see why. With industry-leading performance and versatile productivity features, they're the ideal choice for schools, companies and organizations looking for dependable tech in bulk.
Learn more about high-volume ordering at Mac Of All Trades, or shop our extensive selection of refurbished Apple products available at a discounted price.