Posted by Mac of All Trades Tech Team on Nov 25th 2021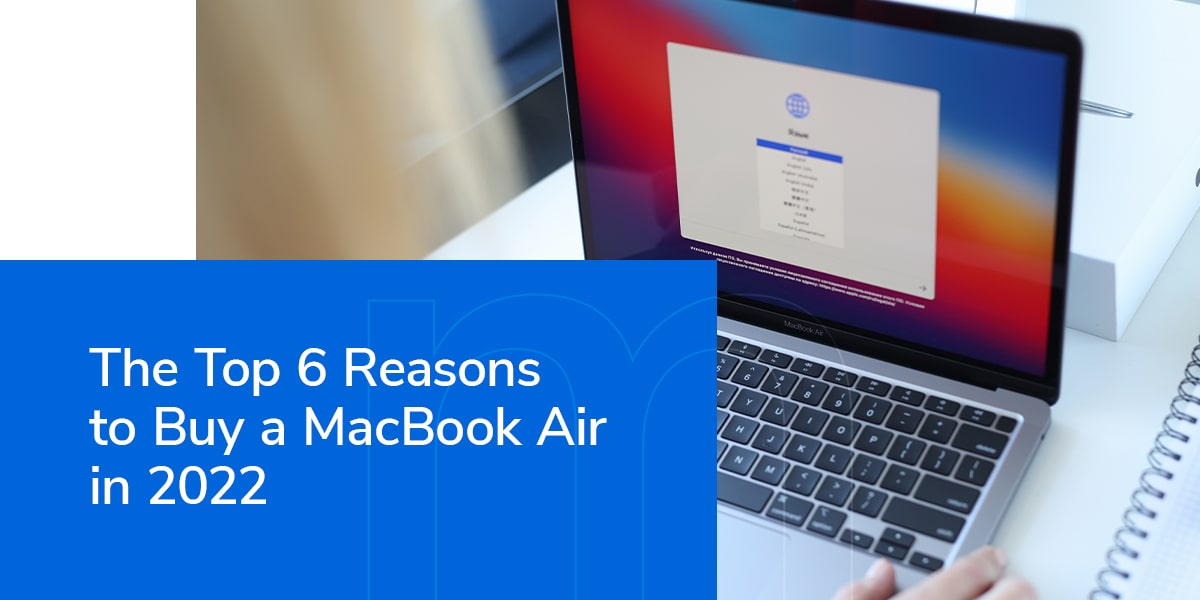 Apple has a variety of laptop models that make working on the go simple. There are also many Apple laptop sizes, with the MacBook Pro being larger and heavier than the MacBook Air. The size and weight difference between these two popular Apple laptops might naturally make you wonder which would suit you better.
While the MacBook Pro is a popular laptop model amongst professionals — after all, it has "Pro" in its name — the MacBook Air offers incredible performance in a lightweight package. This laptop option boasts enough power for everyday tasks while having plenty of storage space to store personal and work files.
Keep reading to discover some more reasons why you should buy a MacBook Air.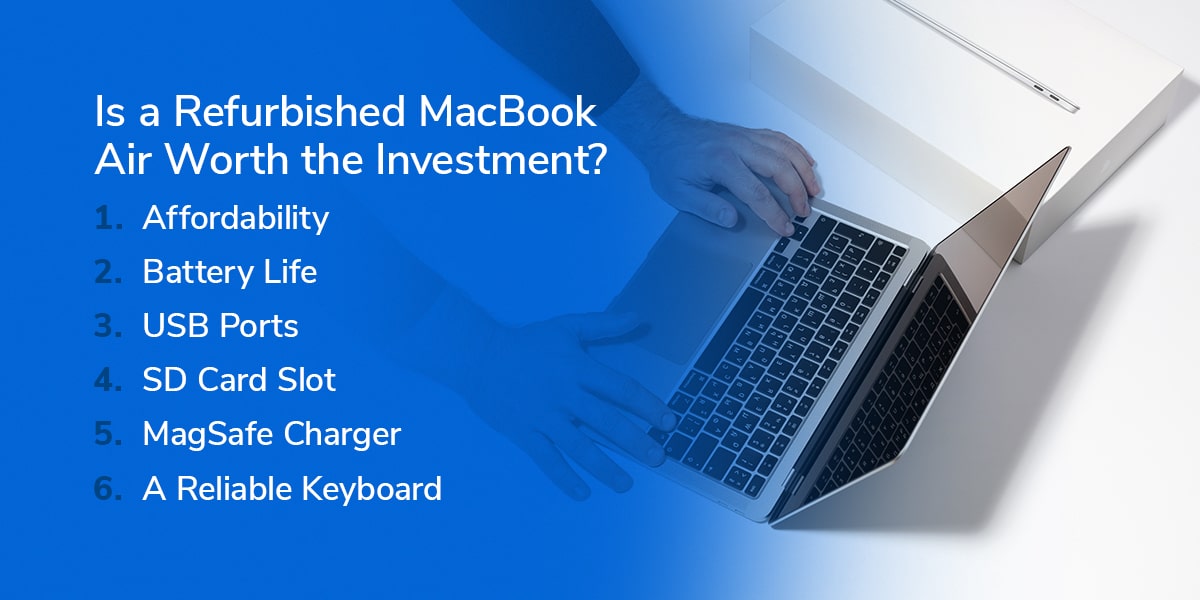 Is a Refurbished MacBook Air Worth the Investment?
Whether you're concerned about price or battery life, there are plenty of reasons a refurbished MacBook Air makes an excellent everyday work or personal computer.
1. Affordability
The lowest price of a new MacBook Air starts at $999. A refurbished product ensures you receive the same quality laptop for a fraction of the cost. We're also proud to back all of our refurbished devices with a one-year hardware warranty for your peace of mind.
2. Battery Life
The MacBook Air has more battery life than a MacBook or MacBook Pro. The new MacBook Air models hold a charge for up to 30 days, providing more work time without you worrying about plugging in. The less you charge your laptop, the longer the battery lasts at full power — meaning you can get more done.
3. USB Ports
The newest model of MacBook Pro has Type-C and Thunderbolt 3 ports instead of USB ports. With most MacBook Air models, the traditional USB ports allow you to connect several devices without investing in expensive adapters.
4. SD Card Slot
If you're a photographer, you probably loved the previous generation of MacBook Pros because they had an SD Card reader built in. The new MacBook Pros do not have this feature and require a card reader or USB to connect your camera. With most MacBook Air models, you can continue to upload as you did before by plugging your SD Card into the slot.
5. MagSafe Charger
The previous generation of MacBook Pros used a MagSafe charger that disconnected when pressure was applied. The MagSafe charger locks onto the laptop like a magnet but has a quick release, so a minor accident — like tripping over the charging cable — won't bring the computer crashing down. The new MacBook Pros don't have MagSafe chargers, but most Macbook Air models do.
6. A Reliable Keyboard
Most MacBook Pro models have a sleek keyboard, but there have been complaints about its reliability. Most MacBook Air models have the traditional keyboard style that MacBook enthusiasts have always enjoyed.
The Benefits of Purchasing a Refurbished MacBook Air
A refurbished MacBook Air offers several advantages, including:
Affordability: A refurbished device allows you to enjoy the security and reliability of Apple technology for a lower price.
Sustainability: Purchasing a refurbished device ensures you give a working device a new life and keep e-waste out of landfills.
Convenience: With our generous return policy, you can test out the device to see if you like it before you commit to it.
Order Your MacBook Air From Mac of All Trades Today
Buying a used or refurbished Apple laptop is the best way to get an exceptional quality product at an affordable price. When you want to buy a refurbished MacBook Air from a reputable refurbishing company, turn to Mac of All Trades.
We have been buying and selling Apple products for over 25 years. We work diligently to offer the fairest prices, providing high-quality refurbished products for the best value. Every device we receive undergoes a rigorous 40-point inspection and two-stage cleaning process to ensure they are in working order and look their absolute best — so you never sacrifice quality, aesthetics or performance.
Plus, we offer a 14-day return policy. If you change your mind about the device for any reason, feel free to send it back to us.
If you're ready to upgrade your computer, browse our selection of in-stock refurbished MacBook Airs and order yours today!