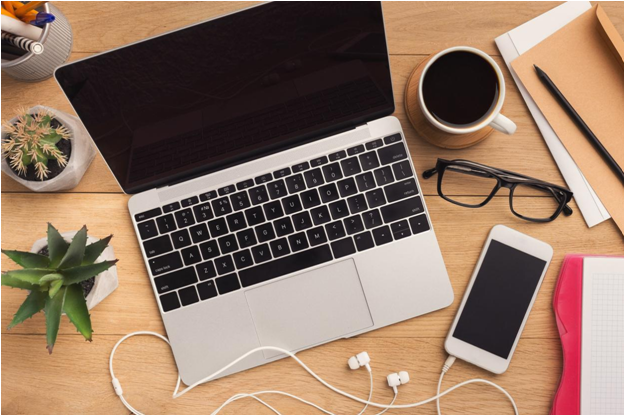 Introduced by Apple in 2006, the MacBook Pro is the high-end model of the MacBook family. It is available in 13,15, and 17-inch screen sizes. Perfect for photographers, you can retouch and edit your high-resolution work at lightning speeds. Coders can build code and run multiple virtual machines. Musicians can run Logic Pro X to create amazingly orchestrated works of art. The MacBook Pro is a versatile machine, adaptable to just about any profession or hobby. But, there's always a way to make it adapt better. If you've got a MacBook Pro, you may want some MacBook Pro accessories.
Maybe you'd want a mouse. At Mac of All Trades, we sell many mice from Apple and others, including the Mighty Mouse, the Magic Mouse, and the Magic Mouse 2.
The Mighty Mouse features a scroll ball, which lets you move inside your documents without lifting a finger. With touch-sensitive technology under the seamless top shell, the Mighty's single-button design functions as a streamlined version of the four-button mouse. Powered by a precision optical sensor, the Mighty provides responsive and accurate cursor movement on any surface. Improving on the Mighty Mouse design, the Magic Mouse features a multi-touch surface with gesture support, and a laser tracking engine far more responsive than traditional optical technology. Its seamless top shell acts as one button or two. Bluetooth enabled, the Magic Mouse runs without wires. The Magic Mouse 2 refines the Magic Mouse design. Thanks to its built-in battery and continuous bottom shell, the Magic Mouse 2 has fewer moving parts. It is completely rechargeable, eliminating the need for traditional batteries. An optimized foot design helps the Magic Mouse 2 to track easier, moving with less resistance over any surface.
Maybe you'd want an Apple Time Capsule. The Time Capsule is a wireless router featuring network-attached storage. It functions as an external hard drive; by working together with Time Machine in macOS, it backs up your photos, music, apps, settings, and files, all while providing wireless networking to all of your Wi-Fi devices.
We also stock a number of adapters. The Mini DisplayPort to VGA Adapter allows you to connect your MacBook Pro to a standard analog monitor, projector or LCD that uses a VGA connector or cable. This means that you can transition the display of your MacBook to a different screen. With its small size and sleek appearance, this adapter is the perfect complement to your laptop. Similarly, the Mini DisplayPort to DVI Adapter allows you to connect a Mac with a Mini DisplayPort to a monitor, projector, or LCD with a DVI input.
Before you buy any MacBook Pro Accessories from Mac of All Trades, know that our products are tested by a team of experts who have served the Apple community for over two decades. They use their expertise to provide a high level of customer service, which includes offering a 90-day warranty on every product, and 14-day return policy. Our refurbishment process tests all components thoroughly using a 40-point proprietary inspection model. After testing is finished, we grade the accessories, assigning a condition from Good to Excellent. Each accessory is then cleaned and labeled with its specifications.
Every Apple product has accessories that help you to get better use from the product, things that make it more resourceful. All of these accessories can certainly add up over time, which is why you want to find the best deals you can on MacBook Pro Accessories and other devices. When you choose Mac of All Trades, you always get the best deals on more than just the devices you love to use or that you have wanted for years. You get the accessories and parts that can help makes your devices even more effective and useful for you and that can expand your possibilities of the things you can do with your MacBook.
To get the best deals on refurbished MacBook Airs, look no further than Mac of All Trades. Although we are an eCommerce company, we are easy to reach by phone or email. Our team of experts is culled from the best and brightest in the Apple community. They have gathered here, at Mac of All Trades, to assist you in all your Apple needs. Get the process started by calling 800-581-8987, or send an email to customerservice@macofalltrades.com, so we can help you find the laptop that best suits your needs.
In addition to MacBook Pro Accessories, we also sell iMacs, iPads, iPhones, Apple Watches, and Apple parts, so check out our entire selection of products and find the best deal for you.