Posted by Mac of All Trades Tech Team on Nov 11th 2021
We want to stress the importance of value when it comes to buying technology, or really anything from the pre-owned market. Value is not simply something that has a low price point, but it is something that is priced well for what it provides. You want to pay a lower price, but it should not be at the sacrifice of performance and quality, at least not when you can have both. Far too many people lower their standards for their technology and pick up the first laptop that has a lower price tag, without fully considering what they are getting for that price. The cost may be relatively low, but if you are getting a poor MacBook that will not last long, is it really worth it? So we want to emphasize value and help you find a used MacBook for sale that functions as you need it to and gives you a lot of bang for your buck, so to speak. Here are some tips for buying a used MacBook laptop that will help you to get the best value possible.
Find a Credible Seller
As you start the search for a used MacBook for sale that will provide you with a great value, you will want to first look for places where you can shop from. There are certainly plenty of places online and in person where you can shop for used Apple products, but you want to raise the bar higher for yourself and ensure that you get the quality and performance you want. One thing for sure, you want to shop from a credible, reputable store that sells pre-owned Apple MacBook laptops, and not from an online platform where people will sell their own products. We try to keep people wary of this option because there are too many risks involved with buying from an individual. The device could be damaged and not work properly or seem to be fine at first, then soon reveal serious complications later on. By the time you realize it, it could already be too late to request a refund, if you were even eligible for one to begin with.
It is better to not take the chance and look for a device that is instead from a reputable Apple refurbishing store like Mac of All Trades, which has developed its reputation over two decades now. Our devices are certified refurbished and are highly scrutinized before being up for sale in our store. Every used MacBook for sale that you see on our site has been evaluated, tested, repaired as needed, and tested again before making an appearance in our stores. We take our work here seriously and want our customers to feel confident that they can look to us for affordable Apple products that work. This is absolutely the best way to get a used Apple MacBook that you can trust, for a great price.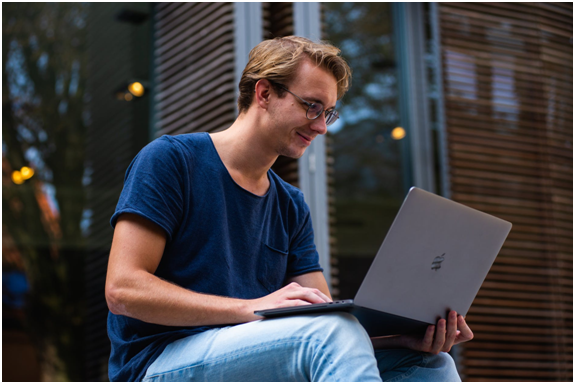 Identify What You Need
If you are purchasing a new device, it is likely because your previous device no longer serves you as you need it to. So you will need to get a device that is able to keep up with all the features and programs that you will need to run on your MacBook. You will want something newer than your old laptop, but you may still be able to get a laptop that is a few years old, so it works and saves you some money in the process.
Set a Realistic Budget
While being budget-conscious, you should determine what is the amount that you are willing to spend on the laptop and anything else you need. You want to set a realistic budget that takes into consideration everything you need and what you need it for. This is an investment item that you will use for school, work, or personal use for a long time and you want to choose wisely so it lasts all that time. Take this time to see if you need any extra accessories like a mouse or charger and include that in your budget as well. Be reasonable about what you need and what you can comfortably set aside. This will help you narrow down your options to see what you can look at in store.
Purchasing used electronic devices can be intimidating if you do not feel comfortable and confident about how to shop and where you can shop, so we hope that this has helped to clear up some concerns you had and gave you a better idea of what you can do to get the best possible value on a used MacBook for sale or really any other used Apple product you may need in the future. If you need any more assistance, you can contact us for any questions you might have about buying used or refurbished products and what our policy is like. Until then, feel free to explore our selection of refurbished MacBook laptops and see what stands out to you as a good contender for your next device.
Visit Our Online Store Today
Here at Mac of All Trades, we carry a great variety of Apple products that have been carefully refurbished so you always enjoy that unique Apple experience. If you want to buy a MacBook Air that you can rely on for years, we have exactly what you need.
For more information on the different model MacBooks we carry, check out our store, or call us at 800-581-8987.