Posted by Mac of All Trades Tech Team on Oct 28th 2022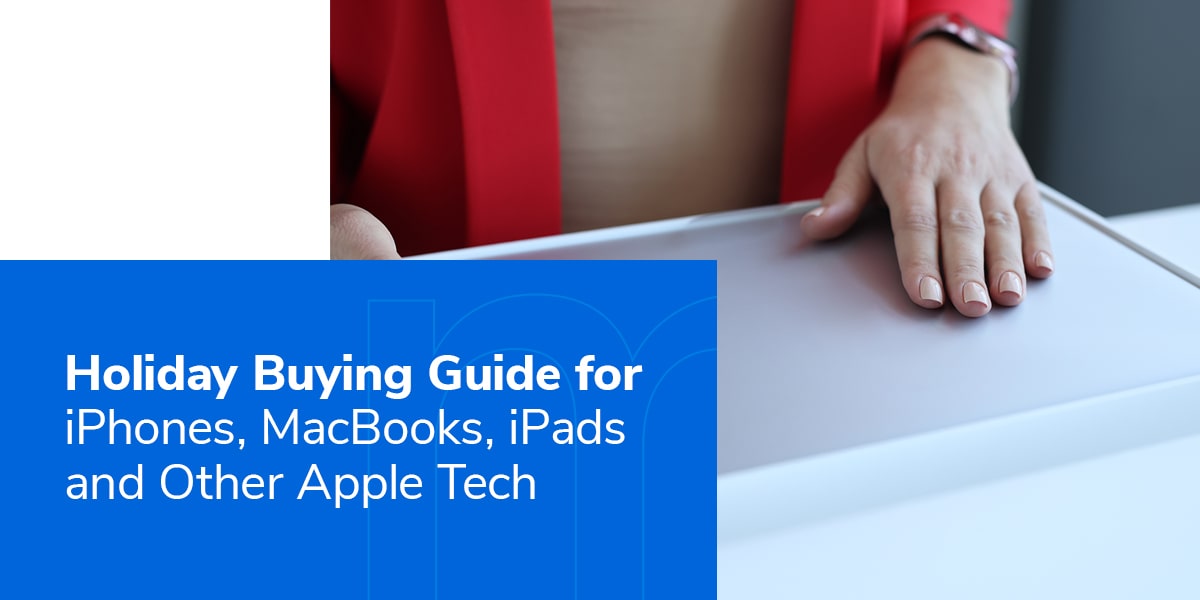 Tech is always one of the hottest holiday gifts, and Apple usually leads the pack. In 2021, Apple devices made up six of the top 10 most-searched products on Black Friday. From the latest and greatest iPhones to high-powered AirPods, it's hard to go wrong with Apple products. Still, Apple isn't always known for its affordability. Thankfully, you can gift these products without breaking the bank if you know where to look.
With the 2022 holiday season just around the corner, we thought we'd go over everything you need to know about buying Apple gear this year, including how to find the best deals and tips for gifting used Apple tech.
How to Get the Best Price on Apple Products During the Holidays
Apple product sales can be few and far between. You might find some iPhone deals offered by carriers, but those usually come with expensive strings, like a two-year contract or a costly plan. You can also find moderate discounts on Apple products from some retailers, but they may not be very deep.
The best deals on Apple products usually come from buying used or refurbished. Used or refurbished electronics are a great way to save on tech. Similar to buying a used car, buying used tech lets you avoid the most depreciation. A refurbished device offers like-new performance without the new price tag.
Refurbished devices are lower in price all year round, but you can sometimes find holiday deals on them, too.
What Does Certified Refurbished Mean?
A refurbished device is like a used device but better. It's a device that's been tested and spruced up to like-new condition. Technicians clean up the device, replace any components that aren't up to par and make sure it works well. A certified-refurbished device means it's passed a rigorous test. That test will depend on the seller's standards and may come with a stronger warranty.
Here at Mac of All Trades, all of our products go through our Certified Refurbished program. We put them through a two-stage cleaning process, 40-point visual inspection, comprehensive hardware testing and repairs. They all come with hardware warranties and are easy to return if it's not a great fit.
Why Buy Used Tech for the Holidays?
Holiday gifts can add up. Unlike birthdays or individual holidays, you probably buy presents for a long list of people. Gifting used Apple tech is a great way to save on the costs of presents or make them even better by leaving room for other gifts, like accessories.
Apple is known for quality hardware and products that "just work." Buying a used Apple device — especially a refurbished one — can help you save without losing this dependable quality. You can stick with a trusted brand and stay within budget.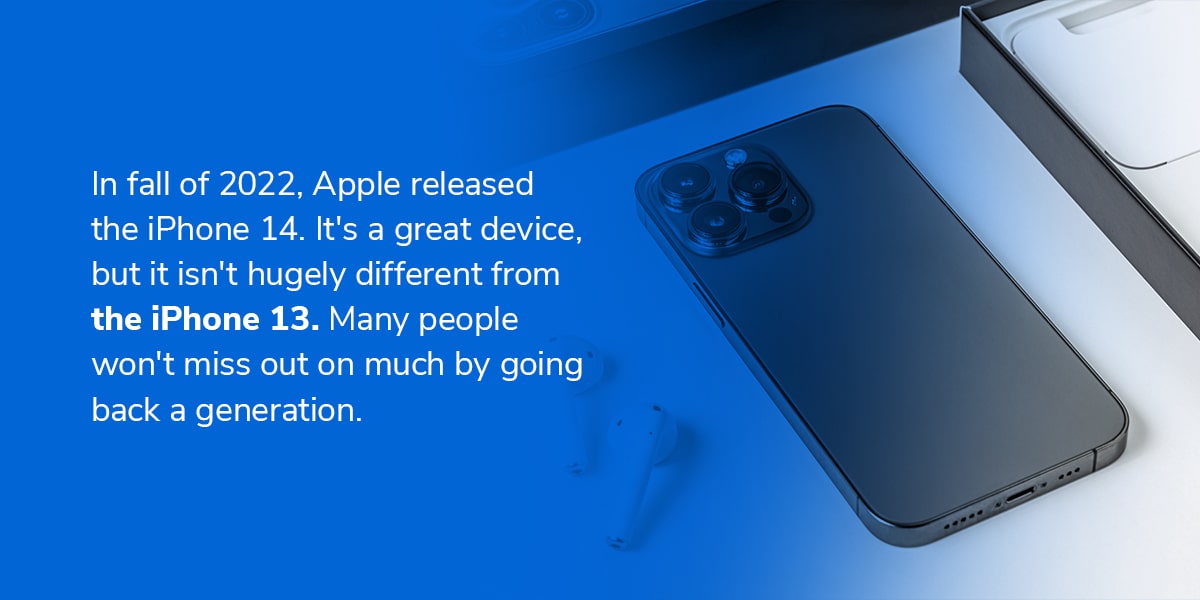 Buying an iPhone During the 2022 Holiday Season
In fall of 2022, Apple released the iPhone 14. It's a great device, but it isn't hugely different from the iPhone 13. Many people won't miss out on much by going back a generation. The iPhone 13 and iPhone 14 have very similar hardware. The 14 has a nicer camera and a few new photo features, but both options are lightning-fast and deliver the premier Apple experience. If your gift recipient prefers smaller phones, the 13 lineup was the last with a mini model.
Another option is to buy the iPhone SE. This is Apple's budget iPhone, which has a different design and still includes a physical home button. The camera and screen hardware aren't quite as flashy as the other iPhones, but the SE has upgraded processors, long battery life and other features considered standard for Apple. It currently starts at $429 retail price, but our refurbished iPhone SE models start at $329.
The best deals on iPhones during holiday shopping typically come from buying refurbished. The new iPhone 14 lineup starts at a retail price of $799, with the iPhone 14 Pro starting at $1,399. By going back just one generation, we can bring the price down by nearly 50%! Mac of All Trades has iPhone 13 models for as low as $559 and iPhone 13 Pros for just $769. You still get an amazing, long-lasting product while saving $200 to $700.
Buying an iPad During the 2022 Holiday Season
iPads are another excellent gift. From taking notes with an Apple Pencil to playing mobile games on a bigger screen, an iPad is great for kids, students, parents, businesspeople, older adults and many others. You can also choose from a wide range of accessories, like keyboards to create a laptop alternative or kid-proof cases for a more rugged build.
You have a few different iPad models to choose from:
Again, the best iPad deals during the holidays are often found on refurbished devices. This year's refurbished models start at $269 for the iPad mini and go up to $849 for the 12.9-inch iPad Pro. Of course, you can save more on previous versions, too.
Is It Safe to Buy Used or Refurbished Tech as a Gift?
Buying a used or refurbished device to give as a gift is very safe as long as you buy from a trusted seller. Look for a reliable seller with a trustworthy reputation and plenty of positive reviews. Make sure they have transparent support like Mac of All Trades does, with a Certified Refurbished program, extended warranties, domestic customer service and easy returns.
For many users, the gift's functionality is the most important part. A student on a budget or a businessperson, for instance, might prefer a MacBook that's one generation old instead of the latest non-Apple device. Refurbished devices deliver the quality Apple is known for and let you stay in-budget.
Still Need More Money for Upgraded Apple Tech?
Even if you save big by buying refurbished, upgraded tech can put a dent in your wallet. A great way to build up your budget is to sell any old devices you have sitting around. Like buying a used device, it's best to sell a used device with a trustworthy partner. You won't need to deal with shady buyers, worry about not wiping your data correctly or make the device look perfect.
Mac Me an Offer, a division of Mac Of All Trades, has been in business for decades, with some of the highest accreditation ratings the Better Business Bureau has to offer. Mac Me an Offer makes selling old devices simple so you can focus on buying the best gift possible this year.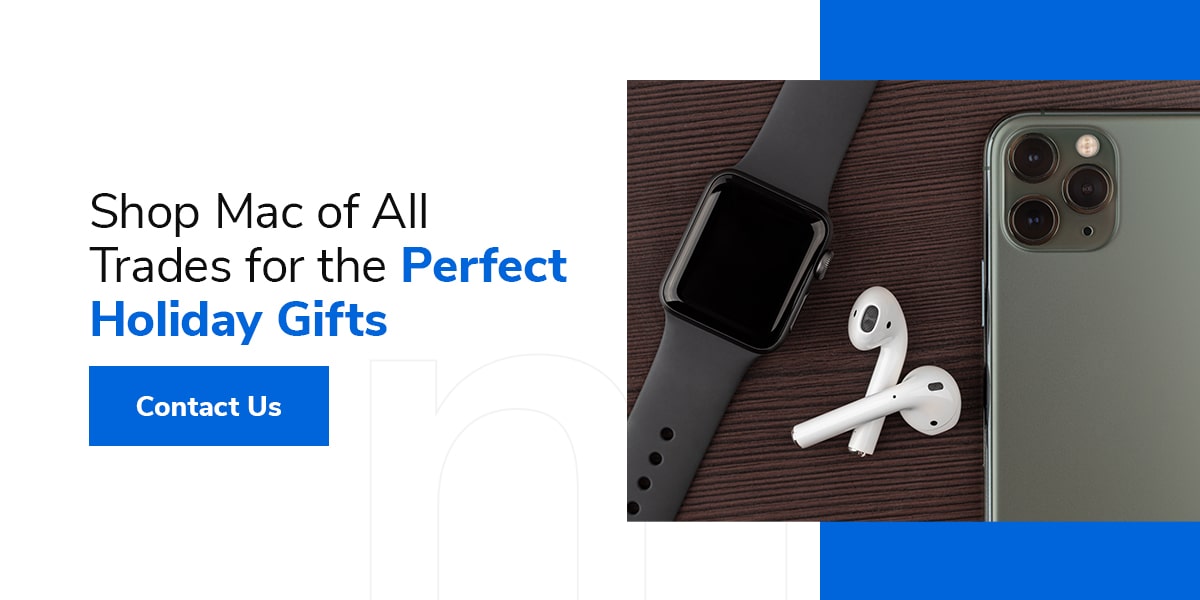 Shop Mac of All Trades for the Perfect Holiday Gifts
If you're ready to ace the holidays this year, Mac of All Trades is the go-to source for buying refurbished Apple devices. Our Certified Technicians inspect, test, repair and clean the products we offer, so you can rest easy knowing your loved ones are getting reliable tech, complete with a one-year warranty and the option for an extended two-year warranty.
We offer a variety of refurbished Apple gifts, including some of the best deals on MacBooks, iPads, iPhones, AirPods, Apple TVs, Apple Watches and more.
Explore our Certified Refurbished devices today to get started on your holiday shopping list, or learn more about our process!