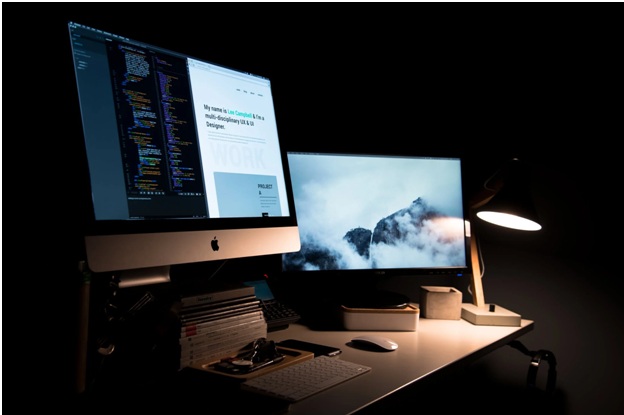 Home offices, once somewhat of a novelty, have become the standard all over the world thanks to the events that have transpired over the past year. While many of us already had small areas of our homes set aside to perform certain tasks like budgeting, taxes, checking emails, and perhaps the occasional work-related tasks, chances are the computer in said office is long overdue for an upgrade.
If you are searching for a reliable computer for your home office or workspace, chances are you have kept an eye out for an iMac for sale in your travels. These high-quality Apple computers are packed with professional features and great specs that make them a popular option for anyone who deals with digital tasks on a regular basis.
Why iMacs Make Great Computers For Your Home Office
When you need a dependable computer and you don't require the portability of a laptop, iMacs are an incredible option that are sure to meet your needs. What's great about these computers is that they are designed with longevity and usability in mind. They are powerful enough to handle any complex tasks you might have in mind, but easy enough for anyone to use.
With high-quality displays and a streamlined design that makes them easy to add to your home office space, these computers are the total package. Because an iMac is essentially a computer and monitor in one, you will be able to free up room in your workstation and minimize wire clutter. They are ideal for professional-grade design and development work, or can be used for simple word processing or entertainment.
Having a powerful computer like an iMac can make a significant difference in your workflow. The days are long gone when you could get by having a second-rate computer at home, while relying on a better model "at work." With so many of us working from home these days, and home office culture becoming the new normal, it simply makes sense that you will want to invest in a computer that is designed with quality and longevity in mind.
A high-quality computer can actually affect your work output and even your stress levels. While you may not even realize it, an older or low-quality computer that constantly hangs and crashes can cost you valuable time. While a ten-second freeze and a thirty-second hang may seem insignificant in the moment, these issues can pile up as a day wears on. Before you know it, you have wasted a substantial amount of time and have added to your stress levels on top of everything else.
An inefficient computer is a productivity killer, and will make working at home a chore. If you're going to be relying on your home office to perform more of your work in, you need to properly outfit this space with the right high-quality equipment. Doing so will not only increase your productivity, but will help to make your at-home workplace more beneficial, inviting, and fun.
Locating an Affordable iMac
It's clear that iMacs are a great option for home computing if you need a reliable machine to perform your work-related tasks on. However, finding one that is actually in your budget can be easier said than done. It's worth the time and effort to locate an iMac for sale that is within your budget and that meets all of your needs appropriately.
Here at Mac of All Trades, you won't have trouble finding the right computer you need in order to increase your workplace productivity at home. We carry a wide assortment of affordable iMacs for sale, all of which have been thoroughly refurbished. This means that you are getting a like-new computer at a fraction of the cost. If the thought of purchasing a brand new professional-grade computer makes you instinctively clutch your wallet, our prices will be a welcome sight.
Making the right choices for your home office may sound like a luxury, but these days it's really not. Having an efficient workplace may mean the difference between being successful at your job or not, or at least not having to deal with certain frustrations and headaches during the course of a given day. You want to make things as easy as possible for yourself if you want to make the most of your home office, which is why having a powerful high-quality Apple iMac is one of the best choices you can make.
Want to know more about how iMacs can help you streamline your work and enhance your office in general? Looking for a particular model or want to know more about our refurbishment process? Give us a call at 800-581-8987 and we will be happy to answer any questions you might have.