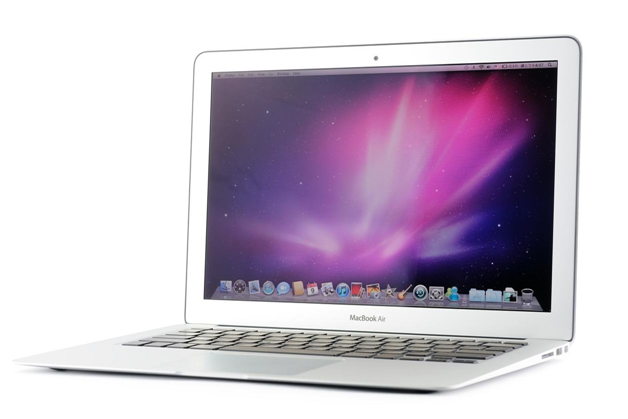 In today's environment–where work has become indexed and metrics like productivity and efficiency rule the day, where the boundaries between recreation and labor have blurred, where the office has entered our living rooms, and our favorite cafes—we all need laptops. But Apple MacBooks can be prohibitively expensive, an investment of over a thousand dollars. That's why Mac of All Trades was magicked into existence: to provide you with a cheap MacBook that can meet all of your technological needs. Here, you'll find a wide selection of MacBooks, from the powerful MacBook Pro to the lightweight MacBook Air.
The MacBook sprung into existence back in 2006, replacing the Powerbook G4 as Apple's flagship portable computer. Four times faster than the Powerbook, the MacBook's space-age design appealed to consumers as a lifestyle product. This was the first MacBook design to take the consumer's interaction with the device's physical interface into account. It came loaded with all the features needed for business, school, and personal use, including a widescreen glossy display, and a built-in webcam. Over the next thirteen years, Apple added a variety of connectivity options, including min-DVI, BASE-T Gigabit Ethernet, USB, and Bluetooth. A versatile machine, the MacBook also comes with a built-in AirPort, stereo speakers, a microphone, and a trackpad. Available in two sizes: 13-inch and 12-inch, the MacBook is synonymous with quality computing. This is a perfect laptop for designers, journalists, credit analysts, lawyers, or any other consumer who needs a high-functioning product. At Mac of All Trades, our MacBooks are tested, refurbished, and shipped with macOS pre-installed.
The MacBook Air came two years later than the MacBook proper, in 2008. Billed as the world's thinnest notebook—and it is truly paper-thin, a miracle of modern engineering—the Air featured everything you got in the original MacBook, a hyperfast CPU, crisp graphics, and a full-size, backlit keyboard. Made from 100% recycled aluminum, the 2019 model features a beautiful Retina 5K display with True Tone technology, Touch ID, and a Force Touch trackpad. The Air is for the consumer on the go. Light enough to carry comfortably in one hand, it's great for commuters who need to work on the train or avid cafe copywriters. With a battery life of fourteen hours, the Air will carry you ably through all of your projects, scholastic, financial, artistic, or otherwise. The older models keep the USB port so that you don't have to deal with dongles to plug in your devices.
The highest end of the MacBook line is occupied by the MacBook Pro, introduced in 2006, along with the original MacBook. The first design used Intel Core CPUs, instead of PowerPC CPUs, part of a general shift of Apple's toward Intel technology. It included a built-in webcam and MagSafe power connector, the MacBook standard for the next decade or so. The first generation included two USB ports and one FireWire port. Later models added Bluetooth. If you need your computer to build, create, edit, render, develop, record, etc., go with the MacBook Pro over the MacBook. The Pro features 2.66 GHz processors, which are necessary for hardcore computing. The Pro can also run many Windows applications because of its Intel processors. The screen-size of the Pro is larger than that of the standard MacBook, and the Pro comes with more hard drive space. Musicians use the Pro to produce albums, and film-makers have used it to edit feature films. Similarly, because of its greater processing power, the Pro is a laptop optimized for better gaming performance. The computer is blazing fast and can be made to work with all kinds of demanding applications.
It can be difficult to find a cheap MacBook, but we at Mac of All Trades have made it our mission to help you get the best deals for your Apple devices. Just because you're buying a device used doesn't mean that it has to operate at a slower speed or otherwise perform poorly. All a used laptop means that someone has unboxed it. Many of our devices are bought from schools and businesses and can be in incredible shape. You can attain these products at a low price, a bargain deal by any standard. Buying a cheap MacBook from Mac of All Trades is like buying a piece of designer clothing for five dollars from a thrift store.
Although we are an eCommerce company, we are easy to reach by phone or email. Get the process started by calling 800-581-8987, or send an email to customerservice@macofalltrades.com, so we can help you find the laptop that best suits your needs.