Posted by Mac of All Trades Tech Team on Mar 2nd 2023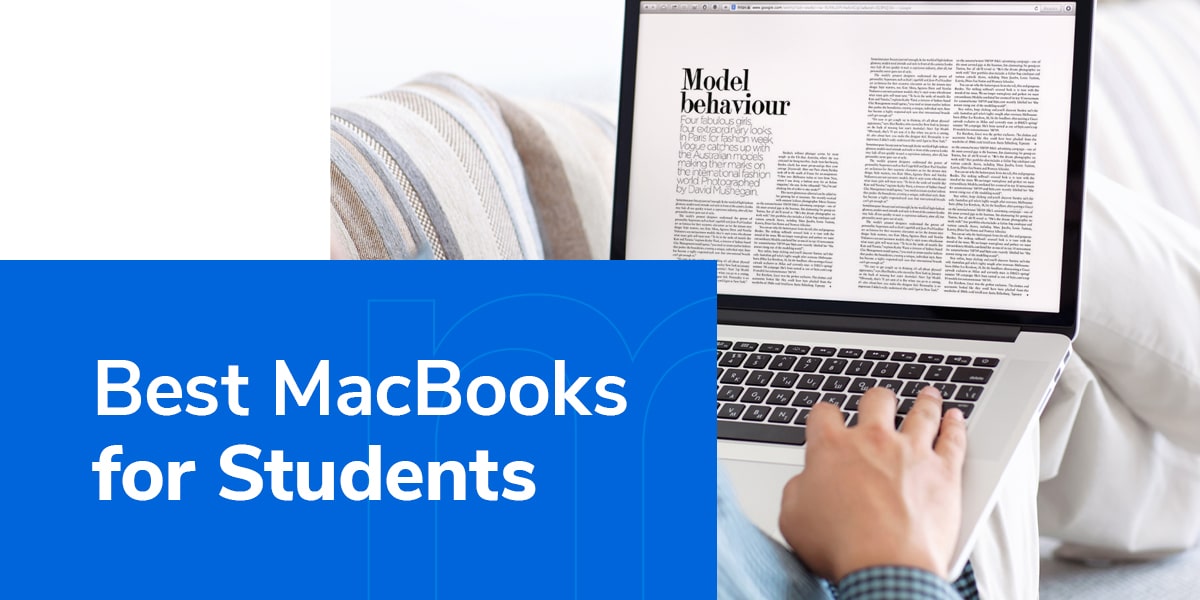 Whether you're in high school, college or a graduate program, students face unique obstacles and circumstances. Balancing classes with jobs and social priorities can quickly become challenging, especially without the right tools and technology.
MacBooks are a popular student laptop option. These Apple laptops provide high-performance speeds, easy setup processes and iPhone integration. Many students use them to complete schoolwork, organize responsibilities and watch entertainment in their free time.
Choosing the best MacBook for college can seem tricky. It's crucial to find one that matches your budget and workload needs. Exploring different models and learning about alternative buying methods, like quality refurbished choices, can help you finalize your choice.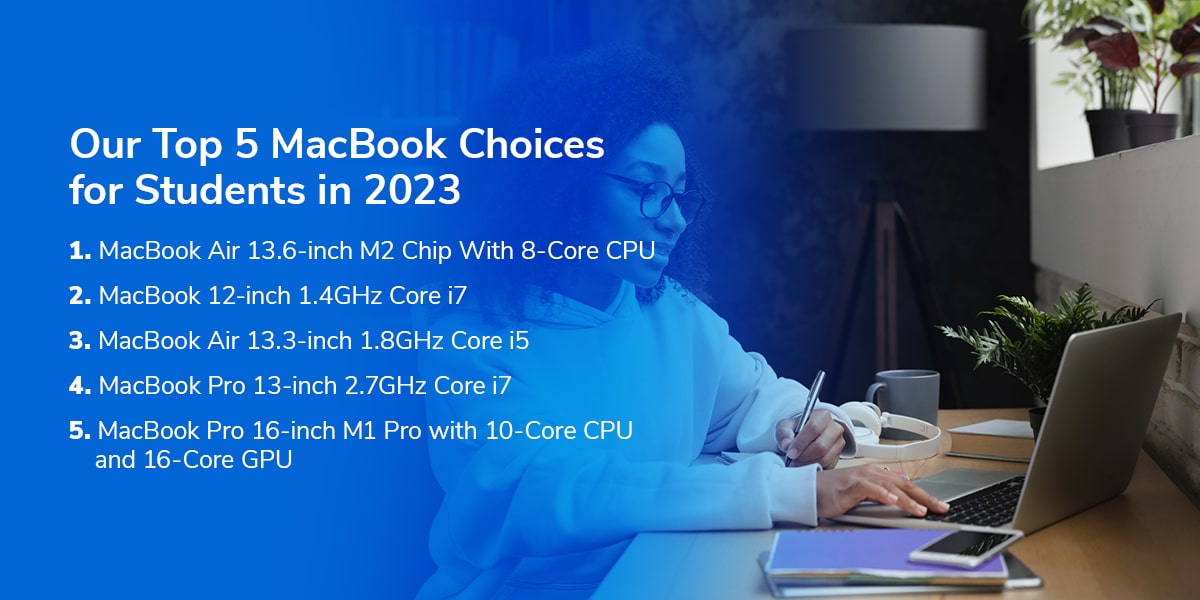 With so many MacBook styles and models available, narrowing the options can seem overwhelming. Students face additional pressures to find models that fit their budgets and lifestyles. Exploring different options can help you find the MacBook that best suits you.
Here are our top five best MacBooks for students in 2023:
1. MacBook Air 13.6-inch M2 Chip With 8-Core CPU
This recent MacBook is an excellent option for students. With a 13.6-inch display and lightweight design, this model is an excellent fit for completing assignments. It also features Apple's new M2 chip, a 2022 development that combines multiple components, including:
CPU
GPU
Unified memory architecture (RAM)
SSD controller
The integration of all of these features lets the computer run more quickly. The different processor components don't have to copy data between each other, resulting in faster processing times. This high performance is perfect for students finishing homework assignments or extended projects.
This version also has features like:
A built-in 1080p FaceTime camera.
LED-backlit retina display.
8.0 GB to 24.0 GB of memory.
2. MacBook 12-inch 1.4GHz Core i7
This 2017 MacBook model offers functionality and strong performance for students. Its 12-inch display and 2-pound weight are perfect for on-the-go students, fitting easily in many bag sizes. You can choose from several different colors to match your preferences:
Rose gold
Space gray
Gold
Silver
It also supports dual display and high-quality video graphics. Other components include:
480p FaceTime camera
Between 256 GB and 512 GB of flash storage
Bluetooth 4.2 capability
1 USB-C port
3.5 mm headphone jack
Up to 10 hours of wireless web battery time
Stereo speakers
3. MacBook Air 13.3-inch 1.8GHz Core i5
Next, this MacBook Air 2017 model is another strong choice for students. It contains a widescreen display with support for millions of colors, demonstrating high-definition videos and graphics. The 13.3-inch laptop has a sleek design and a silver finish, giving students an aesthetically pleasing resource.
The model has a 1.8GHz dual-core Intel Core i5 processor, which supports quick speeds. Other highlights include:
Battery life: A steady battery life is essential for most student laptops. You want a battery that lasts throughout different classes and supports you in any location. This MacBook Air model provides up to 12 hours of wireless web battery life and up to 30 days of standby time.
Video support: It supplies full native resolution and millions of colors. You can also use VGA, HDMI, DVI, and dual-link DVI adapters to experience these video types.
Audio components: This model has stereo speakers, dual microphones and a headphone jack. You can use these different audio capabilities to listen to music, record audio for projects or complete many other activities.
4. MacBook Pro 13-inch 2.7GHz Core i7
The 2018 MacBook Pro model has many components that match students' needs. The eighth-generation Intel core processor allows for optimal performance during high-level activities. Whether you're learning to code, designing 3D images or completing an English paper, this model functions quickly and efficiently.
In addition, this student MacBook model contains high-end features like:
Powerful graphics: The 13-inch display supports high-level graphics at any stage of creation. From watching high-definition movies to creating graphic designs for art class, this model provides top-quality images. In addition, you can use the high-definition FaceTime camera to communicate with friends and family from home.
Advanced security: Apple introduced many new security features for the 2018 Pro model, including the T2 chip. This advanced component combined multiple protection components into one, such as a secure enclave coprocessor, the system management controller and encrypted storage capabilities. The T2 chip creates a comprehensive security solution that protects your data and documents from malicious attackers or malware.
Minimal noise: This MacBook Pro model features a butterfly mechanism in its keyboard, which creates stronger stability and comfort while in use. The keyboard also creates minimal noise, allowing for quiet work sessions in the library and other silent spaces.
5. MacBook Pro 16-inch M1 Pro with 10-Core CPU and 16-Core GPU
Our last top pick is a 2021 MacBook Pro model. This laptop featured a revolutionary design when it debuted, with a rapid M1 Pro processor chip, stunning graphics display, high-performing speakers and cameras and multiple USB ports. The advanced model has a higher price, but its state-of-the-art features can provide a comprehensive technology solution for an extended duration.
Students can enjoy many high-end mechanisms, such as:
Liquid Retina display: This model supports high dynamic range (HDR) videos and graphics, which display detailed images, refined highlights, defined shadows and vibrant colors. It also contains a 1080p FaceTime camera, allowing for optimal resolution while you connect with friends and family.
ProMotion: ProMotion is a new Apple feature. The technology transforms laptop usage and makes all features fluid and responsive. It rapidly adjusts to match different pages, from watching movies to gaming.
Multiple ports: Most students look for versatile laptops that can support many different functions. This 2021 model has an HDMI output, a headphone jack, Thunderbolt 4 ports and charging ports. You can easily connect to other technology and create a comprehensive electronic solution.
Optimal audio features: This laptop excels for audio, with three top-quality built-in microphones, a six-speaker sound system and spatial audio support. You can listen to music, record audio for school projects or speak on FaceTime calls with maximum quality.
Environmentally friendly build: Apple continues to expand its environmentally friendly techniques. This laptop consists of recycled aluminum and other natural materials.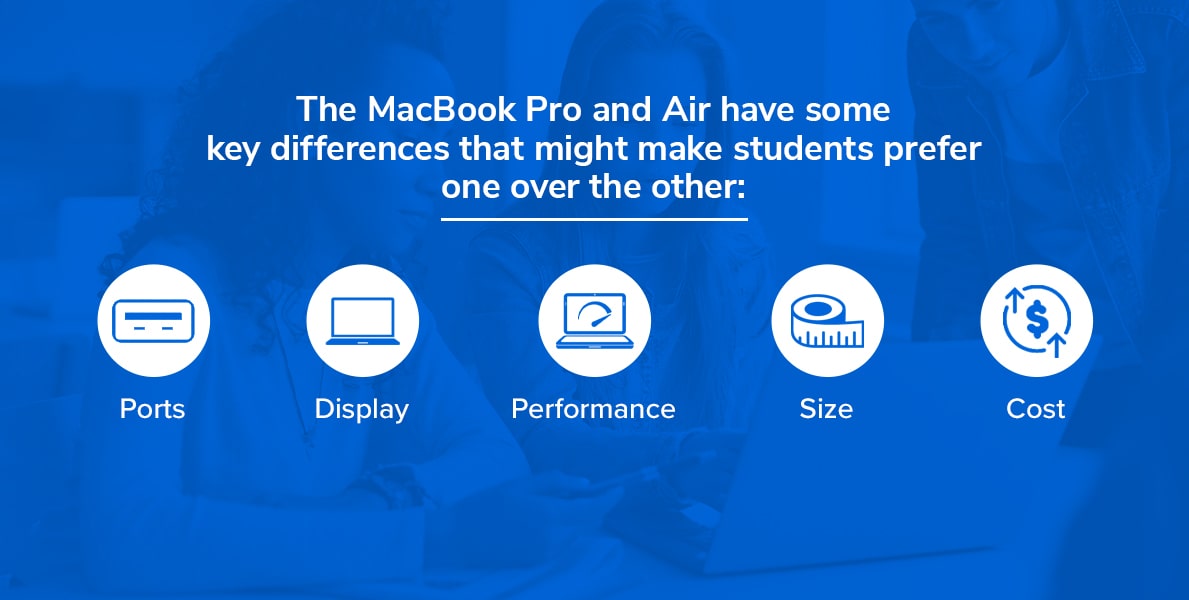 Is a MacBook Pro or Air Better For Students?
Both MacBook Air and Pro models can benefit students. The two options have some key differences that might make students prefer one over the other:
Ports: The MacBook Pro typically has more ports than the Air model. You can connect to other monitors and devices more easily with multiple port options. For instance, some pro models have multiple Thunderbolt ports, HDMI ports, SD card slots and other options for further connection. On the other hand, the MacBook Air only has two Thunderbolt ports. Overall, the MacBook Pro is a better fit if you need a multi-monitor environment. Some students prefer to have an at-home desk setup with many monitors, while others only need their laptop screen.
Display: The two laptops also differ in display capabilities. The MacBook Pro generally has a brighter display and more detailed resolution. You can reach higher brightness levels than with the MacBook Air. The stronger resolution can benefit visibility for on-the-go college students who might have to work outdoors or in other nontraditional spaces.
Performance: Both models feature advanced processing technology and rapid speeds. Their performance levels are mostly similar, with a key major difference — their cooling mechanisms. The MacBook Air contains an active internal cooling system, while the Pro has a fan. The fan can help the MacBook Pro cool down more thoroughly, creating a more consistent performance.
Size: The MacBook Air is more compact and lightweight than the MacBook Pro. This trait is often important for students as they transport their laptops across campus. However, the Air also typically has a smaller screen size. You can select MacBook Pros in either 13, 14 or 16-inch models, while the Air is a standard 13 inches. Students might value a larger display over a smaller weight or vice versa.
Cost: In many cases, the MacBook Air costs less than the MacBook Pro. The higher price is due to the Pro's larger storage size, RAM size and other increased features. However, the final cost depends on the selected model and vendor.
Ultimately, the best choice depends on your budget and desired features. For instance, you might major in graphic design and require advanced Photoshop or design features. The MacBook Pro might be better suited for these high-level processes, while a MacBook Air is perfect for typical research and document creation.
Benefits of Having A MacBook As A Student
No matter your selected model, a MacBook can bring many benefits to students. Here are some examples:
High performance: MacBooks provide high-quality performance and reliability. The advanced operating systems and processors let your laptop function at its best consistently. Many classes use online formats or technology for assignments or readings, making a dependable laptop essential for student success. MacBooks remain popular for their reliable performance, helping students complete responsibilities with minimal system crashes or other issues.
iPhone sync: Another significant benefit of MacBooks is the ability to sync with an iPhone. You can instantly link all of your apps, photos, contacts, messages and other essential data to your laptop. You can also access iPhone features like iMessage and FaceTime while using your laptop. This integration is important for many students, with 98% of college students owning a smartphone.
Advanced security: MacBooks also feature advanced security qualities that protect your data. They encrypt your stored files and offer backup opportunities for data storage files. By backing your data up to the cloud, you can retrieve it in case of a system breakdown, loss or theft.
Lightweight design: MacBooks are famous for their sleek and lightweight design. Students can easily fit them into their bags and face minimal difficulties when carrying them to their next destination.
Long battery life: Students can also enjoy the MacBooks' extended battery life. Even without access to a charger, they can use their MacBooks for extended durations without losing power. Newer models have battery durations of up to 18 hours or longer.
Longevity: MacBooks are also durable, an important trait for a college laptop. Many students want to find a laptop that accompanies them throughout their studies. Replacing your laptop requires extra costs and time-consuming setup experiences. By choosing a long-lasting model, you can use the same one throughout your degree and avoid additional stressors.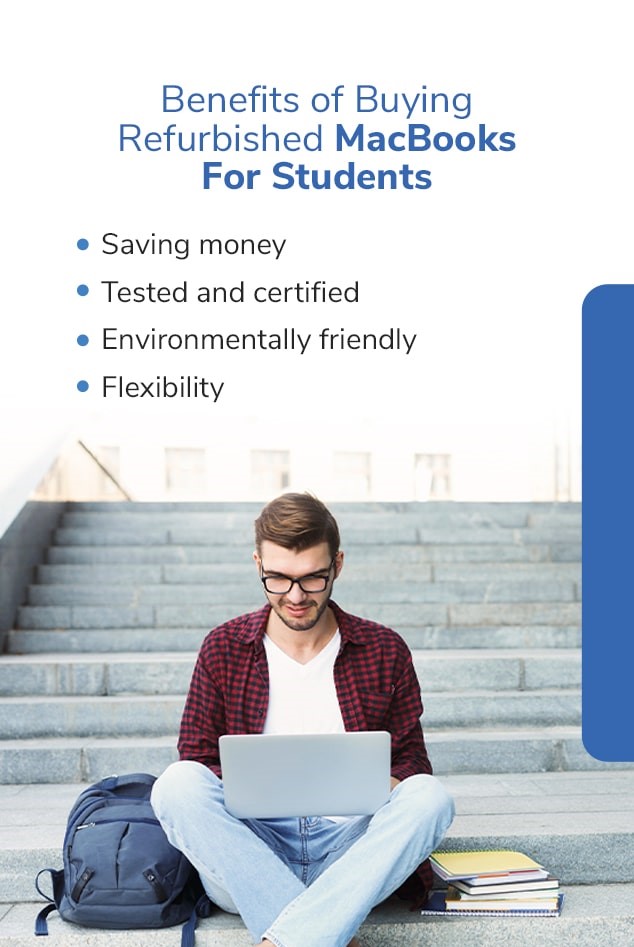 Benefits of Buying Refurbished MacBooks For Students
While MacBooks are excellent options for students, many face budgetary challenges while selecting one. MacBooks might be higher than a student's price range, causing them to avoid the best option for their lifestyle and needs.
Fortunately, you can find many budget MacBook student options. One way to make MacBooks more affordable is by purchasing refurbished models. These models have been previously returned to manufacturers, then thoroughly tested and certified for use. They also typically have lower prices than new models. Students can enjoy the many benefits of MacBooks and find one that fits their budget.
These are other benefits of purchasing refurbished MacBook models:
Saving money: From textbooks to meal plans to everything in between, students have many expenses to balance. A new laptop is a significant investment that might be difficult to fit into a student budget. Buying refurbished lets you explore a wide range of available models. You can filter results by your price range and find a MacBook that meets your specifications and available expenses.
Tested and certified: The best refurbished providers use thorough testing techniques to ensure products are high-functioning. For instance, at Mac Of All Trades, we clean and inspect the returned product, then test all hardware components. We also address any former issues noted by the previous owners and ensure they're resolved. If the laptop requires repairs, expert technicians respond to them. You can trust the laptop will provide a high-quality performance.
Environmentally friendly: Refurbished options are also environmentally friendly choices. You contribute to a circular economy by reusing a model rather than purchasing an entirely new one.
Flexibility: When you shop for a refurbished option, you also gain additional flexibility. Instead of just viewing the newest product line, you have a wide selection to choose from. You can find many available models from different years and with varying features. If you prefer older features to new ones, you can find the laptop that suits those needs best. For instance, you might prefer a wider screen or a particular size of headphone jack that Apple no longer supports. You can choose a refurbished option that meets your preferences more closely.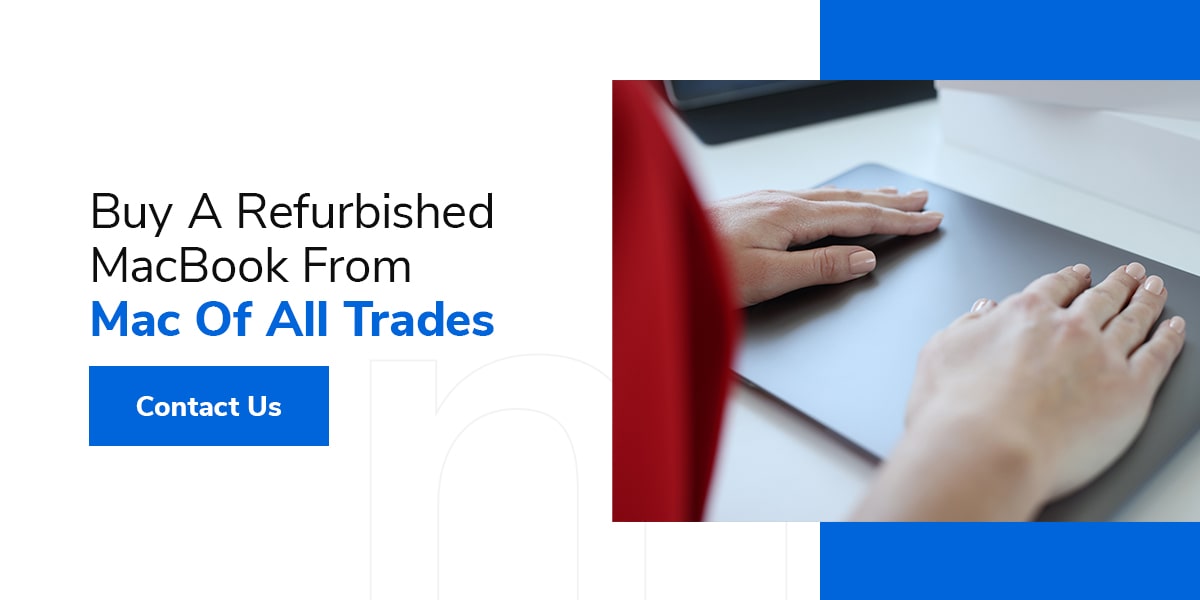 Buy A Refurbished MacBook From Mac Of All Trades
A MacBook for students can bring many benefits. Refurbished options make this high-end laptop accessible for all budgets and needs. If you're seeking a refurbished MacBook, choose Mac Of All Trades today. We offer a wide selection of refurbished laptops that can suit many student needs. We carry many models, including the:
All of our refurbished models are comprehensively tested and certified for use. We conduct careful inspections and tests to ensure the product functions at its best. In addition, we protect your purchase with benefits like:
Free shipping to the contiguous U.S.
A 14-day return period.
Multiple warranty options.
Online support.
We constantly update our inventory to bring you the best models. Shop online today to get started with Mac Of All Trades!