Posted by Mac of All Trades Tech Team on Apr 7th 2023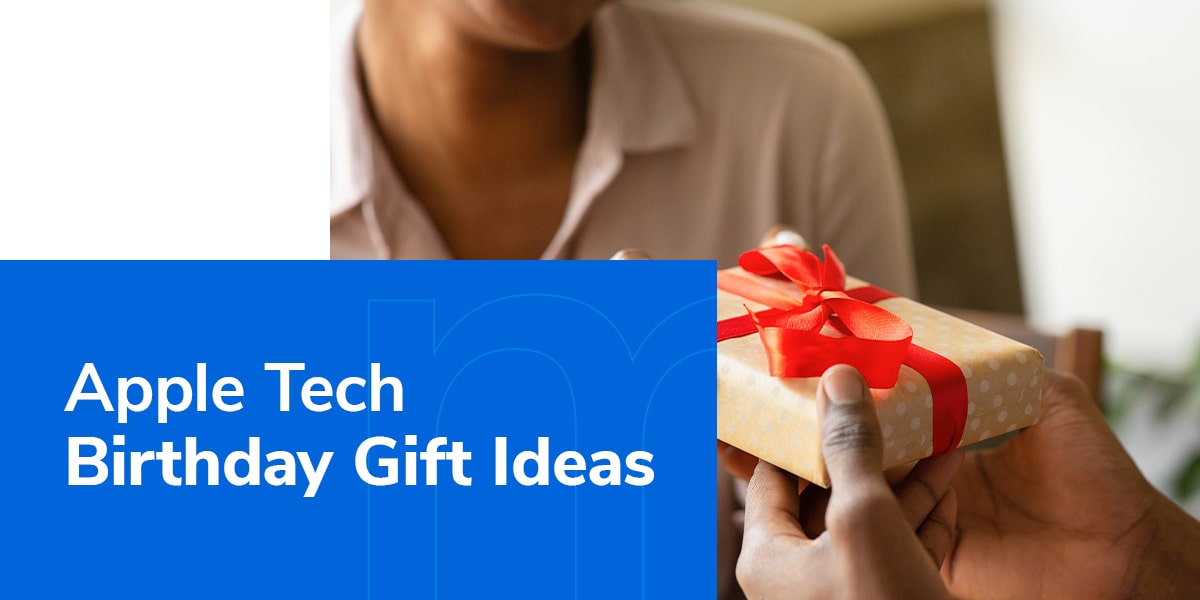 Finding gifts for tech lovers can be a challenge. Although it's exciting to hunt for the best tech gifts for your loved ones, the number of options can make it overwhelming. If you know your friend or family member likes Apple products, that's a great place to start. Apple birthday gifts are sure to be met with appreciation, and finding the best tech gifts for Apple lovers is easier than you think.
The best Apple gifts suit the recipient's unique style and fit seamlessly into their life. Check out this guide to make gifting Apple tech easier than ever.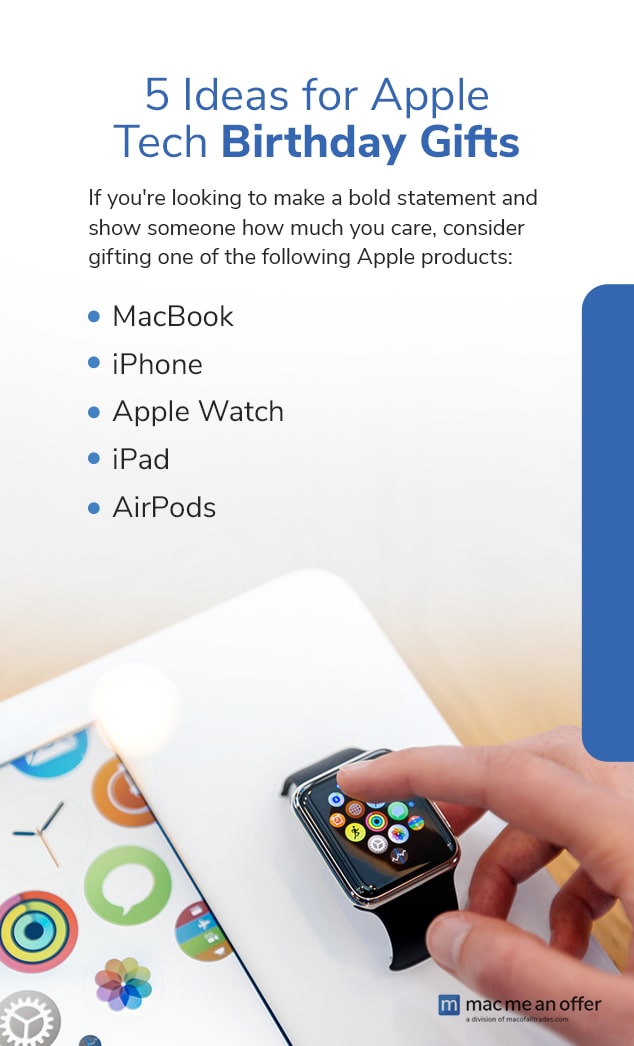 5 Ideas for Apple Tech Birthday Gifts
There are many Apple products out there. Choosing the right gift depends on your budget and the person you're shopping for — even if it's you. If you're looking to make a bold statement and show someone how much you care, consider gifting one of the following Apple products:
1. MacBook
MacBooks are extremely versatile — students and working adults in many professions can use them. A MacBook is one of the best tech gifts you can buy. MacBook users swear by their machines and always look for the latest innovations. Like any laptop, users can manage their lives from a MacBook.
Gifting a MacBook doesn't have to break the bank, either. A refurbished MacBook gift is an outstanding option if you're looking to give someone a luxury gift while scaling back on the costs.
2. iPhone
Another infallible gift option for the tech-savvy — or not so-tech-savvy — is an iPhone. Everyone needs a phone, and iPhones are one of the most popular and user-friendly mobile phones on the market. There are a wide variety of iPhones to suit your budget and put a smile on someone's face.
If the intended recipient is an Apple enthusiast, they may already have an iPhone, but no one says no to a newer model. Do some gentle snooping so you can ensure they get a surprise upgrade.
3. Apple Watch
Apple Watches rank high on our list of gifts for Apple lovers. They are the perfect gift for the fit and fashion-conscious. They're effortlessly stylish with health and fitness options that any sportsperson or amateur fitness fanatic would adore. Adding an Apple Watch to an Apple lover's string of tech is the perfect finishing touch.
Apple Watches work with iPhones, so double check your lucky benefactor has one before purchase.
4. iPad
Consider an iPad if you're searching for the best tech for a child, an older adult or someone who loves to get creative. iPads are valuable for school, work and play. They're sleek and easy to transport for someone on the go, and adding an Apple Pencil to the mix provides the perfect blank canvas for a budding — or professional — artist.
Recipients can download apps to make their iPad fit their unique style, so if you're looking for tech with a broader appeal, an iPad is a great option.
5. AirPods
AirPods are a wonderful choice for the Apple lover who owns all the big-ticket items. Music lovers adore the crystal clear sound, and fitness fanatics love the lightweight comfort. AirPods are wireless, so they're easy to use no matter where you are. They come in a handy charging case and are designed to fit comfortably — no more earphones falling out or hurting.
AirPods pair with any Bluetooth device, so they could be fantastic for someone new to Apple.
Giving a MacBook as a Gift
Gifting someone a MacBook may seem grand, but it ticks all the boxes when you take a closer look. A MacBook is a stylish, functional, practical gift that everyone can use to streamline their lives.
You may be worried about the costs, but there are many MacBooks out there that cater to different budgets. The higher end of the price range could get as high as $6,000, but you can make your MacBook purchase more affordable by researching refurbished options. The cost of a refurbished MacBook Pro could start from $1,299 or less, depending on the specs.
Many suppliers also offer financing plans, which could be a marvelous way to splurge on a special gift.
Who Loves a MacBook?
A MacBook is a perfect gift for students, writers, corporate warriors, creatives and music lovers. Anyone who spends time in front of a screen will love the MacBook's performance and sleek design.
Our Favorite MacBooks
First on our list is the MacBook Air 13-inch M2 Chip with an 8-Core CPU. It's great if you're on a budget and is one of the most powerful machines in its price range. This sturdy laptop has an excellent battery life and is versatile enough to work for any application.
If you prefer the MacBook Pro, consider the slightly larger MacBook Pro 16-inch M1 Pro, a powerful choice for creatives who need to put a little more pressure on their machine. It has exceptional airflow and cooling and phenomenal battery life — ideal for people who are always on the go.
Giving an iPhone as a Gift
Is there a better gift than the gift of communication? The gift of communication via an iPhone, of course. iPhone lovers often quail at the thought of having to use a different phone. iPhone cameras are fantastic, and the traditional, user-friendly iPhone interface is challenging to replicate.
Gifting a loved one an iPhone all but guarantees they'll use your gift daily and take advantage of the unlimited range of life-enhancing applications. The latest iPhone is the iPhone 14, which has a pretty substantial price tag.
However, you don't have to break the bank to gift an iPhone. iPhones have exceptional longevity and quality, and refurbished models pack the same punch. You can pick up an older model iPhone, such as the iPhone 11, for under $300.
Who Loves an iPhone?
An iPhone is one of those devices everyone loves. If your loved one is an Apple lover, a new phone will be high up on their list of favorite presents.
Our Favorite iPhones
The Apple iPhone 14 Pro is a definite contender for the top spot. It's a compact and powerful handset with an incredible camera, a gorgeous interface and impressive capabilities. Many reviewers consider it close to perfect.
If you're still looking for a powerful and stylish package, but prefer a budget option, consider the iPhone 13 Pro. This nifty phone has an outstanding display. If your loved one loves photography, they'll be thrilled with the camera quality. It's a sleek and stylish option with remarkable battery life.
Giving an Apple Watch as a Gift
An Apple Watch is another practical, thoughtful gift the wearer will use daily. Depending on how much you want to spend, you can go to the top of the range with the Apple Watch Ultra, a watch designed for rugged outdoor enthusiasts.
If you're looking for good value, consider the 2022 Apple Watch SE. This entry-level Apple Watch is a superb budget alternative that allows people to experience many of the perks of an Apple device without the hefty price tag.
Who Loves an Apple Watch?
The Apple Watch does a lot more than tell time. It's a dynamic and intelligent smartwatch suited to sportspeople, health enthusiasts and outdoors addicts. The Apple Watch SE is wonderful for young people or someone looking for their first Apple Watch.
Our Favorite Apple Watches
Our first choice here is the Apple Watch Ultra. It boasts the latest smartwatch technology, a larger screen and is water resistant up to 100 meters. The titanium shell makes it suitable for just about any sport, and the battery life is phenomenal.
For those looking to start their fitness journey, the Apple Watch Series 7 is an excellent option. It's sleek, stylish, quick to charge and offers many impressive features.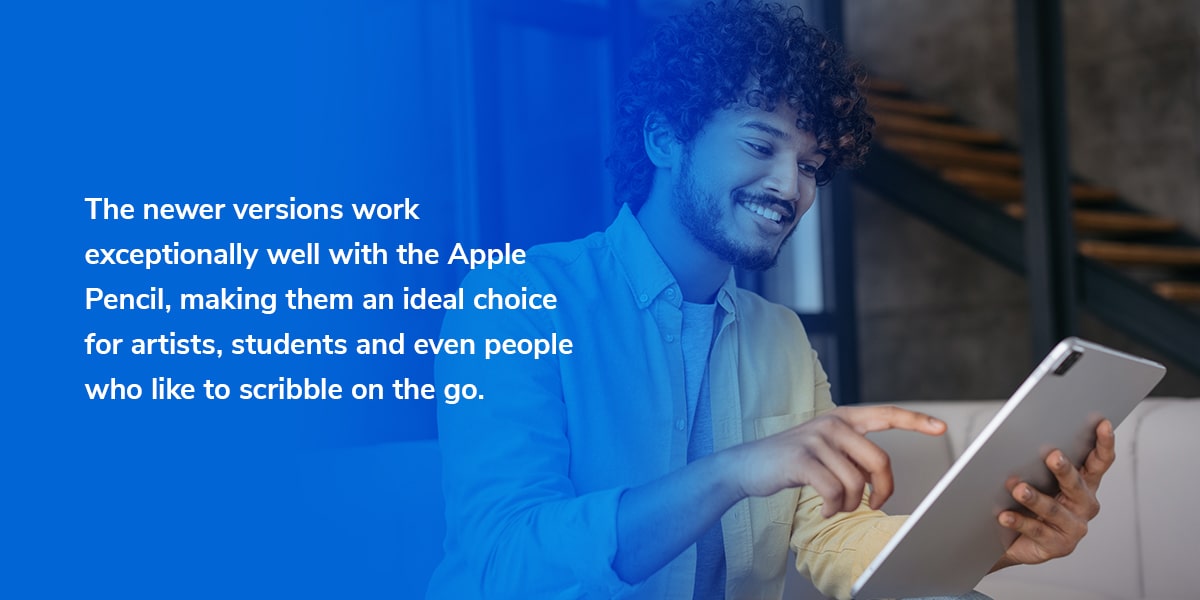 Giving an iPad as a Gift
The Apple iPad has been around for years, yet it's still a sought-after piece of tech, and there's good reason for that. The newer versions work exceptionally well with the Apple Pencil, making them an ideal choice for artists, students and even people who like to scribble on the go. An iPad is an ideal gift for anyone who loves Apple tech.
For users that make the most of their tech, take a look at the top-of-the-range iPad Pro. A lot is going on with this tablet, and although it has the best technology, it comes with a hefty price tag.
The Apple iPad 10th generation is a brilliant budget option. It's still compatible with the Apple Pencil and underwent a complete redesign in 2022. It's attractive, sleek and lightweight and carries a more respectable price tag.
Who Loves an iPad?
Students, artists, avid readers and tech lovers will all adore the iPad. It's an attractive and versatile piece of tech that many will enjoy daily. Older adults will also love the iPad's easy-to-use interface.
Our Favorite iPads
The ultra-portable iPad mini 6 has to make an appearance here. This gorgeous tablet is lightweight, fast and has phenomenal battery life. It's an attractive gift option for those who prefer to browse, read and create one-handed.
Giving Apple AirPods as a Gift
AirPods are the ultimate gift for the Apple lover who has it all. AirPods boast plenty of fantastic features like active noise cancellation, touch control and water- and sweat-resistant properties. You may not get better than Apple AirPods Max for the top-of-the-line, stylish over-ear wireless headphones. These are a premium gift but perfect for any music lover.
More basic AirPods are a fantastic gift if you're on a budget. With the 2nd generation AirPods, you get voice-activated Siri assistance, stable wireless connection and robust battery life.
Who Loves Apple AirPods?
Young people and older adults will love how convenient AirPods are. The sound quality is every music lover's dream, and the wireless connection will thrill runners and athletes who need music to get their heads in the game.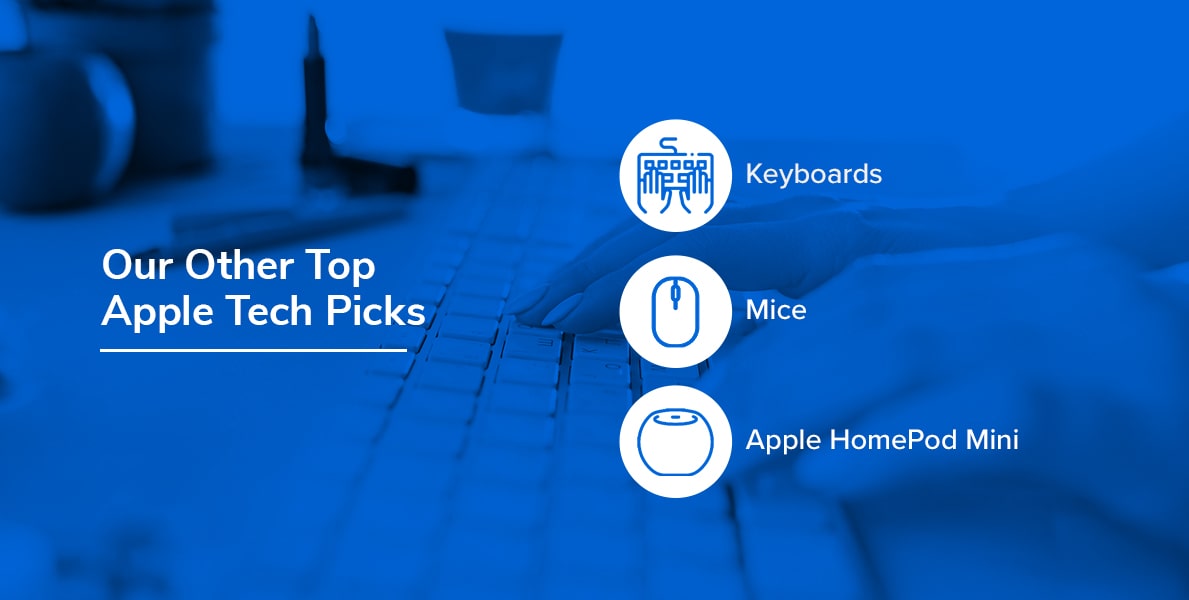 Our Other Top Apple Tech Picks
Finding the best tech for Apple enthusiasts can be challenging, especially if they already own all the big-ticket items. However, there are plenty of other options to augment their existing setup, including the following:
Keyboards: A keyboard is an excellent gift option for people who spend hours in front of their screens or want to add another level of convenience to their iPad. Students also love the comfort and compatibility with their other Apple tech.
Mice: An Apple Mouse is a clear choice for Mac users. They are sleek and easy to transport and recognize a range of gestures. The Apple Magic Mouse 2 is our top pick here — it's so stylish that no one can resist.
Apple HomePod Mini: This tiny speaker packs a punch. Despite its diminutive size, it can fill a room with 360-degree, high-quality sound. The HomePod mini is the perfect gift for music lovers of all ages. The Apple HomePod 1st Generation packs just as much punch but is less expensive.
Is It OK to Give Refurbished Items as Gifts?
Refurbished items make outstanding gifts, provided qualified technicians have professionally tested them. There are many benefits to gifting refurbished Apple tech, including the following:
Save money: Buying refurbished items is often more cost-effective, so you can give someone a special gift without paying manufacturer prices. Tech that may not have been accessible due to budgetary constraints is now available.
Be eco-friendly: Buying refurbished devices is good for the environment. The devices get a new life instead of being dumped into a landfill, where they can potentially release harmful chemicals into the environment.
Enjoy certified testing: Refurbishing experts conduct extensive testing to ensure these products are ready to use. They perform repairs and retest the equipment to ensure it's ready for optimal use. Refurbished tech from a quality provider will be in optimal working order.
Access older models: Many people prefer older models to the latest versions. While the manufacturer may have discontinued older models, refurbishing experts often have them in stock, fully refurbished and as good as new.
Buy reliable tech: Refurbishing experts thoroughly check defects and damage before selling any tech. They should also provide a warranty on refurbished items for peace of mind.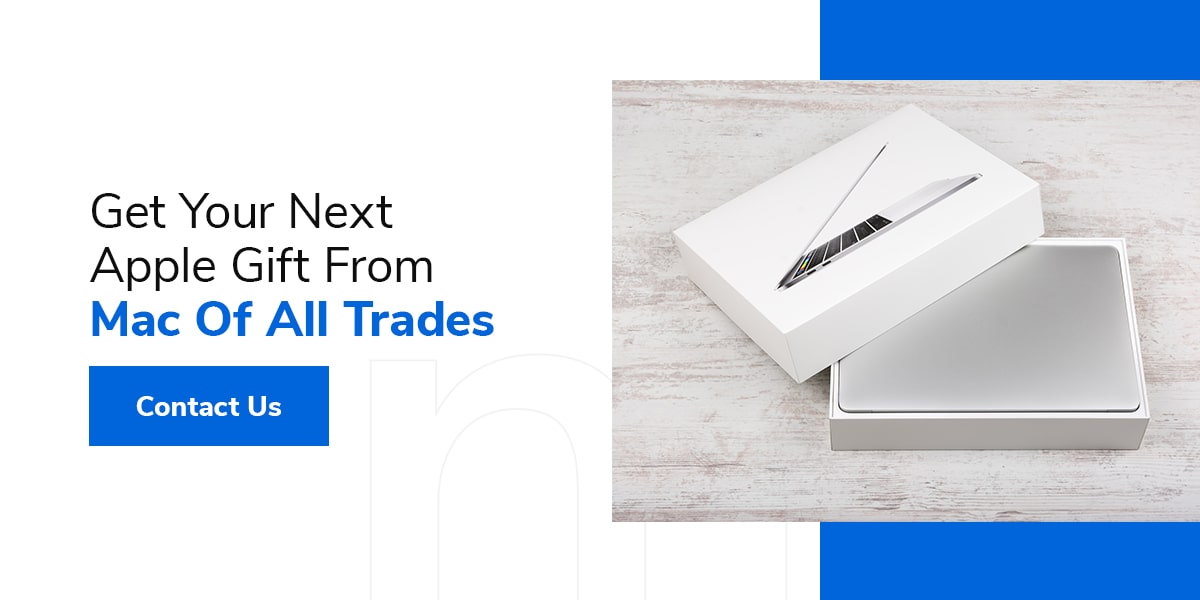 Get Your Next Apple Gift From Mac Of All Trades
Your next gift could be waiting for you at Mac Of All Trades. All of our refurbished devices are backed with a hardware warranty. They are thoroughly tested and visually inspected for the utmost quality, and we can offer you some of the best deals on the market.
Our wide range of Apple tech comes with free shipping throughout the contiguous United States, a 14-day return policy and tech support via chat, email or phone. Please browse our extensive collection today, and take advantage of our fantastic upfront prices and financing plans. Find the top Apple gifts with Mac Of All Trades today!