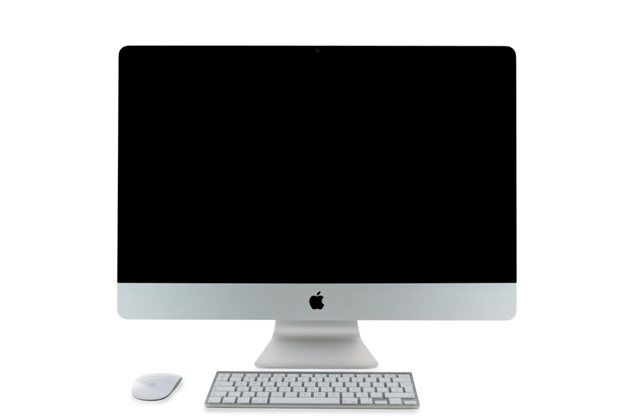 It's easy to take your computer for granted, but the stories behind Apple's products are fascinating. At Mac of All Trades, we're in the Apple product business, including the iMac. We have refurbished iMacs for Sale, and we appreciate them like no other because iMacs are exceptional creations with an extraordinary history.
The iMac G3 was conceived with a simple purpose in mind: to get on the internet, and fast. It took only two steps to set up a streamlined out-of-the-box experience that allowed consumers to browse the web in record time. Outfitted with a USB port (the first desktop to have one), the iMac became the first legacy-free PC, jettisoning bulky hardware for a sleek, teardrop silhouette. Designed by Jonathan Ive, Apple's Chief Design Officer until 2019, the iMac came in a variety of vivid colors, a welcome change from the beige towers that characterized desktop computing up until that point.
The next generation of iMac, the G4, shifted the design focus from color to shape. A ground-up redesign facilitated the transition from cathode-ray tube displays to flat panel, LCD technology. A 15-inch LCD panel was suspended from a polished metal neck, connected to a white, domed base, which created an entirely new form that appeared to defy gravity. Many dubbed this model the "Luxo Lamp iMac," referring to Pixar's Luxo Jr., the hopping desk lamp included in the studio's logo. The computer's revolutionary design has earned it a spot in the Museum of Modern Art's Architecture and Design collection.
The iMac G5 is the grandfather of the product we know today. It packed a complete computer system into a mere two inches of depth, housing it behind the LCD display. This was the first iMac to become available after the advent of the iPod, marketed with the tagline: "From the creators of the iPod," and designed to mimic the iPod's minimal form.
Just as the iPod had inspired the design of the iMac G5, the iPhone inspired the design of the G6. A glossy display, framed by a black glass bezel, made the iMac look instantly more modern. Plastic was banished almost entirely, except for a single rear panel. Matching aluminum keyboards completed the look. Now, aluminum and glass are highly recyclable, and Apple's enthusiasm for environmentally sustainable design had grown greater throughout the decade. The move to larger displays meant that more material would be used in every machine. Switching from plastic to aluminum and glass represented a leap forward in sustainability.
The history of the iMac is the history of design innovation. Friction-stir welding: a technique used on aircrafts, modified for Apple's burnished aluminum chassis; plasma deposition: a chemical vapor deposition process used to coat the iMac's display; fusion drives: a hybrid storage drive that combined the performance of a solid-state drive with the capacity of a hard drive—all of these innovations and many more go into the creation of a contemporary iMac.
At Mac of All Trades, our expert technicians refurbish iMacs for Sale, using a 40-point method of proprietary inspection that allows us to ensure full functionality of all parts. All hardware components are tested thoroughly, then each machine is graded and assigned a condition from Good to Excellent. Each machine is cleaned and labeled with its specifications.
There are many reasons you'd decide it's time for a new iMac. Maybe you're tired of waiting for things to load. Maybe you need more hard drive space. Maybe you just want to feel the spirit of Steve Jobs (or Steve Wozniak), in your office. Whatever the reason, at Mac of All Trades, we're here to help you get the best bang for your buck. Our team of dedicated professionals (which sounds boilerplate, I know, but it's true) is here to help you find exactly what you're looking for in an iMac for Sale. Our quality customer service is the lynchpin of our success. We will get to you what you need in a desktop computer, and we will offer selections that fit those needs.
Founded in 1995 in Atlanta, GA, Mac of All Trades has served the Apple community for over two decades, and our relocation in 2004 to Tampa, FL, helped our vision grow. Although we are an eCommerce company, we are easy to reach by phone or email: 800-581-8987 or customerservice@macofalltrades.com. In addition to iMacs, we stock other Apple products including MacBooks, iPads, iPhones, Apple Watches, and assorted accessories and parts.