Posted by Mac of All Trades Tech Team on Sep 28th 2021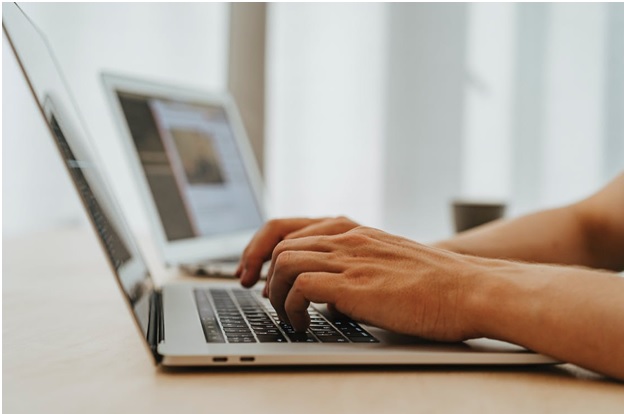 First introduced in 2008, when the first MacBook Air hit the market, it was an immediate hit. Light, powerful, with an amazing display, and with equally impressive battery life, it was a fan favorite as soon as it came on the scene.
In the years that followed, the MacBook Air was produced in 11 and 13-inch versions, but for the most part sported the same thin, lightweight aesthetic for which the line has become known. And, if you're interested, there are still as many good reasons, today in 2021, to buy a MacBook Air, as there were in 2008. Here are some of the best of them.
1. The Obvious: They're Thin and Light
One thing has not changed about the MacBook Air since it was released in 2009. Through every update and iteration of evolution, the MacBook Air has remained both thin and light. Specifics will vary slightly depending on whether you purchase an 11-inch or a 13-inch model, but they're all thin and light.
The biggest MacBook Airs are less than 12 by 9 inches in width and length, and razor-thin - just over half an inch high. They're also incredibly light, at under 3 pounds, making them the ideal "notebook style" laptops.
2. Clear, Crisp Quality Retina Display
The MacBook Air, regardless of the model you choose, has fairly thin borders which devote more space to the screen, the perfect compliment for its brilliant, lucid retina display. With a resolution of 2560x1600 and 4 million pixels, the images and text displayed on MacBook Air screens are bright, sharp, and beautiful. Recent years (post-2018 MacBook Airs, that is) boast even better colors in their Retina displays.
3. Impressive Battery Life
Obviously, battery life is a factor that depends on the age, use, and condition of the battery itself, as well as how you use the computer. However, the MacBook Air has been widely lauded for its impressive battery life, with many estimates advertising upwards of 12 hours of life through continuous use. Some estimates claim the battery can provide up to 14 hours of continuous use when connected to WiFi.
4. Practical Apps
The MacBook Air also comes loaded up with a ton of fun and useful apps, some of which are more practical for professional applications and others that are more for recreation. Some users may not even have a good use for all of them, but regardless, MacBook Airs come ready-to-roll with Safari, Maps, Calendar, Notes, Reminders, Mail, iMovie, Garage Band, FaceTime, Books (which has a huge, huge online collection of free, full-text books) and of course, the App Store, whereby you can add even more - and many for free.
5. Surprisingly Good Sound Quality
One of the lesser-known draws of the Apple MacBook Air comes in the form of sound quality. While the speakers on the Air may not be as impressive as on its laptop-counterpart, the MacBook Pro (which also offers excellent sound quality) the Air's speakers feature double the bass for a fuller sound and broader range. Sound quality is excellent, and not tinny at all, even at higher volumes, which sometimes cause audio distortion.
6. Power and Speed
The exact power and speed of a MacBook Air will vary according to the model you purchase, but Core i5 and i7 processors are common, many with Turbo Boost functionality up to 2.7GHz or 3.2GHz. Some also feature Apple's M1 chip, the fastest single-core processor of any Mac. They're not as powerful as some, more robust laptops (like the MacBook Pro line) but they are much more than powerful and fast enough for surfing the web, reading, checking mail, or collaborating on assignments.
7. Many MacBook Air Models Have Plenty of Internal Storage (Probably!)
The blanket claim "this laptop has plenty of internal storage" means nothing without some qualification from the intended user. Nonetheless, many MacBook Air laptops come with plenty of local storage. It's common for 11-inch models to come with 126GB local storage whereas 13-inch models often feature a 256GB SSD. That's not a ton, but it's not a little, and most MacBook Airs can be upgraded, anyway.
8. Newer Models are Green-Compliant
A really interesting selling point of MacBook Air laptops produced after 2018 is that they are fully green compliant. They are not only recyclable but also made with recycled components. For example, the newer models feature an aluminum shell that is made entirely with recycled aluminum. If you needed another reason to buy a MacBook Air, in sleek Space Gray, remember that you may even be helping the environment in doing so.
There you have some of the biggest draws of buying a MacBook Air - and when you get your next Apple Laptop from Mac of All Trades, you'll enjoy low pricing and robust processes for evaluating, restoring, and refurbishing used Apple products. Plus, our devices ship for free and even come with a free one-year warranty - if you have any questions, feel free to call us at 800-581-8987. Otherwise, your next Apple MacBook Air is waiting for you - right at the link above.
Visit Our Online Store Today
Here at Mac of All Trades, we carry a great variety of Apple products that have been carefully refurbished so you always enjoy that unique Apple experience. If you want to buy a MacBook Air that you can rely on for years, we have exactly what you need.
For more information on the different model MacBooks we carry, check out our store, or call us at 800-581-8987.