Posted by Mac of All Trades Tech Team on Jan 4th 2022
When you are looking to purchase a new electronic device, especially one from the monolith Apple, it can be difficult to decide on which one would suit you and your requirements the best.
One of the biggest perplexions facing many Apple enthusiasts is the iPad vs. the MacBook. Both of these devices are meritable in their own rights, but both can provide users with varying capabilities and, ultimately, advantages.
But should you buy an Apple iPad over a MacBook? That is completely dependent on you and your requirements. In order to help you answer this big question, let's take a look at four things your iPad can do that your MacBook can't.
1.iPads Can Go Easy on Your Budget
One of the most enticing aspects of the iPad, whether it be the iPad Pro or otherwise, is its price. At the time of this blog's writing in 2021, the newest iPad Mini with an 8.3-inch LED Liquid Retina display starts at $499 at Apple.
Meanwhile, the iPad Pro, which provides the "ultimate" iPad experience to users, with a 12.9" LED Liquid Retina display starts at $799. Looking for a more affordable option? Consider the classic iPad, which starts its price range at just $329. However, if you're looking for the absolute most affordable options for iPads, consider our refurbished iPads.
Meanwhile, MacBook Airs and Pros can reach prices that are significantly higher than the iPads. The MacBook Pros with 14" and 16" screens right now, for example, start at $1,999!
2.iPads Provide You with a Touchscreen
Probably one of the most obvious (and perhaps even a little trite) yet relevant answers to this question is the touchscreen. Your MacBook doesn't allow you to use your fingers to zoom in on a webpage or simply tap on the screen to get from point A to point B.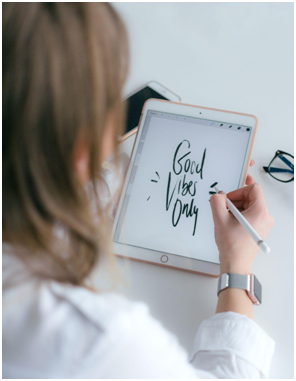 Your iPad can uniquely provide you with such a capability, as it is mainly a touchscreen itself. This can be especially ideal for designers and other such professions, as it can give them an element of precision in their line of work. A touchscreen also has more lax and leisurely usages, like gaming and drawing. A MacBook, however, lacks such a convenience.
iPad users can take this advantage a huge leap (not just a step) further by utilizing the hyper-precision capabilities of the Apple Pencil. This point alone is enough for many users to ditch their laptops completely and solely use the iPad.
3.iPads Are More Convenient Travel Buddies
We won't lie to you: MacBooks can be convenient to travel with. However, iPads are simply easier to travel with than they are. This is because they lack a keyboard and a heavier bottom, supplying travelers with a much lighter and more portable option. The iPad Mini, for example, could fit in the palm of your hand!
That being said, you could certainly fit an iPad in smaller purses and other such bags that MacBooks simply cannot fit into. Not only can iPads be conveniently placed into small carrying cases but they can also be used in areas where MacBooks simply won't do. Airplanes, train rides, car rides, bus rides– you name it and your iPad will be easier to use than your MacBook.
4.They Lack a Keyboard and Touchpad
As we continue to blast through this innovative digital age, keyboards and even mice are becoming more and more obsolete. This is because the development of devices has created digital keyboards that pop up when they are only necessary, which also rids us of the irksome "clacking" on the keys. For mice, our fingertips on touchscreens have given them the boot.
iPads don't have keyboards at all. This can be exceptionally convenient for some, as this makes the devices significantly smaller and more portable, as briefly noted in point #3 on our list. Plus, if you don't need to use keyboards all that often or even just prefer digital keyboards, then the iPad could be the perfect fit for you!
iPads not only lack keyboards but also touchpads. Instead, you can simply scroll and click using your fingertips. Talk about convenience!
However, some people still prefer to use conventional keyboards and mice. If that is the case for you, not to worry: you can opt to add Bluetooth keyboards and mice to your iPad! That way, these can be placed nearly anywhere within Bluetooth range and still give you the typing and clicking capabilities you love.
When you are looking for refurbished iPads to add to your digital toolbox, be sure to consider the many that we have available here at Mac of All Trades. We have an abundance of models in varying conditions to meet any and all budgetary means and personal preferences. If you have any questions, feel free to give us a call at 800-581-8987.
Visit Our Online Store Today
Here at Mac of All Trades, we carry a great variety of Apple products that have been carefully refurbished so you always enjoy that unique Apple experience. If you want to buy a MacBook Air that you can rely on for years, we have exactly what you need.
For more information on the different model MacBooks we carry, check out our store, or call us at 800-581-8987.