Posted by Mac of All Trades Tech Team on Sep 13th 2023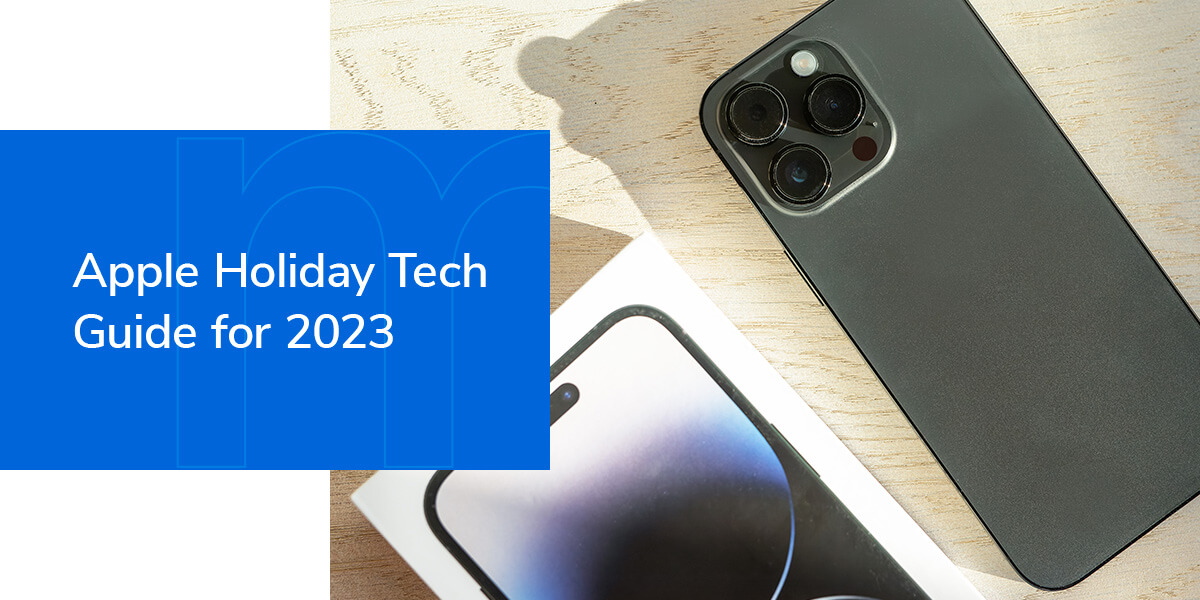 If you're looking to get on someone's nice list this year, an Apple tech gift is a great place to start. In 2023, there's no shortage of options for Apple gift-giving. We've put together an Apple holiday buying guide for the 2023 season — if you're looking to save, we offer plenty of refurbished options to help you give an exciting present at a wallet-friendly price.
Our Apple Laptop Picks for the 2023 Holiday Season
A MacBook makes a fantastic Apple gift idea. They last a long time, have a sleek look and offer stellar speeds thanks to Apple's lineup of M-series processors. Here are a few models to consider when gifting a MacBook in 2023:
1. MacBook Air 15-inch (Mid 2023)
A MacBook Air is ideal for anyone who wants a lightweight laptop and doesn't run intensive applications like games or video editing programs. Many students and young professionals love these models. This mid-2023 MacBook Air has a 15-inch screen and a lightning-fast M2 processor. It only offers two Thunderbolt ports, so your recipient might need an adapter or a hub if they use a lot of accessories, like monitors and keyboards.
A refurbished 15-inch 2023 Air starts at just over $1,100.
2. MacBook Pro 13-inch (Mid 2022)
A 13-inch Pro offers a lot of power in a portable size. It comes with an 8-core M2 processor. Like the Air, it's a little light on ports, with only two Thunderbolt 3 ports. But unlike the Air, it offers the slick Touch Bar, a small LED screen in the keyboard that changes based on your activity. Snag a refurbished MacBook Pro 13-inch for a little over $1,000.
3. MacBook Pro 16-inch (Late 2021)
This big-screened laptop sports an impressive 10-core M1 Pro processor and onboard memory up to 64 gigabytes (GB). It has three Thunderbolt 4 USB-C ports, one HDMI 2.0 port and one SDXC card slot. Choose from classic Silver or the darker Space Gray colors. A refurbished model starts in the mid-$1,000 range.
Our Favorite iPhones to Gift in 2023
Whether your recipient wants to take next-level photos or simply get the Apple experience, iPhones also make fantastic holiday gifts. Here are a few of our picks for gifting an iPhone in 2023. The iPhone 15 will likely join this list later, so check back for refurbished options after its release!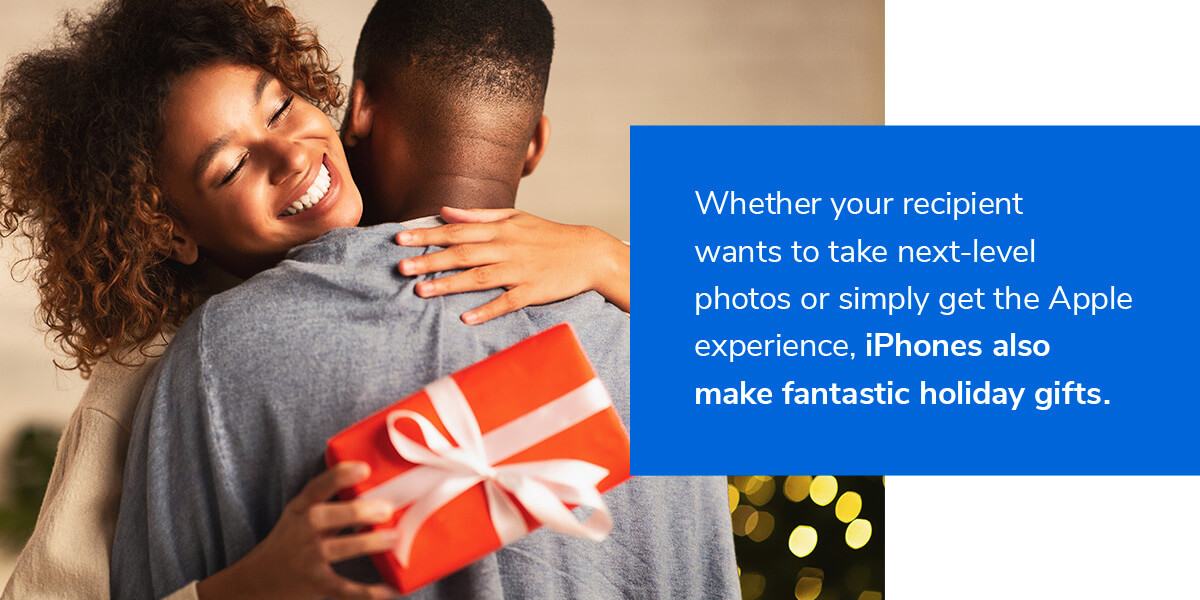 1. iPhone 14 Pro Max
First up is the iPhone 14 Pro Max, the 2022 model with all the bells and whistles. It has a massive 6.7-inch screen with the new Dynamic Island and Always-On Display. The 14 Pro Max sports the A16 Bionic processor and an Apple-first 48-megapixel (MP) rear camera. This model is ideal for photographers and videographers who can take advantage of the Pro camera system and its expansive capabilities.
All of these perks make this model one of the more expensive ones, but a refurbished 14 Pro Max starts at under $1,000 and can help you save big.
2. iPhone 14
If your recipient doesn't need all of the fancy features of the Pro models, the iPhone 14 is an excellent choice. It has a solid 6.1-inch screen and the ultra-fast A15 Bionic chip. It doesn't have the same screen tech or camera hardware as the Pro Max, but it offers a fast, user-friendly interface and Apple's impressive photo processing system. You can still expect high-quality pictures and modern Apple features. Snag a refurbished iPhone 14 starting at less than $700.
3. iPhone 13 Pro
The 13 Pro offers the advanced tech of the Pro Max and the compact size of the standard model. While it lacks a few features of the 14 Pro, the 13 Pro still offers a similar camera system, a long-lasting battery and the A15 Bionic chip. Since it's from 2021, the 13 Pro gets you stellar performance for a low price point. Get a refurbished iPhone 13 Pro for under $700.
Apple Watch Models That Make the Perfect Gift
An Apple Watch is a great complement to any iPhone. Your recipient can use it to reach fitness and health goals or simply stay connected all day long. Modern models offer durability, more health measurements and plenty of safety features.
Some Apple Watch models for the 2023 holidays include:
1. Apple Watch Series 8
The Series 8 Apple Watch is a solid all-around choice with advanced sensors for health, temperature and safety features. It has an Always-On display that always keeps your essentials visible. Your recipient can take it in the pool and make calls and texts directly from the watch. The Apple Watch Series 8 comes with the following health features:
Blood oxygen measurements
Irregular heart rhythm notifications
Cardio fitness notifications
Electrocardiogram readings
High and low heart rate notifications
Fall and car crash detection
Sleep stage tracking
Menstrual cycle tracking
A refurbished Series 8 Watch with a 45-millimeter (mm) screen starts at around $300.
2. Apple Watch SE (2nd Gen)
The Apple Watch SE was designed for affordability. It offers plenty of features at a lower price point. It still works in up to 50 meters of water, monitors your heart rate, detects falls and crashes, and tracks your sleep stages. The SE is ideal for those who want the Apple Watch experience but don't need the bells and whistles.
This budget-friendly model makes an awesome holiday gift. A refurbished second-generation Apple Watch SE is around $200.
3. Apple Watch Ultra
On the other end of the spectrum is the Apple Watch Ultra. This model is designed for adventurers. It's bigger, more rugged and packed with unique features. The Apple Watch Ultra has:
Depth gauges, water temperature sensors and dive computer functionality for diving up to 40 meters.
Precision dual-frequency GPS and an always-on altimeter for off-grid adventuring.
Up to 36 hours of battery.
An ultra-durable, lightweight Titanium body.
A siren that can be heard up to 600 feet away.
A large, customizable Action button on the side of the watch.
A larger digital crown for use with gloves and other gear.
A refurbished Apple Watch Ultra with a 49mm screen starts at about $600.
Honorable-Mention Apple Gifts for the 2023 Holidays
If none of these Apple gift ideas seems quite right or you want a lower-cost item, consider one of these accessories:
Shop Mac of All Trades
This holiday season, Apple fans have plenty to choose from. Our refurbished models allow you to get like-new performance without the high price tag. Every item we sell goes through robust cleaning and testing processes to ensure functionality. You can take advantage of our financing and warranty options and hassle-free return policy to find the perfect holiday gift.
Explore our refurbished Apple products at the links above to get started! If you have old devices to sell, we can help there, too. Head to our partner site, Mac Me an Offer, to sell your device and perhaps offset the cost of your holiday shopping.